Veggie Might
Veggie Might:
A new local read reveals okra's versatility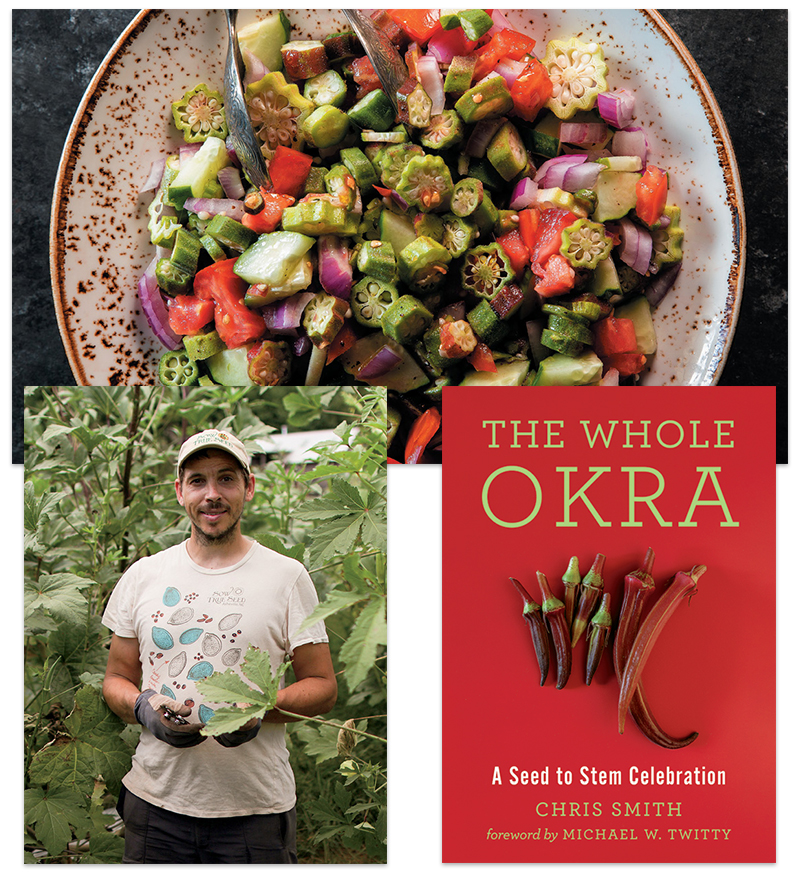 (Bottom left) Author, Chris Smith.
If you ask Chris Smith, you'd be hard pressed to find a more divisive vegetable than okra. "People either hate it or love it," he says. "There's no real middle ground." A Slow Food Asheville board member and executive director of local nonprofit The Utopian Seed Project, Smith aims to change misperceptions about the humble veggie with his new book The Whole Okra: A Seed to Stem Celebration.
More than just a cookbook, The Whole Okra is charmingly written. Through an easy-to-digest conversation with the vegetable, Smith explores okra's East African and Asian roots, a timeline of its arrival in the Americas, and its prominence in Southern cooking—a corollary that follows the enslaved Africans from whom the first okra recipes can be traced. Smith also gives a brief yet detailed summary of the staggering array of heirloom and hybrid varieties and ways to breed and grow the vegetable, as well as its utility as a crop even in the face of deleterious climate change.
Often referred to as tasteless and slimy, okra is not only flavorful, it's a veritable superfood bursting with fiber, phytonutrients, and minerals, Smith asserts. "Every part of it can be eaten and offers vital nutrients," he says. Both innovative and classic recipes abound here, including Meherwan Irani's rich bhindi masala, Vivian Howard's okra fries, Virginia Willis' round steak and okra gumbo, and Michael Twitty's okra soup. There are also recipes for the unexpected, including crafts, skin treatments, and okra flower vodka.
While Smith would love to see a world where okra gets its due, he ultimately hopes readers will be astounded by its versatility. Says Smith, "I hope the book will inspire people to be more adventurous and question everything."
RESOURCES:
Photographs courtesy of (Smith) Belle Crawford; (Salad) Peter Taylor