Valle Crucis
Valle Crucis:
Luxury finds its way into this rural community known for its rich history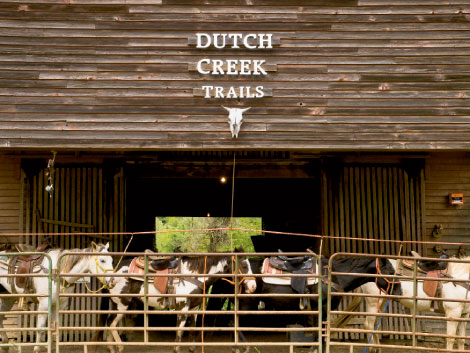 If I were to call my imaginary friends Oprah Winfrey, Martha Stewart, and Mario Batali and invite them for a weekend getaway, I'd take them to the Inn at Little Pond Farm in Valle Crucis.
Oprah and I would chat with innkeepers Gaye and Frank Luaces about their fascinating pasts. We'd learn that Gaye, a jewelry designer, had dreamt of owning a B&B since she was 18, and that she and Frank spent six years completing the remodel of this circa-1900 farmhouse. I'd nod in agreement as Martha marveled at the inn's décor—immaculate in hues of gray that border on lilac and crisp whites, bleached French-oak floors, and a sumptuous selection of European antiques in every room. And my chef-pal Mario, would feel right at home during the cooking classes offered in the gourmand's kitchen, particularly the Italian series that explores the cuisine of each region of the country. Sitting next to me at the kitchen island, Mario would pipe in as the guest chef and Gaye share recipes and techniques.
I wondered why the three hadn't stayed here yet and why they hadn't taken my calls as I drifted off to sleep on fine linens in my plush bed at Little Pond [208 Valle Cay Dr., (828) 297-1011]. The Lauceses have created a celebrity-worthy retreat in this rural valley known for picturesque farmland. Between the luxury inn and laid-back community, you can spend quite a posh and relaxing weekend in this spot between Banner Elk and Boone.
Play
Valle Crucis was the first rural community in the state to be named to the National Register of Historic Places. If you want to learn some of the history behind that designation while seeing the valley on horseback, head to Dutch Creek Trails [3287 N.C. 194 S., (828) 297-7117], and talk to Keith Ward, whose family extends back eight generations in Watauga County. Just be prepared to filter out the tall tales. The Cowboy Poet, as Ward is called (he writes poetry and reads for audiences across the country), and barn manager Tim Vines take some creative license with the stories they tell the naïve—specifically visiting writers. Some of the yarns about the 1880 barn that houses the operation are told in jest, but the story about the man who robbed the local bank and got off with $13 in pennies is true, I think. The guides lead one-hour rides along Dutch Creek year-round, every day except Sunday.
Shop
At Alta Vista Gallery [2839 Broadstone Rd., (828) 963-5247], housed in a two-story bungalow just down the road from Mast General Store, owner Maria Hyde exhibits landscapes and still lifes by local and regional artists. Here, I kept going back for another look at the contemporary landscapes by West Jefferson artist Tonya Bottomley. That's the beauty of having so many interpretations of a central theme in one exhibit space; visitors can hone in on the style that resonates most with them. Hyde, a painter herself, takes a special interest in the artists she represents; for each piece that intrigued me, she explained the creator's background and recent accolades. There are watercolors by Ron Skelton, garden scenes by E. Jean Pollock, and impressionist pieces by J. Sporn. I left with a farm scene painting by Bennette Rowan on my wish list.
Eat
After a decadent breakfast of French toast, granola with yogurt and strawberries, fresh-squeezed orange juice, and coffee at Little Pond, it's difficult to imagine that you'll want a ham sandwich on pumpernickel later in the day, but you will. The Ham Shoppe [124 Broadstone Rd., (828) 963-6310] is where locals and visitors-in-the-know head for a mid-day meal. The Hawksnest sandwich, named for a nearby mountain, comes with its own impressive elevation of honey-baked ham, spicy capicolla, and smoked provolone. A little more international is the Russian Mistress with turkey, fresh spinach, tomato, bacon, and Swiss cheese. No mayo on this one, just Russian dressing. You can also take home fresh bread from the bakery.
You don't have to be a guest to participate in the culinary classes at the Inn at Little Pond. During the session on the food of the Piedmont region of Italy, Chef Tina Houston of Boone talked the group through preparing ricotta gnocchi, and pan-roasted spareribs with sage and white wine. But the best part, of course, was eating it all. Upcoming topics include Chocolates & Champagne with chocolatier Julie Cook, September 11-13, and an exploration of Italian cuisine and culture, October 23-25.
In the neighborhood
Though it's in Foscoe, not Valle Crucis, English Antique Imports [N.C. 105 S., 1-(888) 768-8677] is worth the 10-minute drive. Here, serious antique lovers and interior designers can find an abundance of English and French furniture from the 1700s and 1800s. This selection isn't a hodgepodge from multiple eras mixed in with granny's castoffs. These are choice pieces, including a circa-1885 Beidermeir secretary ($4,600) and a handsome oak bookshelf with carved lions heads ($1,150). Architectural elements such as reclaimed stained glass windows and butler sinks await new homes. Owner Michael Hegarty selects the pieces in Europe, ships them to Charleston, South Carolina, and then kindly brings them to the mountains. After all, The Holy City shouldn't get all the treasures.
Need to Know
You are Here: The lines between towns and communities blur here. You can be in Sugar Grove, Banner Elk, or Valle Crucis depending on who you ask.
Snack Attack: If you're looking for peanuts and a bottle of Nehi, stop at the original Mast General Store on N.C. 194.
Stretch Your Legs: Grandfather Mountain [2050 Blowing Rock Hwy., Linville; (828) 733-4337], with its nature trails and mile-high swinging bridge, is a short drive south.