Summer Sippers
Summer Sippers:
Five perfect warm-weather wines from Bottle Riot's Lauri Nichols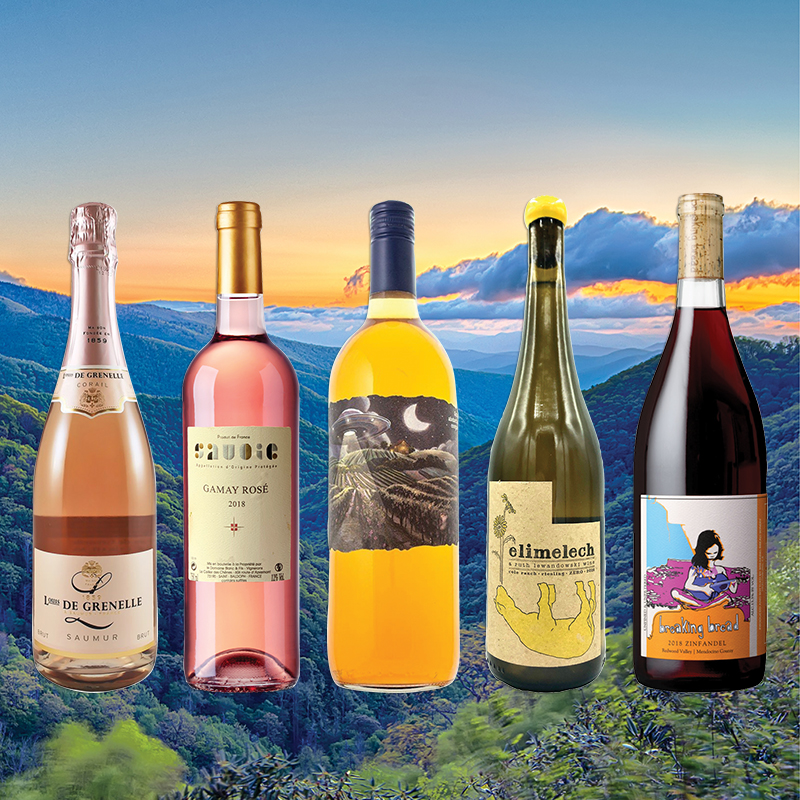 As temps heat up this summer, heavy reds and powerful whites take a backseat to lighter-bodied wines. But just because a wine is lighter in body doesn't mean it has to lack in flavor. Lauri Nichols, owner of Bottle Riot wine bar in Asheville's River Arts District, suggests these five surprisingly complex summer sippers. 
Louis de Grenelle, Cuvée Corail Brut Rosé - Saumur, France » $22
Hailing from the Loire Valley of France, this hand-harvested, sustainably grown sparkling Cabernet Franc rosé is crisp and light, with splashes of raspberry and wild strawberries. It's great to sip alongside grilled salmon or crab cakes drizzled with dijonaise.
Domaine Blanc et Fils Gamay Rosé - Savoie, France » $15
From the high appellations of the far east of France, this crushable front porch sipper has a bright minerality with a hint of pithy strawberry. It's clean and refreshing and a wonderful companion for a hammock, rocking chair, or a light pasta and shrimp dish.
Grape Abduction Orange - Stajerska, Slovenia » $22
All the cool kids seem to be drinking orange wines from central Europe these days, and this rich fusion of Pinot Blanc, Pinot Grigio, and Riesling is sure to help you blend in. Orange wines are made with white wine grapes in the style of rosé. The taste is full of golden apple, spice, and honey, with a rich minerality at the finish. Pairs nicely with spicy foods.
Ruth Lewandowski Elimelech - Cole Ranch, CA » $38
From the storied hills of Cole Ranch California, this Riesling is flashy, fleshy, flamboyant, richly scented and textured, and surprisingly dry. A unique version of Riesling from Evan Lewandowski, one of California's kookiest winemakers, it plays well with others, particularly tikka masala or a curry dish.
Breaking Bread Zinfandel - Dry Creek Valley, CA » $22
From winemaker Erik Miller of Kokomo fame, this is not your average Zin. It's unfined and unfiltered, bright, light, and brimming with dried cherries on the palate with balanced acidity, making this the perfect summer red. Save this one for enjoying with grilled steaks, burgers, or soy-glazed portobellos.