Stock Up
Stock Up:
Pro tips to get your pantry provisions in order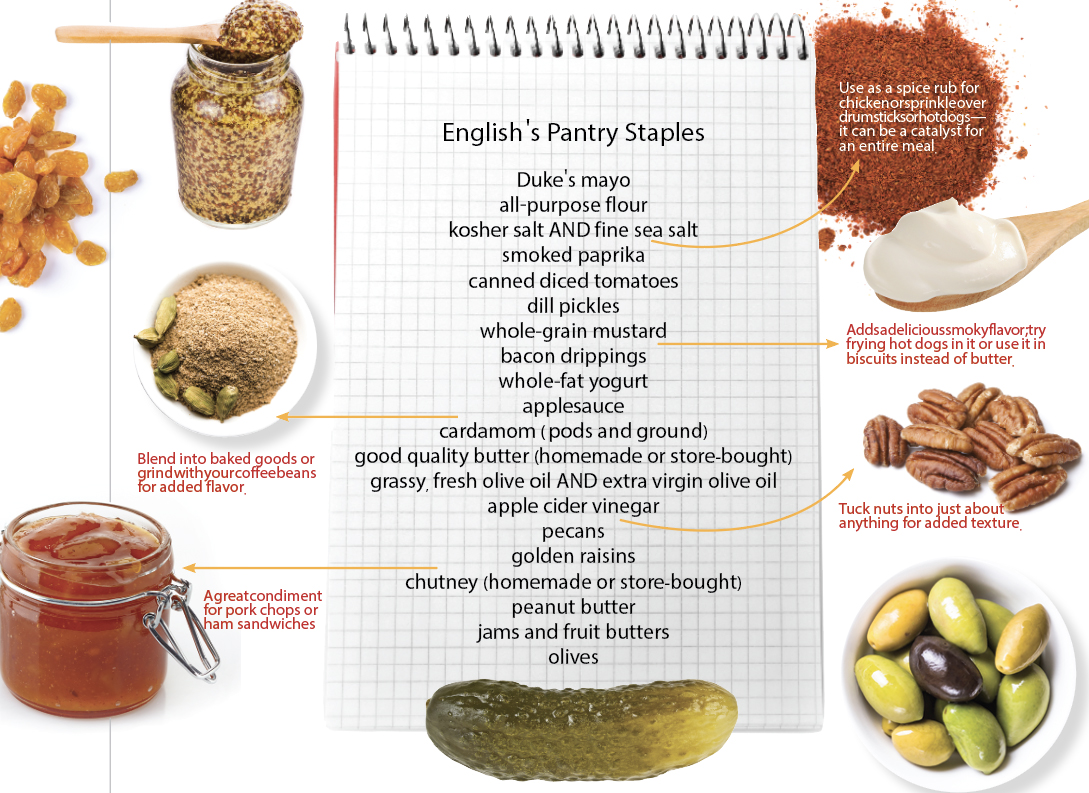 A well-stocked pantry is the foundation of being able to cook at home. It reduces stress and costs, and helps solve the question, "What's for supper?" For guidance on upping your pantry proficiency, Candler-based cookbook and homesteading author Ashley English shares her list of favorite ingredients and how to personalize and stock your shelves for mealtime success.
The main goals? "You want to walk into your pantry and have options to make a meal," says English. "Secondarily, it should spark your imagination." Smoked paprika and flavored salt sprinkled on chicken could be a catalyst for an entire meal. Or cocoa powder might embolden mole tacos or a savory beef stew. You also need to know how to use and maximize less obvious elements, and for this English recommends The Flavor Bible, which offers an alphabetical listing of ingredients and the flavors they pair well with. It's a resource she says can inspire new cooks and skilled chefs alike. Her book Southern From Scratch also presents 50 Southern food staples and various creative iterations for their use.
Admittedly, English's pantry inventory is focused on things her family turns to the most. So knowing your crowd's flavor profile is key to personalizing your list of must-haves. "If you like Asian food, make sure you have fish sauce and miso paste, soba noodles and nori," she says. "If Southern food is your thing, make sure you have pork sauce and chowchow on hand. Or if you're curious, there's no harm in having a United Nations pantry. Pay attention to how you like to eat at home and build your pantry around that."
Learn more about Ashley English and her books—including her latest, Home Apothecary—as well as her new class offerings on everything from canning and keeping chickens to social media for food photography, at smallmeasure.com.