Star Diner
Star Diner:
Fine Euro-American cuisine created under an expert hand, served in charming and eclectic surroundings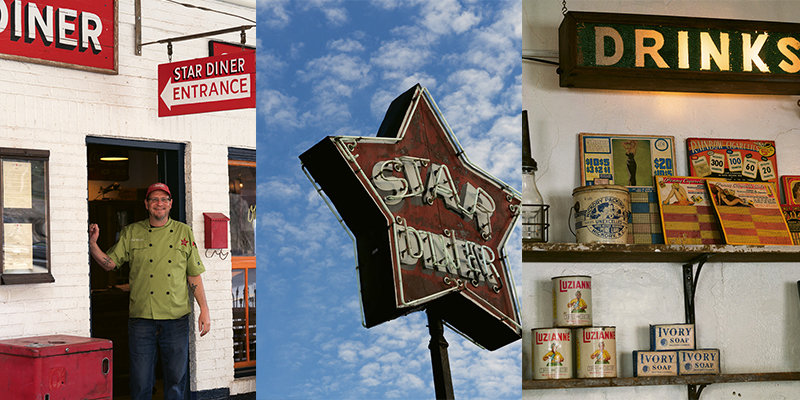 Chef Brian Sonoskus (formerly with Tupelo Honey Café for 15 years) opened Star Diner in 2017 inside an old 1920s service station in Marshall;  Like the reclaimed sign (middle) that inspired the name, the interior is decked with period posters and relics of yore.
The Draw: Fine Euro-American cuisine created under an expert hand, served in charming and eclectic surroundings
The Drawback: You might not get in the day or time you want due to demand. Make reservations.
Don't miss: Brown butter almond-crusted Carolina mountain trout with beurre blanc
Star Diner in downtown Marshall elicits memories from long ago—a picturesque drive along the river, charming village streets, and at the end of the journey, the promise of a very fine meal. Such were my childhood Sunday afternoons growing up in Europe, when we'd travel to France to explore yet another Michelin-starred restaurant highlighted in our dog-eared Le Guide Michelin. It is with that anticipation that I journey to this meal.
The tiny restaurant, squeezed into a former 1920s-built service station, delights with inspired continental cuisine by Chef Brian Sonoskus of Tupelo Honey fame (he oversaw the Asheville restaurant's expansion into multiple states). Given Sonoskus' background—Johnson & Wales culinary school in Rhode Island, restaurant stints in Charlotte, New Jersey, and ski resorts out West, and extended travel through Europe and the Americas—the skills and elevated cuisine should come as no surprise.
Brian's wife, Kate, graciously greets us in the foyer, against the backdrop of old wood-framed glass counters, open shelving, and ancient advertisements and retail displays. Were these found in the detritus of the old gas station that ceased operations in the '80s, purchased at auction, discovered in an antique shop, found on eBay? The mind wanders ... but not for long.
My guest and I are whisked to the inner dining room, comprised of four tables set with crisp ivory linens and a small hardwood bar that seats three. Thick-glassed art deco pendant lamps hang above. A second dining room sits just off the main, not unlike a solarium, with light pouring in from windows that showcase the train tracks and French Broad River just beyond.
Open since early 2017, Star Diner has been producing Sunday brunch and dinners a few nights a week. In January, it added lunch as well. Tonight's mains span three meat dishes, two fish entrées, two fowl, and one vegetarian. The potato soup starter is so lovingly described, and the evening's a bit nippy, so we choose to begin our meal with this.
A drizzle of brown butter lends rich nuttiness to the delicate soup, while sofrito adds a touch of slow-building heat and bright acidity. The almond-crusted Brie with red wine-braised figs and crostini round out the starters menu, but we've selected the heartier pork belly with caramelized apples, Brussels sprouts, and tomato-bacon jam from the small-plates section. And why stop there? A bowl of crispy fried Brussels sprouts for the table has everyone munching on the tiny cabbages that couldn't be more delectable in their savory, bacony goodness, sprinkled with Parmesan cheese and pickled cherry peppers. The pork belly is everything you want it to be and more (I could have easily made this my entrée or stood for half a portion). As proscribed, the cut melts in the mouth, but its inherent unctuousness is foiled perfectly by the sweet-sour tomato jam and cooked apples.
Entrées range from the traditional prime beef tenderloin with bordelaise sauce to a roasted pork tenderloin with cherry-truffle sauce, and a Pasta du Jour. Most entrées receive a seasonal vegetable and the same white cheddar mashed Yukon potatoes side. Only pan-fried sea scallops diverge from this, paired with spaghetti squash, kale, and bacon and date gastrique.
I've been told about the trout from Star Diner regulars. A beautiful plate of many colors, the brown butter almond-crusted Carolina mountain trout comes topped with a mound of bright green asparagus and grape-size marinated tomatoes. A forkful of the sweet-fleshed fish dipped in an herbed scallop beurre blanc—such a delicately nuanced sauce—transports me in one bite to those childhood Sunday afternoons in France. I would go back to Star Dinner frequently for this dish alone.
I also taste the southern fried chicken saltimbocca, Chef Brian's nod to another European favorite but "southernized" with prosciutto wrapped around fried chicken rather than veal. Cooked in a marsala wine sauce and crowned with provolone and sage that have melded together, it's a generously portioned comfort dish.
No wine or beer for us this evening, as the drive back will be late and dark, but fear not, Star Diner's wine and beer list, though on the small side, offers selections from South Africa, France, Spain, Argentina, Italy, and domestic sources. Some lesser-known ales from other parts of North Carolina have also made the list.
Instead, it's French press coffee for us to accompany the impossible-to-refuse desserts. Tea drinkers will take note of three loose-leaf varieties. Cold mocha mousse with warm raspberry coulis thrills my guest. The waves of deep chocolate and espresso flavor are perfection. My own ramekin of buttermilk cheesecake teases with hints of lemon, tart yogurt accents, and a grown-up jammy-sweetness introduced by pinot noir-soaked blueberries.
As all the tables have filled, Chef Brian pitches in serving entrées and describing them. Back in the kitchen, through swinging saloon-style doors, we overhear him asking his wife how she presents certain items. It's a sweet behind-the-the-scenes moment in this family-run restaurant that is journey, destination, memory, and discovery all in one.
Star Diner
115 N. Main St., Marshall
(828) 649-9900
https://www.facebook.com/StarDinerandGreeniesTaxi