Soul Reviver
Soul Reviver:
An Asheville duo reinvents a classic local space by building musical roots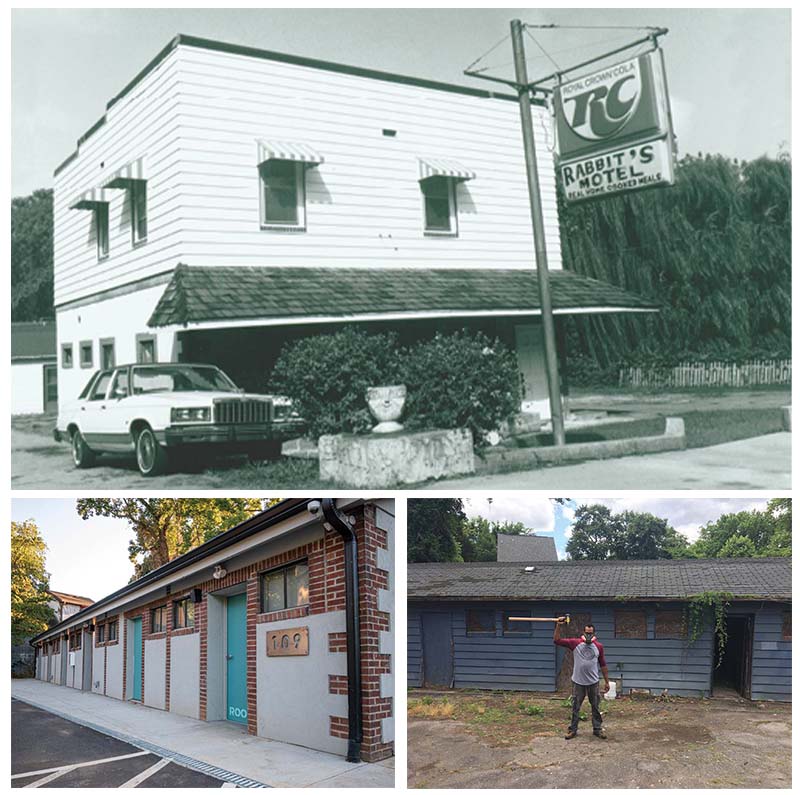 Claude Coleman Jr. (pictured) and partner Brett Spivey see future promise in Asheville's historic Rabbit's Motel building.
As Asheville's tourism economy continues to boom, so does its real estate market—making it harder for many musicians to find rehearsal space. But where most saw only a conundrum, Claude Coleman Jr. (the drummer for indie music icons Ween) and fellow musician Brett Spivey saw opportunity, opening SoundSpace@Rabbit's—a rental rehearsal facility located in the iconic former Rabbit's Motel building in Asheville's Southside, a traditionally Black neighborhood. "For some reason, no one has tried to create something like this, as badly as it is needed," says Coleman. At his new venture, three professionally soundproofed rooms, stocked with backline sound systems, amps, and drum kits, rent by the hour at reasonable rates.
This space is the place: Learn more at soundspaceavl.com.
Rabbit's was opened in 1947 by Fred "Rabbit" Simpson. His sister-in-law, Lou Ella Byrd, ran the kitchen there for over 40 years, building a reputation on pork chops the size of bibles and her famous chitterlings. Coleman says the family was happy to see SoundSpace continue the legacy of a Black-owned business in a place that once served as a segregation-era respite for Black athletes and musicians from all over the country. And he and Spivey plan to eventually incorporate a new soul food kitchen, this one helmed by local favorite Chef Clarence Robinson.
"We want to create a cultural landmark that can connect people with the history of this space," says Coleman, "which needs to be included in the narrative of Asheville today."