Sora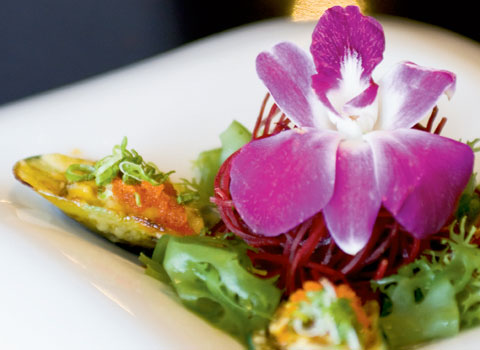 Any time a new restaurant opens in a small town, it's bound to create a buzz, especially when that restaurant is Sora, Brevard's first sushi spot. "We found out people in Lake Toxaway and Highlands had to go all the way to Asheville for sushi," says co-owner Stephen Weng. Thus, Sora was born. And three years later, thanks to a reputation for superior Japanese cuisine, the buzz hasn't died down.
When you go, don't make the mistake of skipping the appetizers. The tako su (sliced octopus in sweet vinegar sauce) radiates with a bright flavor. The tuna tatako (seared tuna in ponzu sauce) holds a refreshing heat and acidity, tempered by cool, crisp bites of delicate daikon threads and sips of cold sake. (The menu bears unfiltered, sweet, and organic choices.)
From almost any table in the elevated dining room, one can observe the creative process going on behind the sushi bar. Wooden serving boats stacked with clever formations of rolls and sashimi show off chef and co-owner David Zheng's visual artistry.
The Sweet Lobster roll, a feast in itself, emerges with a sizeable lobster tail perched vertically in the last rice and nori-rolled disk. The Godzilla roll is joyous with spicy tuna and crunchy bits of tempura, all deep-fried and then sprinkled with scallions. The exquisite Dragon Roll comes draped in avocado, whose green striations are accented by colorful dots and dashes of sauces across the plate. You'll want to take a moment to appreciate each dish's beauty before you lift a pair of chopsticks. "Sushi chefs are trained to concentrate on every individual plate," explains Weng. "The presentation can be traditional, but it should have a good taste and be good looking."
At Sora, both of those bases are covered beautifully. And the overwhelming accolades in Brevard prompted the business partners to open Umi in Hendersonville, which is creating a buzz of its own.