Simple at Heart
Simple at Heart:
A family dinner at mast farm inn celebrates the simple life and local food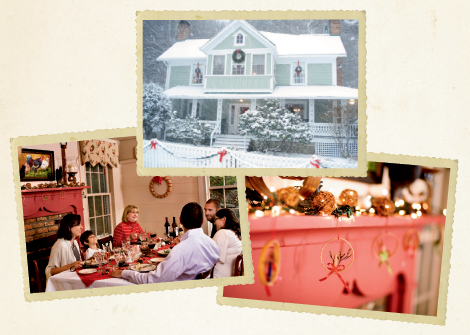 The clang of pots and pans, whirring of a blender, and gales of laughter emanating from the kitchen signal mirth and merriment in the Deschamps-Siano household. It so happens that this house is the acclaimed Mast Farm Inn in Valle Crucis, and the resident mother-daughter chef team is creating a meal just for family amid the rush of the holidays. Making the festivities even more special is the fact that members of this international clan, who have lived on disparate continents throughout their lives, now only have to travel from around the bend to be together.
---
Danielle Deschamps, clad in a pink chef coat and holding a martini glass filled with a creamy concoction, stops short. "Mami! This is the best one you've made yet," she proclaims, taking another sip of her mother Marie's wintertime cocktail. It's just the right spirit—eggnog with cinnamon and a warming shot of bourbon—to propel them through the preparations for the four-course dinner. Like all the meals served at the inn's restaurant, Simplicity, it will be a feast that focuses on local ingredients. The two have been cooking together since 2007, even placing in the top 10 for the North Carolina Best Dish Award 2010, a contest hosted by the North Carolina Department of Agriculture.
Head of this international tribe is Haitian-born publisher Henri Deschamps of French heritage, who is out of town for the weekend. Marie, who is Italian, was likewise born and raised in Haiti, as were their daughters, Danielle and Sandra (educated in Haiti, Switzerland, London, and Paris), and Sandra's husband, Gaetano Siano. The language in the kitchen between mother and daughter alternates between English and French. When the rest of the group arrives, there will be a sprinkling of Creole.
Local Connection
In 2006, the family purchased Mast Farm Inn. Once a bastion of grand helpings of Southern comfort food, then an upscale eatery that served haute cuisine, the inn's menu has changed with the times. Today, the innkeepers' commitment to farm-fresh, locally grown ingredients serves as the inspiration for Simplicity's concise, but imaginative, menu that's created daily. The Deschamps' garden across the road provides squash, pumpkins, berries, herbs, and other seasonal crops, while the 24 farms of New River Organic Growers cooperative offer grass-fed beef, free-range chicken, eggs, corn, beets, broccoli, and diverse produce.
"We mostly get produce from Watauga River Farms," says Danielle. "Charles Church is a farming genius and keeps us stocked throughout the year with wonderful goodies. Heritage Homestead in Ashe County provides us with all our cheese."
The abridged menu is also by design. "You don't need a menu with 10,000 choices," says Sandra, who plays the role of hostess and is in charge of daily operations. "When you go to a friend's house, you don't have a lot of choices, and we hope guests feel like they're dining in a good friend's home."
Today's meal highlights a few family favorites: butternut squash soup, steak au poivre (tender filet mignon with a pepper cream sauce), and seabass en croûte (fish baked in phyllo).
Culinary Duo
While beets, carrots, and potatoes for a salad roast in the oven with rosemary and olive oil, Danielle tosses a handful of black peppercorns into a cast iron pan. As the spice warms, it perfumes the air with a toasty aroma. In short order, the chef moves the kernels to an electric grinder and gives them a quick spin.
"We normally roast whole peppercorns for everything," explains Danielle. "It intensifies the flavor. And with a dish as simple as steak au poivre, roasted black pepper can take it to the next level."
As the fish bakes bundled inside the puff pastry dough, Danielle readies the steaks. She will first braise them in butter, then improvise with several splashes of rum, rather than the brandy she typically uses to flambé the meat. "Rum will taste even better," encourages Marie, who is blending the baked butternut squash to a smooth consistency for the soup. Flames jump three feet into the air as Danielle touches a long match to the alcohol in the pan. Afterward, she lets the filets rest momentarily before putting them in the oven for a few minutes to bake. This gives her a chance to greet family members in the parlor.
A Moment to Themselves
A bottle of Champagne in hand, Sandra and Gaetano arrive with sons, Nicolas, six, and two-year-old Alex. They get to visit with Grandmama before Alex is put down for a nap. Ken Stabler, practically a member of the family as all-around handyman, gardener, and facilities manager of the property, takes a break from his rounds to join in.
Called to dinner in one of the inn's two dining rooms, the family sits near the fireplace to enjoy the rustic ginger- and cinnamon-laced squash soup topped with a dollop of Danielle's version of crème fraîche. "We couldn't find it in stores here, so we make our own—just equal parts heavy cream and sour cream."
The crème fraîche is also the base of the sauce that complements the steaks. The richness of the cream, with a pungent depth of earthy pepper, is refined enough to allow the full flavor the grass-fed filet mignon to come through. Those enjoying the fish are treated to layers of buttery seabass, a tomato-herb filling, and flaky phyllo, with a side of garden-fresh Swiss chard.
"This is the perfect spot," muses Sandra. "We've come from so many places and couldn't decide where to settle—but everyone has found some kind of peace here, living the way we want to live."
While the simple family dinner party doesn't have the sparkle of Paris, the grandeur of London, or exoticism of Haiti, it's just the perfect way for the Deschamps to celebrate togetherness.
---
Simple Tips
Punch up your celebratory meal with these easy culinary tips.
• Extract more flavor from spices, such as pepper, by roasting them. Use a cast iron or anodized pan and warm to medium hot. Roast whole peppercorns for two to three minutes, gently shaking the pan. It will bring out an earthy flavor in the spice that enhances sauces and meats.
• Purchase kosher or sea salt. A small amount will pack more flavor than ordinary salt.
• Crème fraîche has a slightly fluffier consistency than sour cream and is not quite as sour. It's traditionally used in French, Belgian, Dutch, and Scandinavian cooking. It can be purchased at gourmet shops, but it's easy to make your own. Using a hand whip, beat equal amounts of heavy whipping cream and sour cream together. You can leave it more viscous or whip into a stiffer cream. Use it for the base of sauces, or in desserts (over berries or crepes, for example).
• Champagne or any sparkling wine is always festive for a holiday event. Blush or pink champagne, in particular, is a great party beverage to start off a dinner. Cava, the Spanish sparkling wine, is similar to champagne, but often more affordable. Throw in a few raspberries for color.
---