Salad for the Soul
Salad for the Soul:
Savor the season with a Japanese-inspired dish from Chef Stan Chamberlain of Gaijin Noodle Bar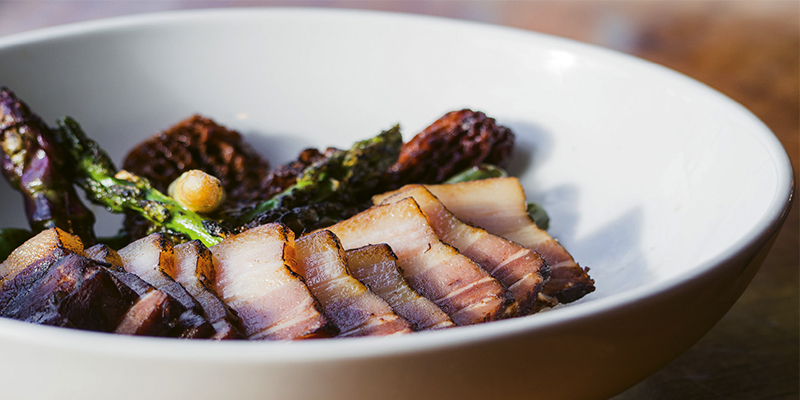 Chef Stan Chamberlain, who opened Boone's Gaijin Noodle Bar last August, grew up in his grandparents' restaurant in Asheville, with an affinity for Southern soul food. Yet when he fell in love with Japanese cuisine, he discovered a connection to his own roots. "I became very interested in ramen," Chamberlain says. "The more I learned, the more it seemed like Japanese soul food to me." So when the opportunity arose to launch his own restaurant in the High Country, he says, "We knew what we wanted to do: Cook with our heart and serve with our soul."
Chamberlain's warm ginger-asparagus salad is, indeed, food for the soul. In it, he uses braised and browned pork belly (which renders the skin crisp and the inside tender), sautéed asparagus, and morel mushrooms, all drowned in a tangy ginger-spiced soy vinaigrette. This spring, when asparagus and morels are at their best, try his recipe at home (using chopsticks, of course).
Warm Ginger-Asparagus Salad with Pork Belly (Courtesy of Gaijin Noodle Bar)
(Serves 8)
1/4 lb. pork belly
5 cups kosher salt
3 cups sugar
2 sheets dried Kombu seaweed (available at Asian markets)
4 cups soy sauce
4 cups warm water
1 lb. asparagus (mixed green & white), hard ends removed
2 spring onions, root ends removed
1/4 cup minced ginger
3/4 cup rice wine vinegar
1 ½ cups blended oil
Salt, to taste
1/4 lb. morel mushrooms, rinsed (can substitute shiitakes)
Cure the pork belly anywhere from one to three days ahead of time by mixing three cups each of salt and sugar. Rub the mixture all over the pork belly, cover, and refrigerate until ready to braise.
To braise the cured pork belly: Rinse off the curing mix with cold water, and cut pork belly into one and a half-inch squares. Line a metal baking dish or Dutch oven with one sheet of dried seaweed and spread the pork, then cover with another sheet of seaweed. In a bowl, mix soy sauce with warm water to create a braising liquid. Pour over the seaweed and meat, and cook on the stove over low heat for two hours. Remove braised pork belly and set aside. Discard the rest.
In a separate large pot, boil generously salted water and blanch the asparagus for two minutes. Strain and place in an ice bath to retain crispness and color.
To prepare the vinaigrette: Purée spring onions and ginger in a food processor. Add vinegar and blend, slowly adding the oil. Season with salt to taste.
In a heavy-bottom sauté pan over medium heat, brown the pork belly, about one to two minutes per side. In a separate sauté pan, heat cooking oil over medium-high heat. Cut asparagus into one-inch sections, and sauté with mushrooms for about four minutes. Remove from heat and ladle two ounces of vinaigrette into the warm pan and toss with vegetables.
To serve: Divide sautéed asparagus and mushrooms onto plates. Slice the cubes of braised pork belly as thin as possible and place on top. Drizzle vinaigrette on top of the pork belly and serve warm.
Gaijin Noodle Bar
455 Blowing Rock Rd., Boone
(828) 832-8032
www.gaijinnoodlebar.com