The Review—Gan Shan Station
The Review—Gan Shan Station:
Asian-inflected comfort foods from around the globe find a home in Asheville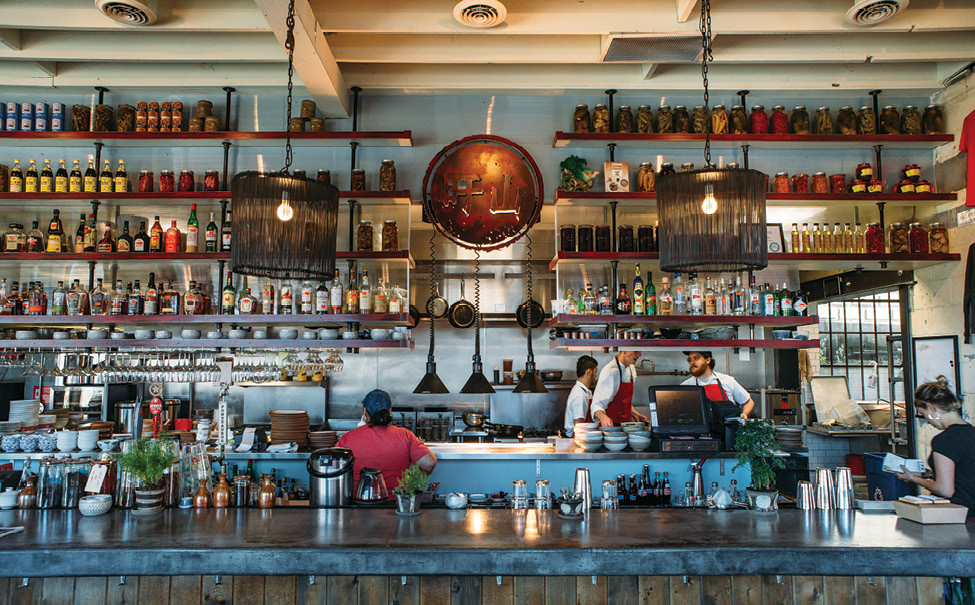 The Draw: Asian-inflected comfort foods from around the globe in an effortlessly stylish urban space
The Drawback: Some dishes can be overly salted.
Don't Miss: The Korean-style chicken wings
They've been on my mind: Those Korean-style wings, glistening with a lashing of luxurious savory-sweet caramel fish sauce and sprinkled with black sesame seeds and garlic-ginger crisps. Plump, piping hot, and packed with flavor derived from chiles, lime, and gochujang (a pungent Korean condiment made from red chili, glutinous rice, and fermented soybeans), they linger not only on the tongue but in memory.
Such are the dishes of Asheville's Gan Shan Station, which you tend to pine for after you leave. Asheville-raised owner and chef Patrick O'Cain gathers interpretations of favorite dishes from Thai, Indian, Chinese, Vietnamese, Korean, Japanese, and other Asian kitchens all under one roof.
In what used to be a long-ago shuttered BP gas station and a graffiti-covered blight on Charlotte Street, Gan Shan Station transforms the site into an airy, urban industrial-chic restaurant inside and out. A large overhang provides shade for outdoor dining and extra seating in winter with pull-down walls and heaters. Diners opting for a seat at the wide concrete bar receive a full view of five chefs operating on the line over leaping flames and sizzling woks. Years of patina on the cinder block walls blends with contemporary local works of art, and vintage gas station signage subtly creeps into the décor throughout.
The eatery has become a community hub of sorts, serving, in particular, the north side of town. During the times I visit, I spy a well-known chef of a downtown restaurant dining with friends, a local jewelry designer, some recent college grads I met at a dinner party, and other familiar faces. There's no shortage of single diners downing a bowl of noodles and a beer at the bar before moving on with their evening, while others linger over multiple courses.
Daily specials are announced on a chalkboard. These are the brainchild of O'Cain, who attended Asheville-Buncombe Technical Community College's culinary program. An internship at the fabulous Charleston restaurant McCrady's resulted in an offer of a full-time position there. O'Cain later helped open Charleston's Asian soul food mash-up Xiao Bao Biscuit before returning to the mountains.
At Gan Shan, O'Cain's menu changes often and is essentially a litany of tempting Asian comfort foods. A golden turmeric curry here, a congee dish there, Szechuan beef stir-fry, steamed dumplings … the list goes on. The noodle bowls are generous and beautiful, with contents artfully composed.
For one recent dinner, I opted for the spicy drunken noodles. The flat, inch-wide house-made egg noodles provided a foil to the slow burn of spicy ground pork that I chose to complement this wholesome bowl of roasted mushrooms, eggplant, leeks, long beans, and broth. My dining partner ordered the ramen, a huge bowl of blanched greens, scallions, sprouts, thin wheat noodles, and savory broth topped with a soft-boiled egg.
On another visit, I lingered with a friend at the counter so we could catch up as we watched the culinary dance of the kitchen staff. They expertly turned out delicately plated dishes rife with vibrancy and freshness. A velvety, saffron-colored squash and coconut soup sated our appetites for something sensual and warming. To invigorate our taste buds we shared a piquant kale, squash, and pecan salad. Elegant, thin ribbons of raw squash added a pleasant crunch to the roasted cubes and hearty kale. We did wish for the leaves to have marinated in the tangy vinaigrette a bit longer, for tenderness sake.
For lunch, the black bean chicken rice bowl is a high note. Strips of chicken are marinated overnight in a fermented black bean paste then fried and served with bean sprouts, cucumber, carrot, cabbage, and a sweet soy sauce over rice. One can also add the chicken itself to any main dish. The stir-fry, served atop short-grain rice, works perfectly for the less adventurous. The koji-aged sirloin is tender and not too spicy. A Thai-influenced curry contains fragrant Thai basil, tender eggplant, local greens, fresh cilantro, and warm pineapple, with sizable chunks of chicken. Served with sticky rice, it's the ultimate comfort on a cold night.
The desserts serve more as palette cleansers: sorbets and ice creams like carrot-ginger, Szechuan peppercorn, or toasted rice, with the occasional interesting sweet black rice and fruit concoction. By the end of dinner at Gan Shan, though, most diners are simply pouring over the menu again and plotting their return for another round of Asian comfort dishes, Asheville-style. 
---
Gan Shan Station, Asheville
143 Charlotte St.
(828) 774-5280
www.ganshanstation.com