Recipes for a Sweet Celebration
Recipes for a Sweet Celebration:
Hostess extraordinaire Ashley English welcomes the holidays with an annual cookie exchange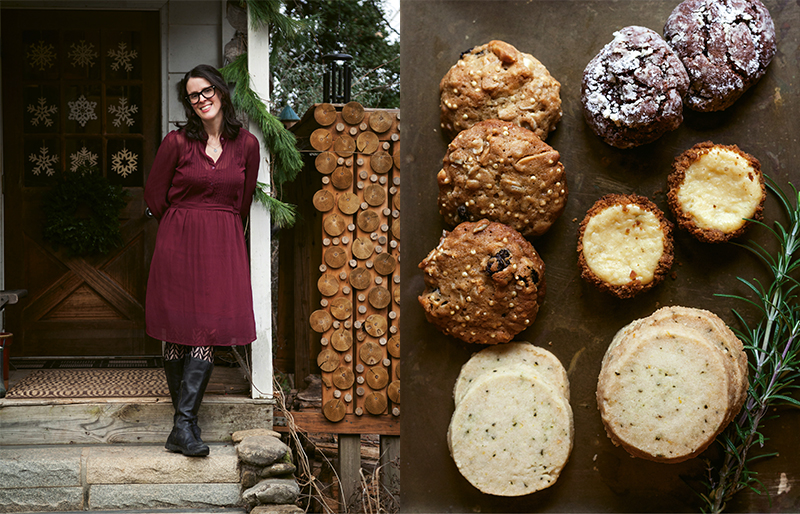 Ashley English's home, tucked away in a wooded cove in rural Candler, invites escape into a winter wonderland. A blazing fire roars in the woodstove, a Christmas tree glitters in the living room, and the scent of freshly baked cookies fills the air.
English, an accomplished cookbook author, homesteader, and hostess known for her epic seasonal parties, has authored books including Handmade Gatherings, A Year of Pies, Quench, and The Essential Book of Homesteading. Each December, she welcomes dozens of women to her Ladies Cookie Exchange for an afternoon of sipping winter beverages and swapping holiday cookies. Each guest brings four dozen of her favorite treats to share and a container to take away an array of homemade goodies to savor during the holiday season.
This year marks the 10th anniversary of the festive tradition, which started as a casual get-together of a few coworkers from English's former job as a nutritional consultant. When she left the medical world to focus on writing, she opened the party to close friends and later a wide network of notable women throughout Western North Carolina. The guest list now boasts more than 50 people, and women and children fill every nook of her home on this chilly winter day.
Jael Rattigan, co-owner of French Broad Chocolates in Asheville, is one of the first to arrive with a platter of chocolate peppermint melting bars. Voice-over artist Sharon Feingold (you've likely heard her on HGTV and in Coca-Cola commercials) places her cookies on one of a dozen cake stands and platters English has artfully arranged on the dinner table.
The atmosphere is joyous and welcoming as new friends bond over their baking triumphs and near disasters. A few guests admit to frantically whipping up a new batch of cookies that morning when their first attempt didn't meet their high expectations. Success stories are plentiful as well, as evidenced by the towers of stunning cookies, including elderberry jam thumbprints, rugelach made with dried cherries, and white chocolate chip cookies made with blackstrap molasses. Yet even the simplest reindeer-shaped sugar cookies have a place at the table.
After everyone has arrived and the platters are full, English gathers the group around the impressive display of sweets. Each guest describes her creation to the group, noting its ingredients and the origin of the recipe. Some recipes are old family favorites, while others were jotted down on scrap paper just a few days prior. The small room is packed with proud bakers eager to share their treats—and children who can barely contain their excitement.
Finally, it's time to dig in. Guests fill their containers with three of each type of cookie, plus a few more to nibble throughout the party. English always provides appetizers like deviled eggs and crudité to ward off sugar shock and add to the festive atmosphere. Old friendships are stoked by the warmth of the fire, and new friends make plans to get together again.
As the sun sets, the punch bowl of winter sangria recedes, and guests gather their coats and scarves to brave the long walk down the gravel driveway. Their cookie tins overflow with sweets that can be gifted to neighbors or hoarded at home until only the crumbs remain.
Tips for Throwing the Perfect Cookie Party
• Plan ahead. Send out e-vites before Thanksgiving and encourage guests to respond to the group with what kind of cookie they'd like to bring. English points out that everyone loves a classic chocolate chip cookie, but it's helpful to encourage a wide range of treats.
• Kick off the season early. The first weekend of December is an ideal time for a cookie celebration. Guests feel merrier and have more time to bake at the beginning of the season before holiday responsibilities set in.
• Start decorating! English warms her home with botanicals foraged from her property. Snip a few evergreen sprigs and display them in festive vases. English favors natural décor like wooden snowflakes on the windows and simple ornaments on a fresh-cut tree.
• Bake early. Make your own cookies the day before so your kitchen is clean and you don't feel overwhelmed the morning of the party.
• Set up cake stands and platters in advance. Guests will need their original containers to take home their loot, and cake stands make for a beautiful and practical display.
• Be sure to mingle. English welcomes each guest when she arrives and suggests that hosts favor short, friendly chats over long conversations during the party.
• Appoint a wingman or wingwoman. Ask a friend or loved one to refill the punch bowl, keep the appetizers stocked, and help greet guests. This takes some of the pressure off and lets you enjoy your own party.
Find out more about Ashley English and order her books on her website, www.smallmeasure.com.
RECIPES:
Rosemary & Orange Shortbread Cookies
Candied Ginger & Black Pepper Cookies