Raise a Toast
Raise a Toast:
Cherokee and Clay counties stand to attract wine lovers with a newly designated grape-growing region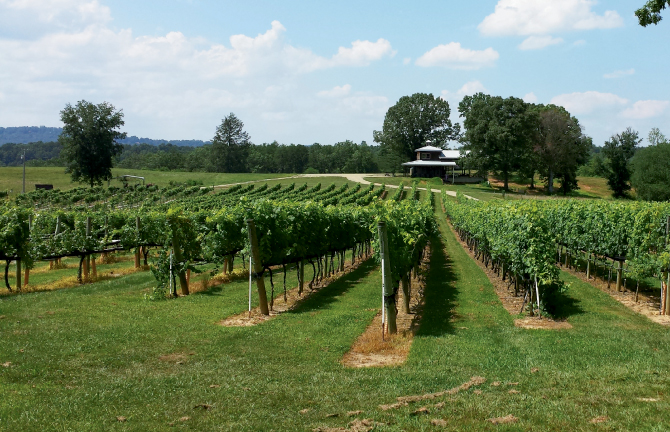 People who love traveling to new wineries now have added incentive to visit the vineyards of Cherokee and Clay counties. Nearly 700 square miles there and in north Georgia have been designated the Upper Hiwassee Highlands American Viticultural Area. AVAs are federally recognized regions that showcase an area's distinct wine-making attributes.
North Carolina's fourth AVA—and Georgia's first—lies within the natural geographic boundaries of the Hiwassee River watershed. The rolling terrain is excellent for grape-growing, despite the challenges of often wet summers, bone-chilling winters, and early spring frosts.
"The good news is we make some awesome wines out here," says Eric Carlson, owner of Calaboose Cellars in Andrews, who led the four-year certification process. Nine wineries and 26 vineyards within the AVA have found success by championing lesser-known varieties like seyval blanc and traminette, which produce dry to off-dry whites. They're also growing norton and cabernet franc grapes to make dry reds.
AVA designation by the Alcohol and Tobacco Tax and Trade Bureau allows vintners to describe the origin of their wines and helps buyers understand where wines come from. There are just over 200 AVAs in the United States, including well-known ones like California's Napa and Sonoma valleys.
Certification is a game-changer for Cherokee and Clay counties' vineyards and wineries. "The AVA [designation] puts us on the map, literally and figuratively," Carlson says, predicting more wineries will open as a result. Already, the commercial vineyards in the AVA grow about 54 acres of grapes, and they plan to plant another 76 acres within five years.
The Upper Hiwassee Highlands AVA region is as lovely as North Carolina's much better known Yadkin Valley AVA. The drive to Cherokee and Clay counties is gorgeous and half the fun of sampling the area's wines. "People like to go to beautiful places to visit vineyards and wineries," Carlson says. "They certainly get that when they come here."
See & Sip the New AVA
Cherokee County:
Calaboose Cellars
565 Aquone Rd., Andrews
(828) 321-2006
www.calaboosecellars.com
Nottely River Valley Vineyards
1150 Old Culberson Rd., Murphy
(828) 837-7822
www.nottelywine.com
Valley River Vineyards
4689 Martins Creek Rd., Murphy
(828) 837-0691
www.valleyrivervineyards.com
Clay County:
Eagle Fork Vineyards
225 Dick Jones Rd., Hayesville
(828) 389-3845
www.eagleforkvineyards.com
Tusquittee Valley Vineyards
516 River Oaks Dr., Hayesville
RESOURCES:
Photograph courtesy of Nottely River Valley Winery