Pumpkin Perfection
Pumpkin Perfection:
Pumpkins are a hallmark of autumn, but jack-o'-lanterns are just the beginning of the fall fun. Make the most of the season with an idyllic outing to a u-pick patch for the perfect specimens, décor inspiration using fanciful heirloom gourds, and a delish take on a pumpkin pie that's as nice as sugar and spice.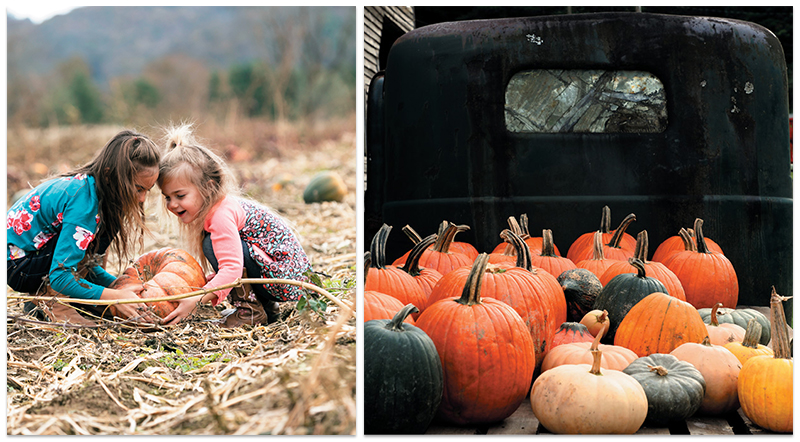 (Left) An outing to a pumpkin farm is a quintessential fall experience that all ages will enjoy. And the ability to choose and cut your favorite gourd straight from the vine presents an even greater reward for busy little bodies; (right) At Harvest Farm choose from 40 varieties of mini and heirloom pumpkins, gourds, and traditional jack-o'-lantern pumpkins.
Pick Your-Own Adventure
Make it the most festive fall of all with an outing to a local pumpkin farm
Each pumpkin has a story at Harvest Farm in Valle Crucis, where more than eight acres of brightly colored gourds of all shapes and sizes grow on twisted vines under a crisp blue sky. Farmer Cassandra Bare loves to share her heirloom beauties with visitors, who come for the u-pick experience and corn maze.
Bare is a fifth-generation farmer who developed her skills at her family's wholesale Christmas tree farm. Since the holiday evergreens take several years to mature from seedlings, Bare sought a faster-growing crop when the time came to strike out on her own. She attended Appalachian State University in 2007, and one of her assignments was to create a company. So she chose a pumpkin patch and corn maze.
She says the high altitude at her farm in Watauga County is ideal for pumpkin production because it encourages firm stems and brilliant colors. She sells wholesale pumpkins to Ingles, but agritourism at the u-pick patch is a highlight of her fall. Bare designs the eight-acre corn maze herself and uses GPS technology and a lawn mower to create intricate patterns.
The pumpkin patch features the classic round jack-o'-lantern variety as well as a rainbow of heirloom gourds, including some you won't even find in seed catalogs. Visitors can pick their own and view giant pumpkins that can grow up to 400 pounds, depending on the weather.
Bare estimates that some 5,000 people visit the pumpkin patch each season, and while it's an annual tradition for many locals, there are folks who travel from as far away as Florida. While many farms provide pre-cut pumpkins scattered in a field, Harvest Farm leaves them on the vine. Visitors are given pruners and can hand-harvest their favorite specimens. "It's a unique experience that people can have as a family," Bare muses.
Children can pick out tiny pumpkins that fit in the palm of their hand, home cooks will find pie pumpkins that are good for baking, and there are plenty of gourds to decorate the front porch and mantle at home.
Harvest Farm
3287 NC 194, Valle Crucis
Open Friday-Sunday; (828) 260-0765
harvestfarmllc.com
Carve Out Some Fun
Check out these other area pumpkin patches
Darnell Farms - Bryson City
Get into the season with wagon and horseback rides, bluegrass music, a haunted corn maze, and eight acres of pumpkins offering both u-pick and pre-cut specimens. Harvest Plow Day happens October 26, with even more fall-themed activities. darnellfarms.com
Deal Farms - Franklin
With 28 varieties of pumpkins spread across 15 acres, there's plenty of colorful gourds for the picking. A fruit stand, corn maze, hayrides, and an illuminated jack-o'-lantern trail (happening during the last three weekends of October) sweeten the deal. dealfarms.com
Grandad's Apples n' Such - Hendersonville
Choose from five varieties of pre-cut pumpkins and an array of apples at this farm, where you'll also find a corn maze, cider donuts, farm animals, an apple cannon, and more. grandadsapples.com
Orchard at Altapass - Spruce Pine
For the first time, pumpkins have been planted at this lofty apple orchard, which also offers storytelling hayrides and opportunities for birding and monarch sightings. altapassorchard.org
Sky Top Orchard - Flat Rock
Apples take center stage at this sprawling u-pick orchard, but this year, they've added a pumpkin patch and pre-cut gourds for sale. Rides and a play area for kids, a bamboo forest, farm animals, and cider donuts add to the experience. skytoporchard.com
Forgo Symmetry - For a table setting, instead of having a pair of everything, try groupings in odd numbers. Play around with filling out your space and don't worry about symmetry. Add varying levels of height to create more intrigue.
Pretty as a Pumpkin
Pro pointers on decorating your hearth and home with the season's plentiful gourds
Courtney Hinton of Hearth + Home Interiors & Antiques in Asheville has plenty of ideas on how to decorate for the season. She launched her interior design and antique business in 2016 by establishing a booth at The Antique Tobacco Barn and traveling to vintage market shows across the Southeast.
Last year, she made the shift to designing full-time and says she especially likes working with her husband's real estate clients. She also feeds her obsession for decorating short-term rentals (a service she offers along with managing them) on her blog, hearthandhomeinteriors.co. Fall is her favorite season, so she felt right at home crafting these tips for gorgeous autumn displays.
Complement Your Home
When decorating a porch with pumpkins, it's important to select colors that will complement your home's exterior. Orange pumpkins are great against earth tone homes or rustic siding but may clash with certain bright colors. Pay attention to your door color as well. If you have a warm-colored door such as red or yellow, shy away from orange pumpkins and opt instead for an heirloom color like grey or white. Left, Hinton created a coffee table display using stacked gourds and turned one, which she painted white, into a flower pot.
A Planter for Every Season
Try an outside-the-box outdoor planter that rotates with the seasons. You can even use an unconventional object, such as a vintage baby bath tub on a stand, as a planter. Fill the tub with dirt and then stack pumpkins on the surface to create different height variations. Have fun and mix it up. This is a perfect opportunity to use big and little pumpkins. Select plants with various textures to play off the sleekness of the gourds. Also, if you're using a lot of orange pumpkins, opt for using plum-colored flowers or dark greenery.
Stack It
Stacked pumpkins add a whimsical touch. This look can be achieved by using heirloom pumpkins, which can be found at local farms. Group pumpkins with complementary colors, and if you're lucky enough to find a pumpkin with a long, curly stem, stack that beauty right on top like a trophy.
Sugar & Spice
Devour this delish spin on a pumpkin pie from award-winning pastry chef Ashley Capps
Ashley Capps is a North Carolina native who turns humble pumpkins into prize-worthy pies. She's the pastry chef at Buxton Hall BBQ in Asheville and a 2019 semifinalist for the James Beard Foundation's Outstanding Pastry Chef award.
She traces her love of pie back to her childhood, and has vivid memories of her grandmother's Yum Yum Cherry Pie. Yum Yum pies are no-bake desserts with graham cracker crusts, a creamy cheesecake-like layer, and fruit. She says she loves the name "yum yum" because it sparks joy for her. "It's relatable and it doesn't sound fussy," she says. 
Capps puts an autumn spin on this Southern dessert by using pumpkins instead of cherries. She prefers to roast whole pumpkins sourced from local farms, but if you're pressed for time, canned pumpkin purée will also work. Make this pie yourself or reserve one of Buxton Hall's seasonal signature pies to take home for your fall gathering.
Sweetie Pie
Visit buxtonhall.com/pie to place a pick-up order for one of Capps' sensational seasonal desserts.