Yum Yum Pumpkin Gingersnap Pie
Yum Yum Pumpkin Gingersnap Pie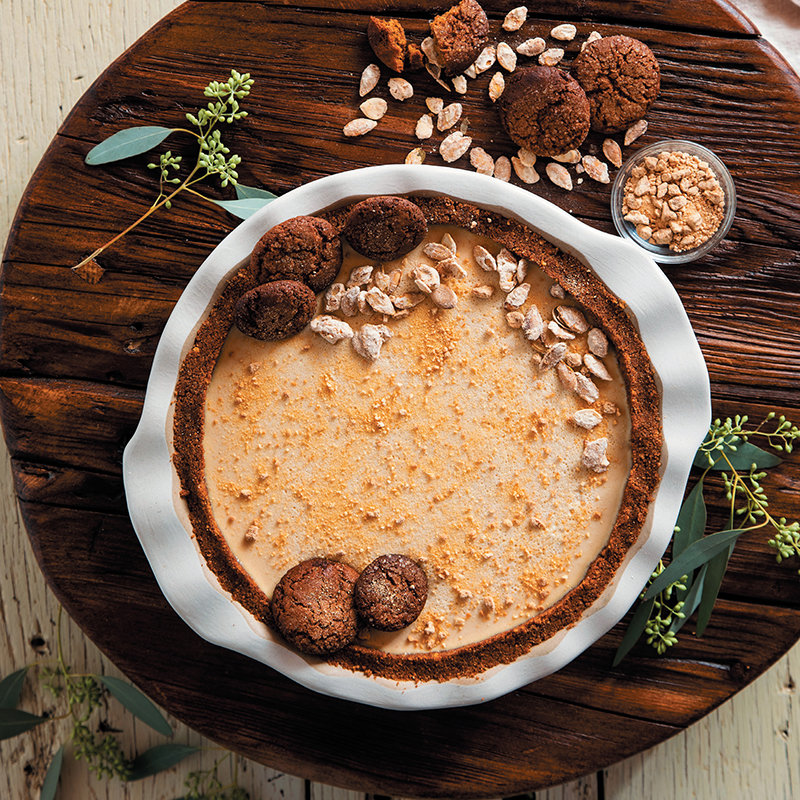 DESCRIPTION:
Courtesy of Buxton Hall's Ashley Capps
Ashley Capps puts an autumn spin on this Southern dessert by using pumpkins instead of cherries. She prefers to roast whole pumpkins sourced from local farms, but if you're pressed for time, canned pumpkin purée will also work. Make this pie yourself or reserve one of Buxton Hall's seasonal signature pies to take home for your fall gathering.
She traces her love of pie back to her childhood, and has vivid memories of her grandmother's Yum Yum Cherry Pie. Yum Yum pies are no-bake desserts with graham cracker crusts, a creamy cheesecake-like layer, and fruit. She says she loves the name "yum yum" because it sparks joy for her. "It's relatable and it doesn't sound fussy," she says.
Read more about pumpkins, the hallmark of fall here.
INGREDIENTS:
Gingersnap Crumb Crust
2 cups gingersnap cookie crumbs
1/2 tsp. salt
2 Tbsp. light brown sugar
1 tsp. ground ginger
1/8 tsp. cayenne powder
2 Tbsp. butter, melted
Yum Yum Pumpkin Filling
4 sheets gelatin
1¼ cup + 1 Tbsp. heavy cream
2/3 cup pumpkin purée
1/2 cup + 1 Tbsp. granulated sugar
3 Tbsp. brown sugar
1/2 tsp. ground ginger
1/4 tsp. allspice
1/3 tsp. salt
3 large egg yolks
1/4 cup milk
1 cup + 2 Tbsp. cream cheese, room temp
1/2 cup sour cream
1/3 tsp. vanilla
DIRECTIONS:
For the Gingersnap Crumb Crust
Preheat oven to 300°F. Combine gingersnap crumbs, salt, brown sugar, ginger, and cayenne. Mix evenly with hands. Add melted butter. Mix by hand for five minutes to blend evenly and achieve a moist crumb crust. Crust should maintain shape when squeezed by hand.
Portion crumb mixture into a 12-inch pie pan. Level and flatten the mix along the bottom and sides, pressing evenly and firming to tightly pack the crust and reinforce the corners. Bake the crust for 15 minutes or until very brown. It should smell toasty and delicious. Cool before adding Yum Yum Pumpkin Filling.
For the Yum Yum Pumpkin Filling
Bloom gelatin in ice water (see package for instructions) and set aside. Combine heavy cream, pumpkin purée, sugar, spices, and salt in a pan, and, using a thermometer, heat to 120°F over medium. Using a blender, combine gelatin and warm cream/pumpkin mixture. Make sure gelatin dissolves. Blend on low speed for one minute to combine evenly. Set aside.
In a mixing bowl, add egg yolks, milk, cream cheese, sour cream, and vanilla. Blend until smooth using an immersion blender or a mixer with a paddle attachment. Add the cream cheese mixture to the pumpkin mixture and whisk evenly to combine. Pour into cooled crust and refrigerate until set, at least two hours.
After pie has set, decorate as desired. Try garnishing with mini gingersnap cookies, pumpkin seeds, or white chocolate bits.