Pop Culture
Pop Culture:
Asheville's Poppy Popcorn continues to pop off with expanding popularity and ever-new flavors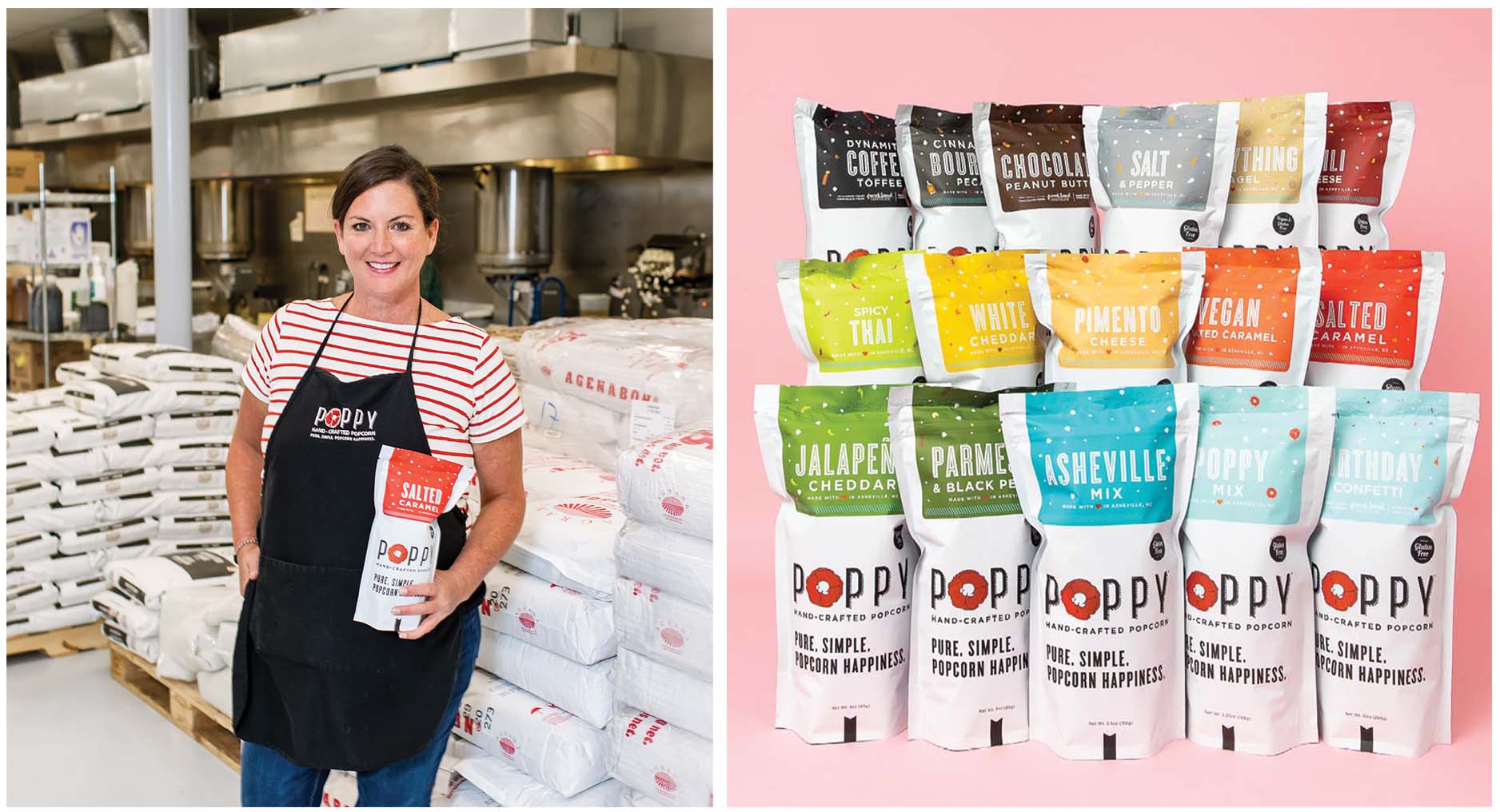 Poppy Popcorn has been blowing up all over the country. The small kernel of a popcorn shop that Ginger Frank opened in 2014 in North Asheville has exploded into a nationwide favorite, having been featured on Food Network, Food & Wine, and even Good Morning America, with distribution in every state. "It's a pretty awesome story, sometimes I forget that it's mine" laughs Frank. "I'll think, this is a really interesting TV show I'm watching, but no, this is my life!"
"I grew up on popcorn," she says—and indeed, the love of popcorn ran deep into her childhood. "We would even go to the movie theater and buy that crazy, horrible, expensive popcorn and just take it to go, because you can't get that lousy, artificial butter taste any other way." But popcorn as a favorite snack is one thing, turning it into a career? That's another story, one that primarily seems to come down to her sheer tenacity.
While doing mundane chores around the house one day with the Food Network droning on in the background, Frank saw a feature on a popcorn shop in Austin, Texas. Curiosity piqued, she reached out to the shop owners to pick their brains about the feasibility of the business. "At that point, I loved the idea, but I really didn't know if I could make a living doing it," she says. "The food scene in Asheville really has everything, but we didn't have popcorn.
"We opened with the idea that we would just have a small retail store where folks here in Asheville could come in and get their different flavored popcorn," says Frank. "But very quickly, we started getting phone calls from people who had been in Asheville, or a family member had given them our popcorn, asking how they could get more."
That immediate growth, and the expansion of their production facilities gave them the chance to expand and experiment. As of now, there are over 30 flavors available at Poppy's online store, with regular seasonal rotations, like this summer's line of four barbecue flavors: Sweet Honey, Smokey Texas, Spicy Kansas City, and Tangy Carolina.
"Most popcorn places treat [popcorn seasoning] kind of like chips; they are filled with all kinds of artificial flavorings and stuff to make it highly profitable," Frank explains. "I just knew that wasn't really an Asheville thing, so I started working on recipes with nothing artificial in them." And the addictive difference that kind of dedication to quality makes is evident in every crispy kernel.
For more, visit poppyhandcraftedpopcorn.com.