Perfect Pairing
Perfect Pairing:
Gourmet meets grocery at The Artisan Market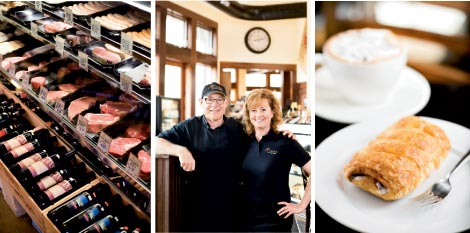 Emily and Kurt Burritt have adapted well to Western North Carolina living. After relocating from Michigan, the husband and wife team opened The Artisan Gourmet Market at Black Mountain's Cheshire Village in 2010, to share their love of food and wine with the community. "We wanted to create a place where people can feel comfortable, and we try hard to know our customers," Kurt says. "When they walk through the door and their special drink is already being made, it's like they're family."
In the coffee and wine bar, fresh roasts, fruit smoothies, and wines by the glass are served with    authentic, Italian deli-style sandwiches and flatbread pizzas. Just beyond a glass case stocked with house-made confections is the market, where more than 6,000 bottles of wine from all over the globe fill the shelves. That's one for each person in Black Mountain, Kurt jokes.
The couple pride themselves on carrying a variety of locally made foods, including Ultimate Ice Cream and Roots & Branches crackers (their top sellers), as well as their own brand of sauces, seasonings, dressings, and pastas. A veteran of the food service business, Kurt happily offers recipes and advice at the meat counter to customers picking up Hickory Nut Gap steak, fresh seafood, or house-prepared sausage.
The Burritts host free wine tastings every Thursday from 5 to 7 p.m. to foster community. "When we moved here, we had to learn what the locals want," Kurt says, "and that's a good experience, which is what we offer." 
---
The Artisan
Gourmet Market
2 E. Market St., Black Mountain
(828) 357-5500
www.artisangourmetmarket.com