One-stop Shop
One-stop Shop:
Hit the Holiday Market hosted by Blue Ridge Food Ventures to find tasty presents with local flavor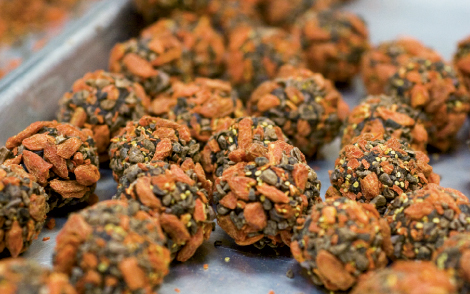 Chances are, the last time you slathered a sandwich with Lusty Monk Mustard, or savored a biscuit topped with Imladris Farms berry jam, you thought "My [insert loved one's name here] has got to try this."
Blue Ridge Food Ventures read your mind and created an annual Holiday Market, set for December 7, where you can buy your favorite local goodies as gifts. Imladris Farms and Lusty Monk will be there, along with Jack's Nutter Butters, Bamboo Ladies Bamboo Pickles, and other WNC culinary creations that got their start thanks to the BRFV entrepreneurial kitchen. And the vendors will be offering samples too, so you might discover fresh flavors to serve at your holiday gathering.
Locavores can also order preselected gift boxes online for pick up or to send. A small box holds five treats, and the large contains seven, each with a bonus treasure of UliMana organic chocolate-peppermint truffles. Once your friends and family tell you which items they enjoyed the most, you'll know exactly what to buy them next year.
Holiday Market
Blue Ridge Food Ventures
A-B Tech Enka Campus, 1459 Sand Hill Rd., Candler
Wednesday, December 7, 9 a.m.-1 p.m. & 4-7 p.m.
www.advantagewest.com
Correction: The print version of this article in the November/December issue named the wrong city for the location of the A-B Tech Enka Campus. It is located in Cander.