The New Public House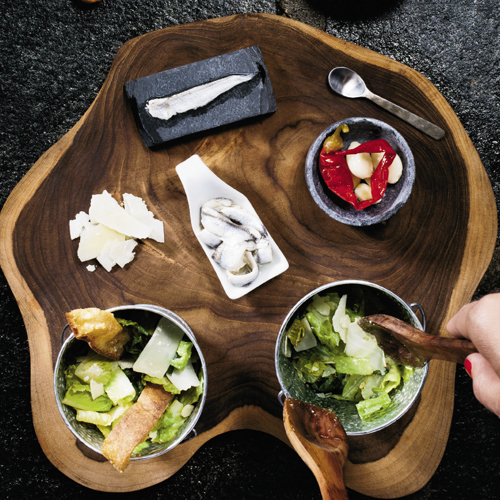 Cocktails on the porch with pork rinds and popcorn—sounds like pure comfort. It is, in fact, an appetizer at Blowing Rock's New Public House. While it's something of a novelty item, served in a paper bag with a large shaker of five spice seasoning, my dining companions and I dutifully passed around the rustic hors d'oeuvre in the spirit of the New Public's playful menu.
We could have sampled smoked bacon peanut brittle and bacon skewers as well, but instead opted for lobster tots. Hearty chunks of warm lobster came tossed with sweet corn cream and pea tendril salad, all served on a bed of tater tots. Bleu tots (with Gorgonzola crumbles) were ordered by others.
Operating since 2013, The New Public House & Hotel is a place transformed. Built in 1921, its bones are still roughly the same as before, but Cindy and Cobb Milner, already masters of Blowing Rock hospitality with the Gideon Ridge Inn and Bistro Roca, have brought a distinctly different sensibility to this end of Sunset Drive. They operate what are essentially three venues in one—the informal front porch, a spiffy pub with a bar and seating area, and the stylishly comfortable dining room.
As our small group lounged on a white sofa on the front porch, the owners came out to check on guests before heading home. I first met the Milners over a decade ago, at their formal inn at Gideon Ridge. They're both from Chicago and well-traveled, and have a keen eye for small details. "So glad you've ordered our new cocktails," intoned Cindy, ever the hostess.
The Dapper Dan, a startlingly fuchsia-colored concoction (prickly pear juice gives it the jewel tone), is a tequila-based beverage that's sweet, but with tart splashes of lime. One in our party had the Hendrik's-based basil gin and tonic and declared it never better. And my selection, a rhubarb lemonade cocktail with white moonshine, came shaken and frothed to perfection, with the surprise of a second-helping carafe.
The outdoor seating area filled up quickly with people in shorts and flip-flops. Inside, where the dress becomes more formal, the dining room is all gentle neutrals, dark and light wood tones, and decorated with small contemporary touches. The booths are lined with reclaimed wood, while the chairs have a light burlap-linen look, but feel soft and plush. Sconces with Edison-style bulbs add a subtle golden glow, as does the amber-toned art glass strategically placed to bring light into the corners of the room.
Chef Michael Foreman was also behind the Gideon Ridge and Bistro Roca kitchens. Here, he presents a menu of small bites, entrées, and daily specials. "Compose your own dining experience; that's what it's all about," says Cobb. "Do it with many small plates, or one of the heartier entrées."
As we continued our meal inside, tables filled around us, with many ordering a composition of said small plates: okra fritters in tiny metal buckets lined with butcher paper, house pickles in quaint jars, Ashe County cheddar pimento cheese spread, house-made pâté, steaming bowls of green chili mac and cheese, shrimp and grits, duck barbecue, and more.
The Caesar salad set itself apart with whole anchovies and buttery, melt-in-your-mouth croutons. A field greens salad with golden beets and strawberries was so delicate, the greens might bruise with the touch of a fork. Dabs of creamy goat cheese added heft to the dish.
A special of short ribs was slightly under-seasoned, but tender and beautifully paired with an unusual celeriac purée and fennel confit. Sautéed mustard greens added just the right amount of density.
My choice of wild boar meatloaf was a blast of complex flavors. A wrap of bacon edged the thick slice of meat, which was accompanied by velvety chili mashed potatoes. The lightly browned crust gave way to a succulent mélange of ground boar, herbs, and seasonings. Cured tomatoes, serving as a juicer version of the sundried variety and marinated in savory herbs, offered acidic bites that countered the rich meat and creamy mushroom gravy.
We couldn't quite bear for the leisurely evening to end, and finished with a hot cast-iron skillet-served plum cobbler. Warm bites of sweet plum, with what seemed like the pleasantly tart addition of rhubarb and a dollop of rich vanilla ice cream, completed a meal of innovation and pleasant surprises.
---
The Draw: Innovative and fun plates, small and large, served in a stylish and soothing atmosphere
The Drawback: The novelty treats, like popcorn and pork rinds, should be hotter
Don't Miss: The okra fritters
The New Public House
Blowing Rock
239 Sunset Dr.
(828) 295-3487
www.thenewpublichouse.com
$$-$$$