The Meat of It
The Meat of It :
Whether your holiday dinner includes ham, turkey, beef, or a walk on the wild side, John Kerr of Metro Wines in Asheville offers wine-pairing tips for your pièce de résistance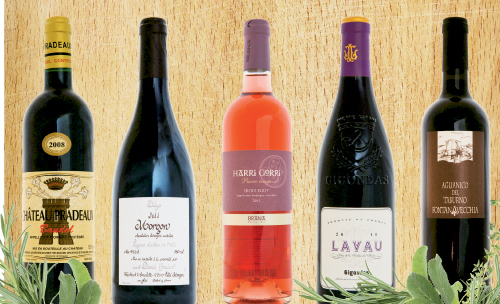 Château Pradeaux Bandol
2008 » $48
Bandol is Provence's best-kept secret. This French red is a deep, brooding wine made from the powerful mourvèdre grape. Expect notes of spice box immersed in flavors of plum and other dark fruit. There are enough tannins in this complex wine to take on your favorite prime rib or braised beef.
Bouland Morgon Beaujolais
2011 » $29
Skip the nouveau and go for a cru Beaujolais. Produced just south of Burgundy, these wines are similar to a good red Burgundy but can be had at half the price. Bouland Morgon Beaujolais is bold and polished with juicy, black raspberry, cherry, and a hint of smokiness. Its spiciness pairs well with ham as well as sweet potato and glazed carrot sides.
Brana Harri Gorri
2013 » $15
A heavier rosé has the right texture to match your favorite turkey recipe, and deftly joins the cacophony of family dishes gathered over generations. A great choice is Brana Harri Gorri, a rosé from the French Basque region. The red sandstone soil adds a deep color and lots of spice to this well-balanced blend of tannat and cabernet franc.
Lavau Gigondas
2011 » $20
The poor man's Châteauneuf de Pape, Gigondas is a rustic and powerful syrah blend from France's Rhone region. The tannins are surprisingly silky, framing complex notes of black cherries, dried herbs, and earth. This full-bodied red is a perfect pair for herb-encrusted lamb and roasted potatoes.
Fontanavecchia Aglianico
2009 » $15
Grown on the slopes of volcanos, Aglianico is Italy's next big red. This dense yet lithe wine opens with aromas of plum, underbrush, and tilled soil. Look for rich blackberry and cherry accented by black pepper and dust. The rich, dry finish hits the right notes with wild game, including boar, pheasant, and duck.