M2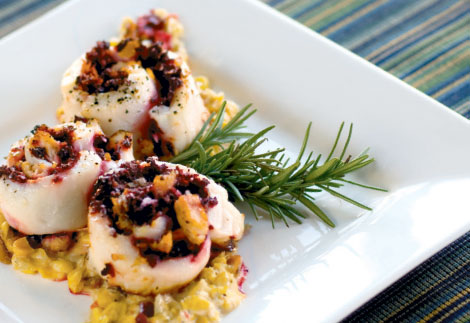 If the only thing you know about Spindale is that the town is home to WNCW 88.7 FM, which broadcasts the eclectic music program World Café, it's time to head to Rutherford County for another type of international experience.
Restaurant M2 (M squared) adds a global approach to the downtown dining scene. The menu is constantly evolving thanks to the creativity of chef Robin Healey, former executive chef at Lake Lure Inn. "I go on little rampages," she says of her fondness for exploring ethnic cuisine. "First Mexican food, then Korean, then Brazilian."
Take for example the tapas special served on Tuesdays. Plump Greek scallops come out fragrant with thyme and lemon. Flaky salmon cakes made with fine bread crumbs and fresh herbs are sautéed until buttery crisp, and accented with ginger-aioli cream. Honey, sesame-encrusted pork medallions reminiscent of Korean barbecue—sweet and sour, with a salty finish—are another must-try dish.
The restaurant's style also stands out on Main Street with its spacious outdoor patio and stylish midnight blue walls and contemporary art inside. Rustic wooden tables and ladder-back chairs add a down-to-earth touch to the year-and-a-half-old eatery's otherwise chic interior.
Looking around the room, a dozen coworkers meeting for cocktails pick appetizers and salads, including one with warm, pecan-encrusted goat cheese, grapes, greens, and lightly cooked beets complemented with a citrus dressing. At another table, an older group of diners is digging into roasted pumpkin lasagna and Cape Cod fish cakes. Add to the entrée choices an extensive list of wines from across the globe and this cosmopolitan eatery is successfully connecting Spindale with the larger world, one sip at a time.