King James Public House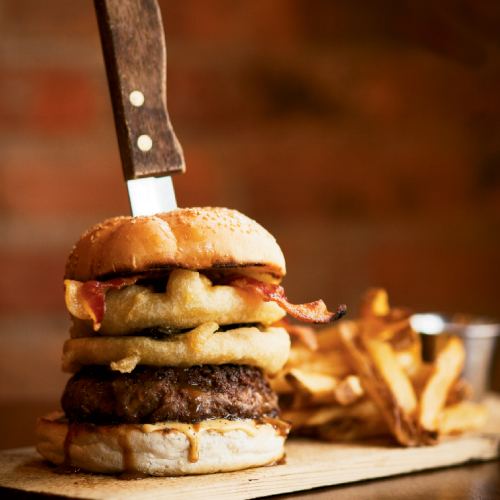 When King James Public House opened a year ago, one knew to expect exciting things from Chef Steven Goff. A graduate of Asheville-Buncombe Technical Community 
College's nationally noted culinary program, Goff had been a chef at Asheville tapas restaurant Zambra and helped open the irreverent Ben's Tune-up. He was known as the "pastry and pickles guy," he jokes, specializing in fermenting and pickling, and having devoted two of his four years at A-B Tech to the pastry program.
With King James, Peter Slamp (also owner/manager of Zambra) partnered with Goff to showcase the chef's talents, creating hyper-local, elevated pub fare consisting mainly of smaller bites. On offer are duck wings, braised pork cheek, duck liver pâté, house-made pimento cheese, and Scotch eggs. There's also a unique selection of monthly rotating appetizers and select entrées that always come beautifully plated with edible flowers or seasonal garnishes, such as paper-thin pink radishes and microgreens. Stick-to-your-ribs pub-grub this is not.
Slamp, for his part, is the cocktail king, introducing creatively named elixirs like Monkey Gone to Heaven, a sriracha-infused sweet-sour pink beverage, and the wonderfully dusky Bait and Switch. It has a base of Famous Grouse Scotch whisky, with powerful lemon and ginger notes, pepper agave, and a final whisper of smoky, peaty Laphroaig (an Islay single malt Scotch). The bourbon-laced Autumn Sweater is also a favorite. By name alone it sounds cozy, and it comes with thinly sliced apples and a sprinkling of cinnamon and nutmeg atop.
The pub is small—at home in a brick building, the King James Apartments—and sandwiched between a bakery and a butcher shop on Asheville's Charlotte Street thoroughfare. Just on the edge of one of the city's largest residential neighborhoods, it couldn't be a more perfect place for a local joint, and it's garnered a regular following of neighbors who can walk to "their" pub. Slamp says he hopes to open a dining room in an adjoining space soon. "It will have more seating, be more loungey, and be available for private parties," he says.
Candles cast a cozy glow along the brick walls, with the décor—clean, understated, and modern—creating an atmosphere where one is happy to hunker down more than occasionally over the duration of a cold winter. Step-up booths with tall leather benches located opposite the long bar can accommodate a small group, and primo tables in the windows allow for people-watching.
Goff serves a good part of the menu on thin wooden boards. The pâté and pimento cheese jars come with pickled vegetables placed just so, with a small bowl of toasted crostini as an accompaniment. An artistic black smear on the edge of the boards turns out to be squid ink-tinted mustard. Its spicy kick enhances the smooth duck liver pâté. Coupled with a bite of pickled beet on a crisp piece of grilled baguette, it's the quintessential hors d'oeuvre for a good wine.
That said, the wine list is limited, but it's adventurous and does rotate. Beers on tap tend to be local. Nothing on the menu rises above $18, and Goff says he's using the same techniques and locally sourced produce and meats that he employed at Zambra and the high-end Gabrielle's in the erstwhile Richmond Hill Inn.
"I like taking care of locals … serving local food for local people," he says. The menu, one could argue, is Asheville embodied, spanning from delicate and haute cuisine-esque to in-your-face, bizarre mash-ups that, more often than not, hit the mark for open-minded diners.
A recent new addition, the elegant cross-cut cauliflower grilled to caramelized perfection, with toasted bits of grilled Brussels sprouts and the balancing acidic punch of pickled onions, is a mature dish with depth. Thick and sticky dirty rice croquettes are elevated by a perfect French mustard-crème sauce. Fried chicken on a crumpet is covered (maybe a bit too much) in a peppercorn gravy. The hearty seared rare burger, held together with a steak knife piercing its middle, is a tower of beef, fried onion rings, lardo, kimchi, and smoked Gouda. Like their local fans, Goff and Slamp are having fun, and it shows.          
 
The Draw: A neighborhood pub with a fiercely local following, and always something new on the menu
The Drawback: Never enough grilled bread for your apps
Don't Miss: The seared rare burger—everything a burger should be. Double points for presentation
King James Public House
Asheville
94 Charlotte St.
(828) 252-2412
Facebook: King James Public House
L D SBR $$