Jackalope's View
Jackalope's View:
In case you're wondering, there's no such thing as a jackalope. But Jackalope's View at Archer's Inn in Banner Elk, does deliver on the second half of its moniker with spectacular scenes of Grandfather and Sugar mountains. Happily, the fare, a refined take on comfort food, is just as impressive.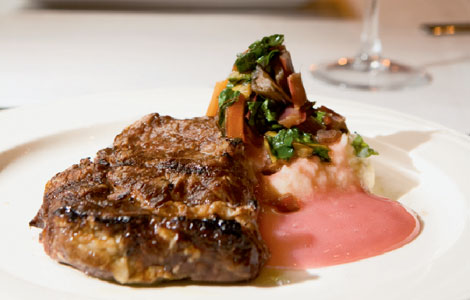 A wall covered with corks foreshadows the lengthy wine list that counts a Rhône varietal, Châteauneuf-du-Pape, and California's Caymus Special Select Cabernet Sauvignon among the highlights.
The return of chef Matthew Franklin, who ran Jackalope's kitchen from 2002 to 2006, signals a reinstatement of former favorites. "This is the triumphant return of crab cakes, nut-encrusted trout, and a few other Southern items," says the Baltimore native.
A tower of braised Hickory Nut Gap Farm pork belly served over salad black-eyed peas and topped with a roasted garlic aioli creates a sophisticated hoppin' John. Roasted duckling drizzled with raspberry demi-glace, accompanied by spears of asparagus and sliced potatoes, upholds the rich perfection of the dark meat without being overly fatty. Antelope, boar, and venison from Broken Arrow Farm in Texas help Jackalope's satisfy a wild-game niche as well.
Ziti pasta with tiger shrimp, bacon, sweet peas, and mushrooms bathed in Alfredo sauce won't leave you hungry, but ending the meal with the buttery, orange-caramel goodness of bananas Foster is a sweet excuse to admire the views just a little while longer.
Jackalope's Restaurant
2489 Beech Mountain Pkwy.
(828) 898-9004
www.archersinn.com
Entrées: $$$