Iron Horse Restaurant & Tavern
Iron Horse Restaurant & Tavern:
Iron Horse Restaurant & Tavern fits right in with Hot Springs' casual vibe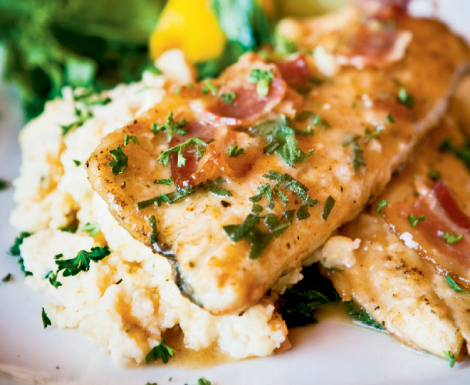 At the height of summer, the cavern-like cool of Iron Horse Restaurant & Tavern turns lunch into a restorative break.
In Hot Springs, where only a handful of eateries are available to hikers, campers, French Broad River boaters, and folks fresh from the spring-fed hot tubs, this comfy spot reflects the laid-back style of the town by foregoing stodgy fare. Instead, this newcomer provides casual cuisine like tomato jam-basted paninis, Cubans accented with whole-grain mustard and mojo aioli, and spicy black bean burgers—all tempered with ice-cold brews.
A part of the triumvirate that comprises Iron Horse Station, which also features an inn, and a combination shop/gallery/café, the eatery is handsome with dark wood floors, stucco and exposed brick walls, and a pressed tin ceiling. The circa-1890s building is said to be one of the oldest in the county—first opening as a haberdashery, and later housing a movie theater. Guests can often catch old-time music performances. For a cozy seat, head upstairs to the mezzanine and claim a spot on one of the sofas.
Come dinnertime, the place fills with families, jovial barflies, and groups of friends ordering plates of succulent ribs, sides of steamed asparagus, and wickedly creamy macaroni and cheese. The stupendously tall burgers balance dill pickles atop. Vegetarians can opt for sautéed tofu with honey-soy glaze or barbecue sauce. The chicken chili, plated with an avocado and onion garnish, delivers a surprising hint of vinegar.
Front-of-the-house manager Brian Baker notes the forethought in matching the menu—now under the direction of head chef Johannes de Bondt­—to the town's atmosphere. "Hot Springs is such a gathering place for unique people who come here for so many reasons," he says. "We're known for being close to the land with local farmers all around—so the capacity to cook something comforting, but with really great ingredients and a little edge, is something that comes naturally."
Iron Horse Restaurant & Tavern
hot springs
24 S. Andrew Ave.
1-(866) 402-9377
theironhorsestation.com
$$