Hot Chocolate
Hot Chocolate:
A young couple's adventure in Costa Rica leads to meaningful pairings of Family, friends, cacao, and chili peppers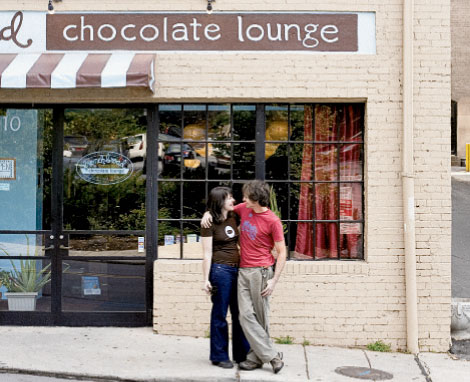 Snowflakes flutter from the sky as Dan Rattigan, dressed in a down vest and woolen hat, enjoys the heat and aroma rising from ancho and guajillo chili peppers as they char to a deep burgundy in a skillet on the grill.
Dan's wife, Jael, stands on the deck of their bungalow high above with the kids bundled against the cold, calling down to confirm the final order of preparations for tonight's meal. Dan's roasted peppers will be used in a complex mole sauce later this evening. Sam, four and half years old, and Max, two and half, run down to join their dad by the fire (and catch snowflakes on their tongues), and Jael returns to the kitchen to make hot chocolate with a rich ganache.
Dan and Jael are still reveling in Asheville winters (such as they are) after years spent in Costa Rica's hot and humid climate running a café and learning the properties and propensities of the cacao bean. Now deeply entrenched in their Asheville-based businesses, the French Broad Chocolate Lounge and French Broad Luscious Chocolates, it's a rare day when the whole family can spend an unrushed evening with friends around the dinner table.
Life has sped up for the Rattigans since opening their downtown shop in February 2008. Open seven days a week, the lounge has only seen business grow in what has been a trying time to begin a new enterprise.
It started off slowly, taking a few months for people to warm to the tiny truffle-brown and light blue café on South Lexington Avenue. Jael worked the French presses, dished out chocolate-dipped shortbread, and stirred up rich liquid truffles with baby Max perched on her hip. At first, the café seemed to be a secret to all but the most dedicated chocoholics.
Today, the lounge employs 14 people who can barely keep up with the lines snaking toward the front door on weekend evenings. The lounge recently expanded into a second floor of the building and took over the top level for a new industrial kitchen. This is a departure from the days when they rolled truffles in a retrofitted second kitchen in the back of their home.
Paths Converge
The Rattigans are nothing if not risk takers. And as they begin to create this evening's winter meal, each preparing a specialty influenced by the cacao bean, they tell their story.
As a recent Oberlin College graduate, Dan planned to continue his education at the University of Minnesota's law school. But looking at the stylish leather briefcase his mother bought him as a graduation gift, all he could think about was new pots and pans. The briefcase was returned, and Dan came home with a gleaming set of All-Clad cookware.
Working a part-time catering job, he found himself covering for a bartender at an event. Party guest Jael ordered a drink and left with Dan's phone number; he with hers. Only a few days later, Dan called Jael, and began to describe in great detail what he was cooking at that moment—pasta with pesto and veggies. "He said 'you're coming over for dinner, right?'" recalls Jael, who was in business school at the time.
After a few months of dating—and one harsh Minnesota January—the two decided to vacation in Puerto Viejo on the Caribbean coast of Costa Rica. In just one week, they realized this would be their new home. They purchased an abandoned cacao farm—a five-acre parcel in the jungle—dropped out of school, and started selling off their possessions for the big move.
Southern Exposure
Dan converted a School BuS to run on vegetable oil and the drive south began, but not before the couple received the surprise news that Jael was pregnant. Undeterred, they continued on their quest to make bread and chocolate—quite literally. It's what they named the small breakfast and lunch café they opened and successfully ran in the tiny surfing village.
In an apartment above Bread & Chocolate, Jael honed her skills with the cacao bean and its many incarnations. In the café, the couple experimented using local ingredients and spices. "Our inspirations are from world cuisine, and so are our flavor pairings—you can trace them back to Thai, Indian, and even Aztec," says Jael.
After two years, they decided they'd had enough of the beach lifestyle—and they found out Jael was expecting again. But it was also clear the couple's relationship with chocolate was long from over.
"Several customers had told me to check out Asheville," recalls Jael, "and we wanted to be intentional about where we moved." So when they returned to the United States, in the same refurbished school bus that took them on their adventure, they stopped in the mountains for a trial visit and stayed.
Following a class at Mountain Bizworks, a nonprofit organization that provides training and loans for entrepreneurs, and with Jael's business school acumen, the couple were soon making truffles in their home, offering tastings at tailgate markets, and selling them at organic grocery stores around town.
But, says Dan, something was missing from the experience. They missed the customer interaction they had at Bread & Chocolate. Hence, the Chocolate Lounge was born.
"We thrive on seeing people enjoy what we create and helping people decide what is their favorite," says Dan. Truffles of seemingly infinite flavor combinations, salted caramels, torts, tiramisus, triple chocolate mousse, pots de crème, enhanced hot chocolates, cold chocolate milk, chocolate-porter ice cream, chocolate cookies, and French press coffee, teas, wines, and champagnes have become the rumination of many a foodie blog, newspaper article, and travel magazine blurb.
Food Group
Tonight, The Rattigans' small, Blue clapboard house, tucked into a West Asheville neighborhood, is decorated with a fragrant Frazier fir, which is adorned with simple white twinkle lights, a coppery organza ribbon, and handmade stars of baked clay created by artist friend Lori Theriault.
In the industrial kitchen overlooking the backyard, Jael makes guajillo pepper-tinged hot chocolate for guests who have arrived early to help cook. The milk, cream, and chocolate ganache blend smoothly and uniformly as Jael stirs, adding vanilla and cinnamon.
Guests sip the elixir and watch Dan crush the peppers he roasted earlier, and stir them into a thick mole negro created with bittersweet, stone-ground Mexican-style chocolate from the Dominican Republic, which is 80 percent cacao mass (think of that measurement as chocolate's version of the proof in alcohol). Also set out in little bowls to add to the mixture are ancho chiles, guajillo peppers, chili seeds, pumpkin and sesame seeds, peanuts, Mexican canella cinnamon, almonds, garlic, avocado leaf, cilantro, and epazote—a Mexican herb.
A green mole made with tart tomatillos and a tomato-based variety offer a diversity of flavor and color on the table. They accompany two tamales—one stuffed with pork, the other with goat cheese—made both Mexican and Costa Rican style in corn husks and banana leaves.
As friends Andy Farkas and Katherine McGinn arrive with five-month-old Eva, the meal preparations begin in earnest.
"We try out their new recipes all the time," says Farkas. "They call us up and say 'hey, we have another mole recipe.' We are definitely into sharing that process." Right at home, he chops fresh vegetables, mango, and cilantro to go into a ceviche, which has been stewing in citrus juices overnight to "cook" the seafood.
Dan runs out briefly to warm the banana leaves over the remaining glowing embers in the grill, bringing their oils to the surface to make them more pliable.
Once the final guests of the evening, Rick and Kelly Wedell, deposit their coats on a rack and send their toddler, Trinity Lane, off to play with the boys, the adults turn to packing, folding, and tying the tamales under Dan's instruction.
Art & Soul of a Meal
The ceviche Gets spooned into crisp romaine leaves, and offers piquant bites that the guests enjoy with beers. Meanwhile, Jael creates unique placecards. With quick swirls of a homemade pastry bag filled with warmed chocolate of 60 percent cacao mass—rendering it smooth and viscous—she writes each guest's name on their plates.
A hefty Melanto Terrace Zinfandel is poured all around, and once the children are seated at the kiddie table, the adults help themselves to the tamale buffet. Dan's side dish of fried plantains rolled in cacao nibs disappears quickly.
Katherine McGinn, whose artwork decorates the walls of the Chocolate Lounge, surveys the table in front of her. "This is really a great mutual food relationship between our families," she laughs. "Sitting down to food with Dan and Jael is like how you experience a piece of art. It's something they hold important in their lives, and how they express themselves."
As the candles burn low, the children fall asleep on the sofa, coffee and an elegant torte make their way to the table. Layers of chocolate butter cream, meringue, coffee butter cream, and genoise, sit like a cloud on dessert plates.
As a gift, Jael has tucked a foursome of truffles into plain cardboard boxes marked with elegant brown lettering and tied with brown ribbons. The busy trio of young parents say their goodbyes, and open the front door to be greeted by a fresh coat of snow.
Tomorrow, when the guests enjoy their truffles, this night will replay itself in the flavors of tangy pomegranate, mole negro, spicy canela picante, and the coconut-laced Buddha.
RESOURCES:
Photography by Christopher Shane