Hometown Spirit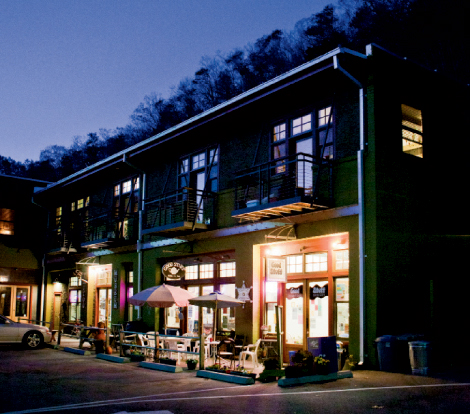 A sense of renewal is growing in our small towns. Across WNC, entrepreneurs are setting up shops, once-vacant courthouses are being revitalized, and neighbors are forging partnerships, all in an effort to ensure vibrant futures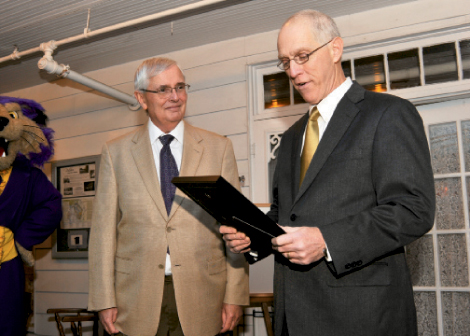 Mayor Mike Fitzgerald (right) presents Chancellor Bardo with a declaration of appreciation for the school's support during Destination Dillsboro, an event that brought 250 students and faculty to the town to shop and explore.
Dillsboro
Western Carolina University steps up to help a neighbor
Recent economic woes have impacted every Western North Carolina community, but one town took a double whammy in 2008. When the Great Smoky Mountains Railroad limited trips to Dillsboro and closed its ticket booth there, the tiny town (population about 250) lost a key source of tourist traffic.
Now a unique initiative is helping resuscitate the town. In late 2009, Western Carolina University Chancellor John Bardo announced that the school would launch a partnership with Dillsboro. Since then, Western has deployed dozens of professors and scores of students to help the town, explains Betty Farmer, a professor of communication and public relations who serves as Bardo's special assistant for the project. "Our goal is to share the expertise and services that we have at Western with Dillsboro merchants, and help them address the economic downturn," she says.
So far, students and faculty in disciplines ranging from public relations and business to art and hospitality/tourism have pitched in, developing a comprehensive rebranding strategy for the town, conducting merchant and visitor surveys, producing radio and video promotions, drafting press kits, and offering guidance on new marketing plans. By the end of last semester, Farmer estimates Western had contributed more than 3,000 volunteer hours.
Farmer stresses that, however much Dillsboro gains from the project, the students have been beneficiaries, too.
Ashley Funderburk, a junior public relations major from Lincolnton, assisted with a social media training workshop for business owners. "A great thing about social media programs like Facebook and Twitter is they give you the chance to reach new audiences, and make them aware of what's going on in Dillsboro," she says. The project has been a highlight of Funderburk's higher education. "It's one thing to learn about all of this in our classes, but in Dillsboro we're getting real-world experience," she says.
While it's too early to gauge the long-term impact of the collaboration, the project has clearly helped put 21st-century marketing tools into play. "It's phenomenal what they're trying to help us do," says John Chinners, president of the Dillsboro Merchants Association and owner of Country Traditions, a gourmet food, wine, and gift shop. "Just a few years ago, a lot of these merchants, like myself, despised computers," he says. "But the world is evolving, and if we don't evolve with it, we're going to get left behind."
—Jon Elliston
---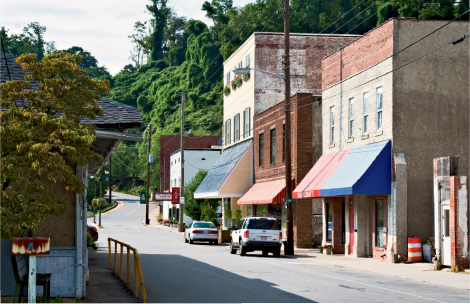 Spruce Pine is unique in that it essentially has two "main streets." Locust Avenue (shown) is referred to as Lower and Oak Street is called Upper.
Spruce Pine
Entrepreneurs welcome
It's no secret that Spruce Pine has seen more than its fair share of hardships, particularly the outsourcing of mining, textile, and furniture manufacturing jobs. The woes increased in August 2007, when The Mineral City became victim to arson fires that destroyed buildings and businesses, with losses in the millions.
As is often the case with tragedies, the fires became the impetus for change. Town officials recognized it was crucial to get people shopping, eating, and playing downtown again, explains Bryan Freeborn, Main Street Spruce Pine's new executive director.
On top of a welcoming climate offered by the city, a recent change in the alcohol laws opened new avenues for entrepreneurs, including Jennifer Rambo and Chad Mohr, owners of The Pizza Shop & Dry County Brewing Company. The artist couple moved from Penland in 2010 to take over the pizza shop, and added the brewery. "Spruce Pine is moving forward. It hasn't stalled and it's not going backwards again at this point," says Rambo.
Wendy Gardner, a native of Burnsville, and her husband, Nathan Allen, are also involved in the renaissance. Moving from Los Angeles, the couple took a chance and opened Knife & Fork in a downtown space that had seen eateries come and go. "People used to say, 'You have a restaurant where?'" says Chef Allen. Almost two years in, the restaurant has earned a reputation for excellent cuisine and its support of local farmers.
Still, businesses that sell necessities are almost absent. With moves being made to get closure on the burned buildings that still sit vacant, Freeborn sees a great opportunity for entrepreneurs to get deals on prime shop space.
"We need a clothing store, a shoe store, another coffee shop and deli," Freeborn says.
"Any of these businesses that open are going to be successful. The hunger is there. The need is there."
—Rita Larkin
---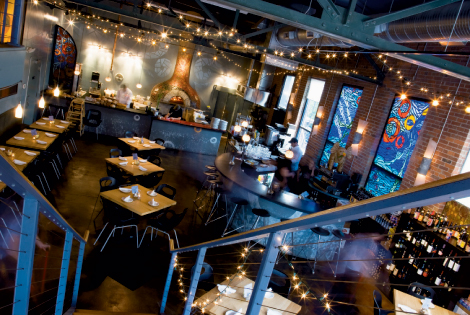 West First Wood-Fired Pizza specializes in gourmet pies.
Hendersonville
A thriving town builds on its success with a diverse culinary scene
If you're hungry in Hendersonville but uncertain what you're hankering for, just stroll down a stretch of Main Street. Fine Italian fare? Try Mezzaluna. Eclectic tapas plates? Never Blue's got you covered. Or how about a to-die-for veggie burger? Square 1 Bistro awaits. A dozen or so other options are mere steps away, and one need only turn a corner or two to find Thai food, sushi, wood-fired pizza, and other delectables.
"If you can't find something you like to eat, then you're obviously not in Hendersonville," declares Randy Jones, executive director of Downtown Hendersonville Inc., a nonprofit that buoys local businesses and counts many of these restaurants among its members. "We have such a variety: It's a situation where every day you could have a new culinary adventure. You would never have to eat the same meal twice, for months and months."
The town's core was already strong thanks to revitalization efforts that began in the early '90s. But Hendersonville's stock as a culinary center has risen more recently, notes Laura Huff, a local foodie who's blogged about it all, first at Hendersonville-Epicurean.com and now at her recently renamed CarolinaEpicurean.com. She started the site three years ago, using it to review and spotlight what she saw as notable (but too often overlooked) eateries.
"I wanted to create a buzz about what was happening in Hendersonville because it seemed so unique," Huff explains. And she found plenty to promote. "In the first year I was blogging, 18 new restaurants opened in the downtown core area," she remembers. She branched out into profiles of local farmers and chefs, highlighting their collaborations, and launched a biannual series of small-plate crawls (think two days of sample plates around town).
Of course, not every new restaurant was met with success, but she's convinced the town's culinary culture is reaching critical mass in both the variety and quality of its offerings. "The chefs here are so on top of the next big thing, whether it's the next ingredient or the next technique," she says. "I've lived in big cities where you expect that, but you're getting that here."
Hendersonville diners can expect even more out of the food scene, as the roster of pubs and restaurants continues to grow. Recently, there's been a string of new arrivals, including Appalachian Brewery and The Blue Note Grill and Flat Rock Wine Shoppe.
The ingredients for the town's gustatory gains have deep local roots, Huff and others say. Many of the downtown restaurants stock their pantries with locally grown food and serve bread from area bakeries, thus putting more money back into the community. What's more, there's a strong independent streak downtown, with locally owned stand-alones vastly outnumbering chain establishments.
"There's a big advantage to being an independent," Jones observes. "You can find a niche that works for our area."
David Brannock, co-owner of Blue Note Grill and Flat Rock Wine Shoppe, believes business is booming because he follows that approach. "The number one thing is to listen to your customers," he says, "and they'll tell you exactly want they want."
—Jon Elliston
---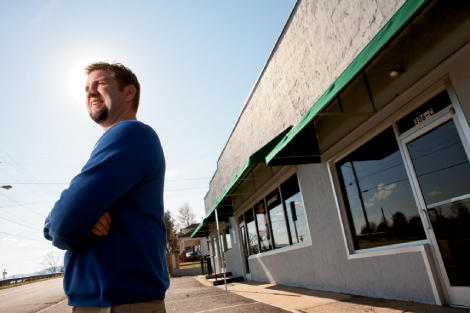 Drexel Town Manager Matt Settlemyer was instrumental in creating the town's business incubator.
Drexel
A business incubator nurtures new job opportunities
Well before the most recent downturn, Drexel already had slipped into economic doldrums when the once vibrant furniture industry shut down. As the quiet community became even quieter, town officials pursued economic development opportunities to revitalize the local market. In an innovative effort to prompt entrepreneurial activity, the town in 2007 purchased a vacant 6,000-square-foot downtown building and, in partnership with Western Piedmont Community College, established a small-business incubator.
"There wasn't a lot going on here, and local officials took a leap of faith," says Town Manager Matt Settlemyer. "We realized we were going to have to make a change in how we recruited businesses and helped them get started."
The town undertook renovations on the building, which contained three spots for enterprises. To help start-ups get off the ground, the program offers below-market rents with a limit of to three years in the space. The incubator currently has two tenants—a tile and flooring company and a commercial photography studio. The town hopes to have the third space filled early this year. Adding further momentum to the effort is a $100,000 Golden Leaf Foundation grant that was awarded in mid-2010, with some of the funds going toward further renovations.
"Our ultimate goal is to revitalize the business climate and create jobs," Settlemyer says. "This is a great jumping-off point that we hope will keep people motivated about doing something here in Drexel."
—Gary Carter
---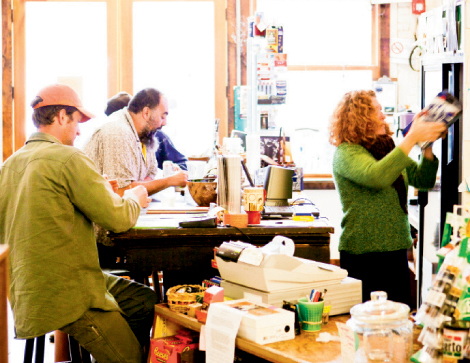 Amy Gillespie opened Good Stuff Grocery, which is part grocery store, part tea house, and part performance space.
Marshall
On a blank canvas, a community paints a promising picture
Ten years ago, you'd have been hard-pressed to find anyone in downtown Marshall who wasn't mailing a letter, getting their car registration renewed, or grabbing some tools at one of the two hardware stores. It was a ghost town lined with empty storefronts. Today, that's quietly changing, one small business at a time.
Interest in the town had practically vanished decades ago after a highway construction project rerouted Madison County traffic away from Marshall, taking almost all commerce with it.
But a strange thing happened at Marshall's main intersection in 2002. Joel Friedman, a transplant from Atlanta, opened Zuma Coffee shop, the town's first eatery in a long time. His logic in taking such a risk was simple: Marshall was a blank canvas and it needed a place where people could socialize.
It doesn't sound like much, but that one investment was followed by more. "A few artists bought some old buildings in town," recalls Rob Pulleyn. "And once there was a place to meet and have coffee, people found themselves downtown more often."
As life slowly returned, Pulleyn transformed the former high school building into artist studios and a community center—saving it from almost certain demolition. Creative professionals from across the county set up shop in the old classrooms at Madison High Studios.
In the following years, an old church was bought and converted into a performance space and theater, many buildings have been refurbished, a couple of restaurants opened, and other businesses have taken root. What's so remarkable is that the projects have mostly been undertaken on small budgets—offset by long hours put in by business owners and supporters.
"The people who live here, and the people who are coming here, all have something to offer—and they offer it," says Amy Gillespie, who worked multiple jobs during the first years she operated her own business, Good Stuff Grocery. "A spot is here to be carved out, if you really want it."
Unlike other small WNC towns that rely on tourism to bring in money, many Marshall businesses are working to earn a local dollar. And the fact that the town's hardest years remain a close memory has imbued residents and business owners with a sense that they need to work together.
"The town itself is very poor, so the local government doesn't have the resources to help when it wants to," Pulleyn says. "But the other side is that it reinforces the sense of community—that we all need to pitch in our resources."
And it's for that reason, that every resident and business owner feels like they own a piece of the town's rejuvenation.
—Eric Seeger
---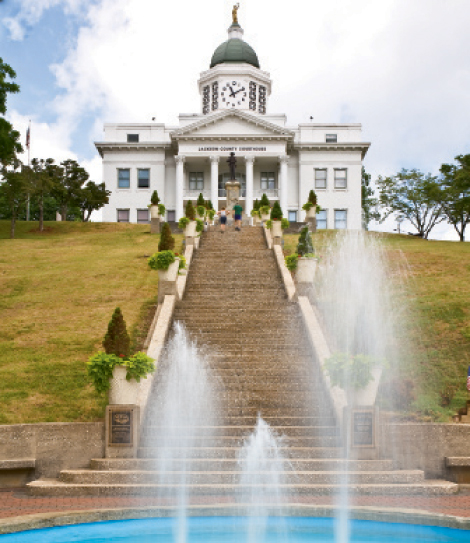 The Jackson County Courthouse (left) is undergoing renovations to house the main library.
Town gems
Reviving the architectural cornerstones of our communities
Courthouses, stately and grand, have long symbolized the strength of a town. But as these historic structures became ill-suited for the modern legal system, many were left vacant. Today, more and more cities are reinvisioning their roles as centerpieces of the community.
Clay County Courthouse
When the Clay County Communities Revitalization Association formed 12 years ago as a project of HandMade in America, its first initiative was to salvage what the organization's president Rob Tiger calls "the heart and hub of the county." The venerable 1888 Clay County Courthouse in Hayesville remained in use by the government until 2007, and work began in 2001 to restore the brick exterior. "We just knew we needed to get the building in a safe condition," says Tiger, who also owns Tiger's Department Store. The exterior was completed in 2004, and now the great task ahead is finding about $1 million to remodel the interior. The plan includes retail space on the first floor, along with a small welcome center, and a multi-use community room to showcase performances and art exhibits upstairs. That reality is still several years away, and in the meantime, a steering committee is working on grant proposals and making the case for the project's economic impact. "It's been a total grassroots effort," says Tiger, "and has really taken the community coming together."
—Melissa C. Smith
Jackson County Courthouse
Built in 1913 and vacated in 1999, Sylva's historic courthouse is slated to be reborn this spring. Known as the most photographed courthouse in the state, the renovated facility will host a public library more than four times the size of the current Sylva branch, provide community meeting spaces, and become a home for groups including Jackson County's arts council, historical association, and genealogical society. Learn more about the project at www.fojcml.org/new-library.html.
—Jon Elliston
Henderson County Historic Courthouse The Henderson County Historic Courthouse has seen two renovations in its 106 years. In 2003, it was repurposed as a museum and government offices. The extravagant three-story building features white Corinthian columns outside and floors of polished granite inside. Its most prominent characteristic is a brilliant gold dome topped with a statue of Athena. The Heritage Museum boasts multiple exhibits, all serving as reminders of the county's pioneers and cultural legacy, from the Revolutionary War to the history of media in Henderson County. Starting in March, the museum will feature a tribute to high school basketball history in Henderson County. www.hendersoncountymuseum.com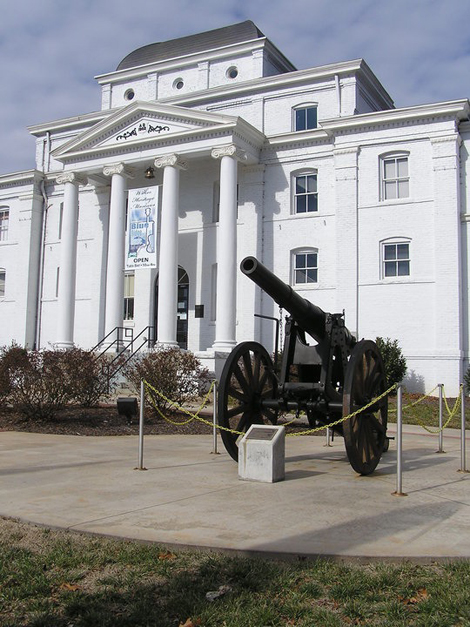 The Old Wilkes County Courthouse (Photograph above courtesy of The Wilkes Heritage Museum, Inc.) The Wilkes Heritage Museum opened in 2005, more than 100 years after the original courthouse was built in 1902. Its stark white exterior emphasizes the bold architecture and four large columns on its façade. The museum preserves the county's past, displaying artifacts and images that tell stories of early settlement, military history, entertainment, and transportation. Also at the museum is The Old Wilkes County Jail, where Tom Dula, of the legendary folk song, awaited trial. The Blue Ridge Music Hall of Fame, where artists such as Doc Watson, Earl Scruggs, and Dolly Parton are inductees, is also housed in the museum, and periodically hosts concerts. www.wilkesheritagemuseum.com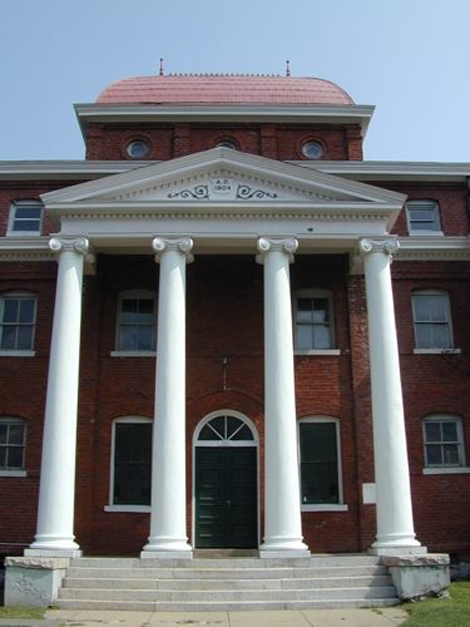 Ashe County Courthouse (Photograph above by Katrin Kolseth) In 2001, when a new courthouse was built, the old Ashe County Courthouse's fate was unknown. But thanks to the combined efforts of several residents, restoration specialists worked for seven years with volunteers to save the historic building. It now stands as beautiful as when it was built in 1904. The original timbers, hand-made red bricks, and local soapstone windowsills have all been repaired. Now a museum, it holds several permanent exhibits about the history of the county, including the Veterans Honor Room and the Ashe County Sports Hall of Fame. www.ashehistory.org Bakersville Courthouse The first court session in Bakersville was held under the shade of trees in 1866, a year before the courthouse was built for $2,000. Plans were made in 1993 to preserve the building, but were abandoned after a devastating flood. In 2007, the Mitchell County Historic Courthouse Foundation began restoration, and now the courthouse offers classes through Mayland Community College in the basement, and hosts monthly lectures from the Mitchell County Historical Society, as well as movie nights. www.mitchellcountyhistoriccourthouse.org