Holiday Mixers
Holiday Mixers:
Five bartenders share surefire recipes to impress at your next cocktail celebration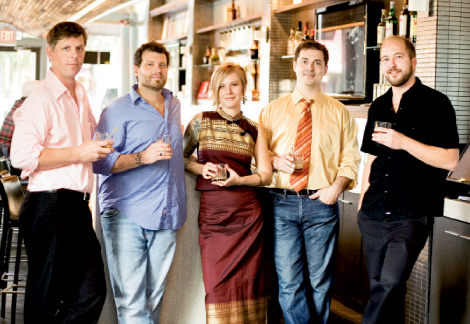 Cheers to the holidays! This is the time of year you can justify splurging on the top-shelf liquor to make the most festive cocktails you can imagine. Even the accoutrements of the cocktail hour shine like holiday décor—gleaming silver shakers, snazzy swizzlers, cut-crystal tumblers, the ever-elegant martini glass, and the statuesque silhouette of a champagne flute.
To inspire your happy hour, we invited five Asheville mixologists to share recipes and experiment with new creations during a cocktail party with colleagues in the biz. The winter blue and chrome cool of downtown's Sazerac bar and restaurant served as the stage. Joined by taste-tester friends, the group took the party to the bar's relaxed lounge to nosh and show their mettle. Now it's your turn to get in the mix.
---
Evan Smith
Sazerac
The host of the mixer, Sazerac bartender Evan Smith brings cocktail classics with a twist (literally) to the table, adding cranberries to a Manhattan, for example. Shaving a twist of orange over the drink, he spritzes it with fragrant oils and creates a colorful spiral of rind that accents the amber and red hues. As the party gets started, Smith places a Cranhattan in each guests' hands.
For his next demonstration, he shares a new cocktail with his compatriots: the Chocolate Mint Fizz. With a crisp bite from copious amounts of fresh mint, the cocktail settles in like a dessert for grown-ups—only slightly sweet, but reminiscent of peppermint candy.
Having lived in Asheville for five years, Smith has worked in restaurants from California to Connecticut since the age of 16. All that time spent observing cocktail culture gave Smith the background to mix it up at Sazerac, a bar that takes its cocktails seriously. Owners Lesley and Jack Groetsch opened the establishment earlier this year, naming it for the classic New Orleans drink that blends cognac and bitters.
Not only a talented bartender, Smith manages Tingles Café next door and is in charge of all the fountain drink syrup recipes, from house-made ginger-ale to cherry soda and root beer.
"Since coming to Asheville," says Smith, "I've seen an evolution of appreciation for classic cocktails, quality ingredients, and artisan techniques."
see Chocolate Mint Fizz recipe below...
---
Josh Bailey
Zambra
From Oregon, by way of Hawaii, Josh Bailey of Zambra tapas and wine bar has seen and made a spectrum of drinks. "Most bartenders will tell you they like whiskey straight or on the rocks," says Bailey, who made his share of frozen froufrou drinks with umbrellas and blossoms while living in Maui. Now, he's relishing the renaissance of the classic cocktails of the '50s and '60s. "The new name for the Old Fashioned is the Don Draper," he quips, referring to Jon Hamm's character on Mad Men.
But Bailey's cocktail, The Chili Flower, is an invention all his own (you have to ask for it when you see him behind the bar). This warming cocktail—almost an oxymoron since it contains crushed ice—is a heady blend of house-pickled jalapeño, house-made vanilla and cinnamon sugar, lime, apple cider, tequila, and Frangelico with a red or green chili pepper on top. The pickled jalapeño comes from the kitchens of Zambra, where chefs preserve a variety of garnishes.
You don't just smell and taste this cocktail, you feel it—the heat in the throat and a sizzle on the lips. It's this gathering's sexiest beverage and it isn't for the fainthearted.
see The Chili Flower recipe below...
---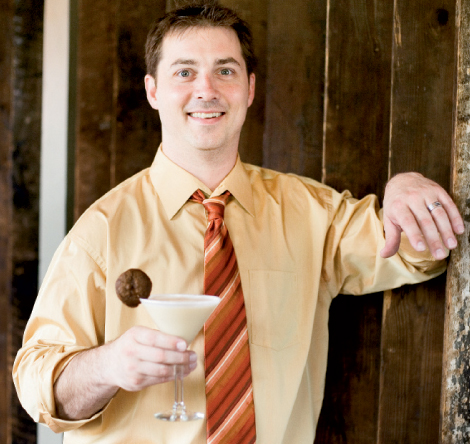 Joel Hartzler
Rankin Vault Cocktail Lounge
Owner of the Rankin Vault Cocktail Lounge and co-owner of recently opened The Southern, Joel Hartzler capitalizes on infused vodkas and gins in his regular lounge repertoire, as well as his holiday cocktails. A vanilla bean-infused vodka, for example, and a splash of sweet almond Amaretto create the foundation for his rich, but not cloying, Eggnog Martini. Even spiked eggnog doesn't measure up to this elixir.
Hartzler lived in Portland, Oregon, for a time—a town with a penchant for whiskey-on-ice and microbrews. Here in Asheville, frequenters of his establishments are a pleasant mix of sophisticates and casual regulars who have an appreciation for the hand-labeled infused vodkas that share the back of the bar with other standards. He points out that this is the time of year to shine as a host. "Everybody makes fun food and drinks for the holidays. But a special occasion lends itself to doing more than just opening a bottle."
see Eggnog Martini recipe below...
---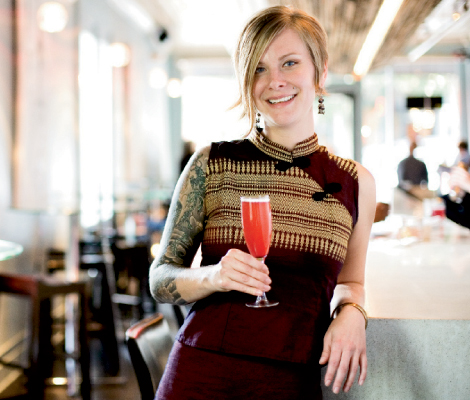 Erin Hardy
The Southern
Erin Hardy moved to Western North Carolina 12 years ago from Washington. As soon as she arrived, her sister nominated her to be the house bartender for events. "I guess I was just expected to do drinks," she says with a chuckle. "I made a lot of mojitos over the course of the summer."
Her holiday recipe is a more-bang-for-your-buck affair. No muddling or crushing necessary. Only the ginger simple syrup requires a little effort, and it can be made in advance. While Hardy creates Southern-style cocktails to complement the pimento cheese crostini, short ribs, and other bites at the Lexington Avenue spot, a sparkling wine blend is a favorite for special occasions. The pomegranate syrup and ginger simple syrup in her Ginger Royal make for a light and refreshing libation.
see Ginger Royal recipe below...
---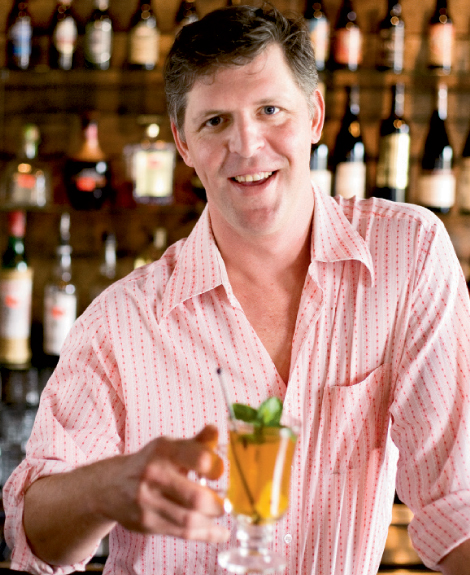 Billy Klingel
The Lobster Trap
Billy Klingel is best known as the brewmaster who flavors his hops mixture with briny oyster shells for Oysterhouse Brewing at The Lobster Trap. Also the restaurant's bartender, he proudly takes credit for ridding his bar of the blender (no frozen margaritas or daiquiris, thank you very much). He does, however, happily delve into the holiday classics.
"The holidays are great," says Klingel. "You get to make those warm, delicious, make-your-face-rosy kind of drinks. That's when I pull out the cordials, brandies, aperitifs, and Sambucca." Admittedly, Klingel would rather his patrons drink the house beer all the time, but come winter, he's the first one to create a hot toddy that will cure all ills.
Rather than whiskey and lemon, Klingel conjures an aromatic warming elixir from cognac, orange-scented brandy, and a house-made honey water. You'll want to try this one at home posthaste.
see Hot Honey Toddy recipe below...
---