Hitting the Deck
Hitting the Deck:
George Peterson pounds, carves, and cuts salvaged wood and skateboard decks into modern art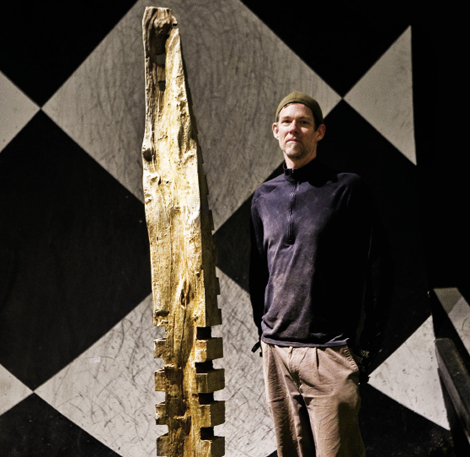 Wood chips fly as Lake Toxaway artist George Peterson grinds his way through a discarded skateboard deck with a chain saw in his hands and headphones over his ears. Before he's done, he will have pounded the deck with a hammer, hacked it with a chisel, power drilled it, and set it on fire. In the end, he will have created a wall-hanging sculpture, distressed and almost tribal in its scarred, primitive quality. A skateboarder-turned-artist who has made WNC his home since 1998, Peterson has developed an approach to woodworking that's unorthodox and maybe even unprecedented. His raw, edgy aesthetic sets his work apart.  
A native of southern California, Peterson grew up in the skate culture of the 1980s, listening to punk, doing odd jobs, and dropping out of college before teaching himself wood turning. While he hadn't considered art as a career, getting to carve, cut and burn wood allowed him to channel what he calls his "destructive energy" and turn cast-off wood into "something beautiful." He bought a lathe at a flea market and began making bowls, which he sold at art fairs. Soon be began gaining attention from galleries, including L.A.'s OK Store, where his work has caught the eye of movie stars and A-list interior designers, one of whom purchased a bowl of his for the Oval Office. Having his work reach the highest halls of power is a surprising outcome for Peterson, but well-deserved, according to Jordan Ahlers, gallery director at Blue Spiral 1, where Peterson shows his work in Asheville.
"George Peterson doesn't just sculpt wood through subtractive methods; he attacks the wood, often working the block green, and embracing the cracks as part of a piece's inherent character," says Ahlers. "His process is gutsy, and his work has a visceral appeal."  
In addition to his lofty position in the Oval Office collection, Peterson has been included in the Smithsonian's annual craft show, and is in the permanent collections of Charlotte's Mint Museum of Craft + Design and the Museum of Fine Arts, Boston. He received the prestigious International Turning Exchange Residency at the Center for Art in Wood in 2000 and the American Craft Council's Excellence Award in 2004 and 2012.
Peterson always uses salvaged wood such as maple or cherry for his functional pieces, but in recent years, he is perhaps best known for his Lingo sculpture series made from old skateboards. Being able to make something new out of something old fits with his creative ethos, but when he first thought of this approach, he hesitated. "The skateboard is a modern, iconic object," he says. "At first, I thought using it would be kitschy and I didn't want to make something trivial." Instead, his skateboard sculpture re-envisions the original form, bringing to it an African influence with scars and gouges that look ancient, yet polished.
In his most recent work, Peterson has collaborated with another local artist, Brevard sculptor Christine Kosiba. Tearing things down and building them back up is a shared interest of the two artists, and working on a shared vision rather than alone is another way Peterson keeps expanding the direction of his work beyond expected dimensions.           
On Display
Peterson's work will be featured in a group exhibition June 1-July 26 at Blue Spiral 1 gallery in Asheville.  www.circlefactory.com