Heavenly Slice
Heavenly Slice:
Enjoy a taste of rural Americana with Surry County's signature sonker dessert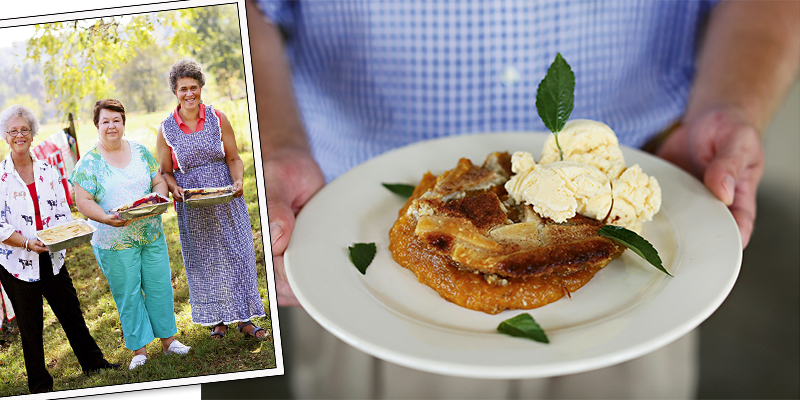 Sonker has always been a bit of a mystery. Is it a cobbler? Is it a pie? Or is this centuries-old Surry County tradition something else entirely? The dessert usually consists of cooked fruit and a crust, Mount Airy Tourism Director Jessica Roberts explains. "Some sonker has a liquid batter poured on top of the fruit, others have a rolled dough for their crust, and others are prepared on the stove top with a dropped-dumpling crust. Each recipe depends upon family tradition."
There's even a trail for devotees of the dessert. "In 2015, we created the Surry Sonker Trail to highlight this heritage food dish and keep the tradition going in Surry County," says Roberts. The trail features eight eateries at bakeries, restaurants, and even wineries in Dobson, Elkin, Mount Airy, Pilot Mountain, and Rockford, all within 35 minutes of each other.
Thought to be named for an old Scottish term for a small, saddle-like grassy knoll, the syrupy, soupy regional curio is as varied as its myriad origin stories. Such variety and heritage have even inspired a festival, held every fall in the foothills. This year, the 38th annual shindig in Mount Airy will feature old-time music, quilters, flatfoot dancing, a Civil War exhibit, and of course, lots of sonker.
While it may be hard to pin down a precise definition of sonker, perhaps celebrated local food writer Ronni Lundy put it best when she said, "A sonker is when better just gets bigger."
---
Sonker Festival
October 7, 1-5 p.m.; free
Edwards-Franklin House
4132 Haystack Rd., Mount Airy
(800) 948-0949
www.sonkertrail.org
RESOURCES:
Photographs courtesy of Surrry County Tourism