Heaping Helpings
Heaping Helpings:
Two new cookbooks salute the region's produce and culinary heritage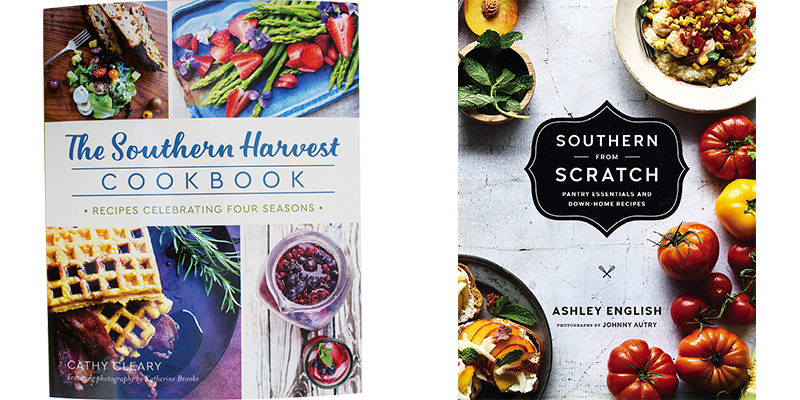 The Southern Harvest Cookbook: Recipes Celebrating Four Seasons
Cathy Cleary | American Palate (2018)
As its title suggests, Cathy Cleary's latest cookbook is meant to help readers cultivate kitchens in tune with Mother Nature's changing harvest. Each chapter, and the recipes it contains, gives reverence to a specific seasonal Southern fruit or vegetable—for example, spring greens, summer tomatoes, autumn apples, and winter squash.
Cleary opened West End Bakery in West Asheville in 2001 and sold the business in 2015. Cooking regularly with her father as a child taught the now-farmer to love savory as well as sweet, and salad happens to be her favorite food. Thus, innovative salad recipes abound, as do ones for classic regional fare, from collards to squash casserole. Standouts include pickled jalapeño-ginger peaches, falafel-spiced green bean fritters, and mashed sweet potatoes with decadent toppings like sea salt whipped cream and wasabi butter.
Southern from Scratch: Pantry Essentials and Down-Home Recipes
Ashley English | Roost Books (2018)
After writing about everything from keeping chickens to packing unforgettable picnics, Candler-based homesteader Ashley English now advises how to turn your pantry into the envy of every Southern grandma. Smartly releasing in April, the recipes here make the most of the growing season and provide perfect outlets for enjoying and preserving fresh produce at its peak.
There are in-depth how-tos for all the basics, from pickles and pimento cheese to stocks and sonker (what folks in Surry and Wilkes counties call a deep-dish fruit cobbler). And what self-respecting kitchen below the Mason-Dixon doesn't have scratch-made lard or bacon at the ready?
Along with the more than 50 base recipes, English shares ideas for what to do with the staples. Watermelon rind sloppy joes or field pea and peanut butter hummus, anyone? Asheville lands a staring role in one recipe: Paris of the South Salad, the author's take on the French Niçoise, complete with pickled eggs, dilly beans, and smoked mountain trout.
RESOURCES:
Photographs (THE SOUTHERN HARVEST COOKBOOK) BY Andy Ormond; (SOUTHERN FROM SCRATCH) Courtesy of Roost books