Health On Wheels
Health On Wheels:
Wingbean satisfies wholesome cravings with vegan meal deliveries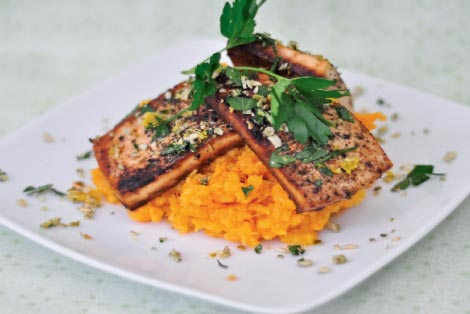 Asheville is one of those sweet spots for vegans, where they rarely need to explain their dietary beliefs to bewildered dining companions or servers. A progressive attitude toward food is a big reason Pamela Lalik and Scott Myers took advantage of their talents—her culinary prowess and his business savvy—and launched their vegan meal delivery service, Wingbean, here in 2011. "I don't know that this would've worked in other areas," Myers says. They've seen the niche business double in the past year, as more folks are ordering organic meals like lemon-pepper tofu, barbecue nonmeatloaf, and mighty mushroom stroganoff.
Customers place orders from the website by 5 p.m. Friday, filling their "grocery carts" with a medley of healthy entrées, sides, soups, and desserts, and even locally sourced products like Dynamite Roasting coffee and granola. A $75 order is about five days worth of lunches and dinners. And the nutritionally balanced menu is different each week, as Lalik pulls from her amassment of more than 200 recipes. With help from several part-time employees, the husband-wife team spends a 12- to 14-hour day in the mixed-used Blue Ridge Food Ventures kitchen, prepping, cooking, and packaging food for delivery on Monday to Asheville and the surrounding area.
Although the couple is proudly meat and dairy-free, they don't expect the same of their customers. Says Myers, "You don't have to be vegan to eat vegan."                                                                                                    
Wingbean
The delivery routes extend north to Weaverville, east to Black Mountain, south to Fletcher, and west to Candler. (828) 237-1857
www.wingbean.com