Havana Great Time
Havana Great Time:
The Fragas' shining new restaurant and bar bridges the Cuban connection in Asheville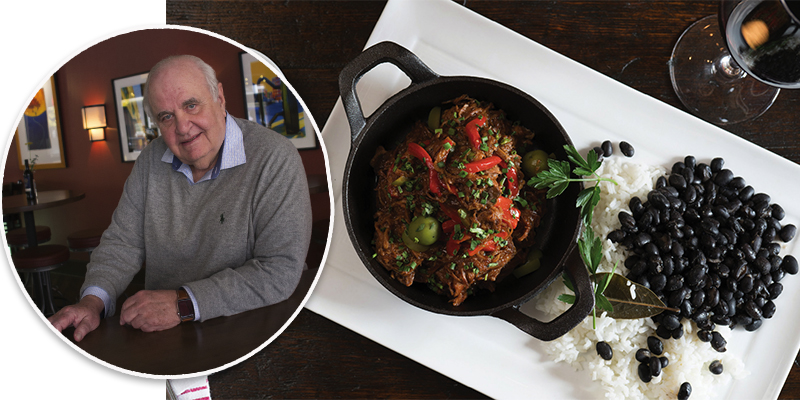 While lying in his hospital bed upon returning, severely wounded, from World War I, Ernest Hemingway wrote to his sister: "Don't be afraid to taste all the other things that aren't here in Oak Park. This life is all right, but there's a whole big world out there full of people who really feel things. They live and love and die with all their feelings. Taste everything, Sis." At Hemingway's Cuba, the new restaurant and bar at Asheville's Cambria hotel, you can taste the exotic flavors that inspired Hemingway during his 21 years living in Cuba.
Inspired by memories of dining with his father at Hemingway's favorite Havana watering hole, Asheville developer Tony Fraga took his family back to Cuba recently to show them what he seeks to do here. "I wanted them to know our heritage and where we came from," he says. "We visited the Floridita, where my father used to take me, which was where Hemingway used to frequent." Fraga spent the first 17 years of his life in Cuba before his family was driven from the island in 1959 when Fidel Castro came to power. "They told us that we had to leave the country or go to the firing squad, so we fled to the United States," he says.
These days, tucked in the mountains of Asheville, a mural of the Floridita by Ian Wilkinson spans a whole wall of the family's fourth floor restaurant. "We really looked for inspiration from the Floridita and from the time that Hemingway lived in Cuba," says Tony's son Alex, who manages the bar. "That's where we are coming from. Cuban cuisine is a lot more than just the sandwich and finger foods. There is no Cuban cuisine here at all. People have tried to play the game over the years, but it was never really Cuban food. It is a very different flavor with a bunch of spices, and there's a lot of Spanish influence."
Chef Duane Fernandes (of Isa's Bistro, which is also owned by the Fragas) serves up classic takes on ropa vieja—shredded stewed beef with roasted red peppers and olives—and fried plantain tostones with shrimp, heirloom tomatoes, and mojo pork. The menu offers guests a chance to share a variety of small plates or to split family-style portions of paella on a sprawling 4,000-square-foot deck with a retractable roof, panoramic views, and three fire pits. "Whether you are coming in in your flip flops or wearing a suit, we want you to feel comfortable," says Alex. Or perhaps we should just take Hemingway's advice when he declared, "This is a good place ... there is a lot of liquor." 
Hemingway's Cuba Restaurant & Bar
15 Page Ave., Asheville
(828) 252-0218
www.hemingwayscubaasheville.com
RESOURCES:
Photographs (Fraga) by Andy Ormond; (3) courtesy of Hemingway's Cuba