Hand Crafted
Hand Crafted:
Local jewelry designers—each with a unique skill set and expression of style—are making one-of-a-kind adornments and wearable works of art worth treasuring forever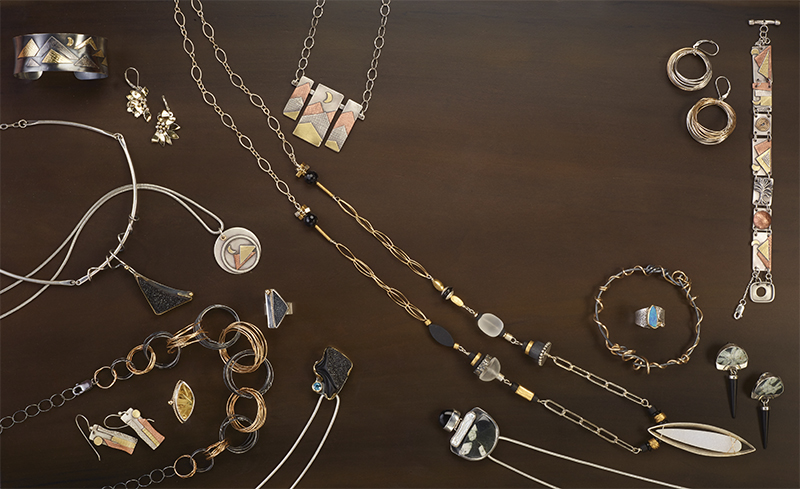 Native Expression: Michele Alexander
Making jewelry began as a hobby for Asheville artist Michele Alexander some 35 years ago. It was a complete contrast to her full-time job in social work, a field she had grown increasingly unhappy in. So when her first attempt at selling her jewelry proved successful, she launched into jewelry-making full-time. Arts and crafts shows became a regular occurrence, and she even met her husband, Bill Lehnert, another noted local jeweler, along the way.
Alexander creates ethnic-inspired pieces primarily in sterling and oxidized silver with some gold and copper mixed in. Sparkling drusy quartz, brilliant opals, peridot, blue topaz, and Chinese writing stone are her go-to gemstones. "I've always made jewelry that I wanted to wear," says Alexander. She and her husband own Alexander & Lehnert Fine Jewelry in Asheville, and her work is also sold locally through the Folk Art Center.
background: cherry wood in black cherry finish from The Old Wood Co., Asheville
Natural Wonders: Anna Johnson
Asheville-based jeweler Anna Johnson started making jewelry at age four, but has been working professionally since 2012, after completing a degree in studio art from Appalachian State University. Johnson finds inspiration in nature, using organic material, including sustainably gathered plants and animal parts combined with fabricated elements, clean lines, and ethically sourced stones. Johnson notes that her "eco-centric approach" highlights the inherent value of the biological objects she uses alongside precious metals and gemstones to accentuate the importance of our connection to the natural world. Currently, she is working on several pieces that incorporate bones and other elements into chains and connector pieces. One necklace (below left) features possum ribs on the chain, which create a delicate, Art Nouveau aesthetic. Johnson also hopes to create larger pieces for display in the near future. Her work is available at annajohnsonjewelry.com and locally at Mora Jewelry in Asheville and Penland School of Crafts Gallery.
background: copper by Neilson Wilkinson & Zan Smith
True Colors: Roberto Vengoechea
Colombian-born jeweler Roberto Vengoechea creates brilliantly hued pieces featuring unusual stones and fantastic shapes that evoke the works of Salvador Dalí and Antonio Gaudi, artists with whom he shares a legacy of expression. Since moving to Black Mountain 20 years ago from Miami, Vengoechea has made a name for himself in the region through his innovative, modern designs, which he fashions as wax models and then casts in either sterling silver or 14- or 18-karat gold, and punctuates with gemstones and diamonds. His ergonomic square-shank rings are made for comfortable wear and provide the base for colorful stones and metalwork. Necklaces, cuffs, and earrings also feature surprising, unique shapes. The creation process is akin to a spiritual practice for Vengoechea, and many pieces represent three-dimensional Native American prayers, which he forges as a way to honor indigenous cultural and spiritual traditions. Find his work online at visionsofcreation.com and locally at the Southern Highlands Craft Guild in Biltmore Village, Earthworks in Waynesville, and Visions of Creation, Vengoechea's own gallery, in Black Mountain.
background: custom patina finish on steel by Chuck Bruursema, Asheville
High Fiber: Lisa Klakulak
Asheville-based fiber artist Lisa Klakulak recognizes that her felted necklaces, collars, cuffs, earrings, and other accessories might not appeal to the masses, and that's OK. Her customers are those who choose to collect adornments as they would a piece of art. Each is a unique work of wearable art that Klakulak has hand felted, dyed, sculpted (with meticulous calculation), and embellished with embroidery, beads, or fragments from nature. The textures and shapes in her work are often inspired from her travels, most recently to glacial areas of Chile (the blue pieces shown) and to the volcanic island of Hawaii (red and black pieces shown). Klakulak has studied and taught at top craft schools across the country, and travels the world teaching specialized felting workshops. Her work can be purchased through her website, strongfelt.com, or locally at Penland School of Crafts Gallery.
background: silk, cotton, linen, and nylon fabric by Denise Carbonell of Metal and Thread, Asheville
Design of the Times: Susan West
The masterful designer behind Blue Goldsmiths in Asheville, Susan West describes her aesthetic as "timeless modernism." She's known for her chunky rings crowned with a single flawless diamond or sparkling gemstone and usually elements of interest like balls or smaller diamonds, artfully placed. It's her signature style, but her designs go far beyond, like the buckshot necklace and earrings (top left corner) or bottle rocket necklace (right). The commonality is in the caliber of construction and her discerning eye for quality materials. She works only with conflict-free diamonds and gemstones and 100-percent refined metals—yellow, rose, green, and white golds and silver.
With a background in design and experience in blacksmithing, West took to goldsmithing on a dare. "I was young and arrogant," she laughs. That was 22 years ago, and the challenge has served her well, though she admits, "I am a goldsmith, but really and truly I'm a designer." West continually pushes her designs. Lately, she's been making pieces that incorporate mechanical parts, such as diamonds that unscrew, to offer more versatility in her pieces. Shop for her work at her Asheville stores in downtown and Biltmore Village or online at bluegoldsmiths.com.
background: walnut wood with Danish oil finish from The Old Wood Co., Asheville