Grape Escapes
Grape Escapes:
Take a trip around the world in wine varieties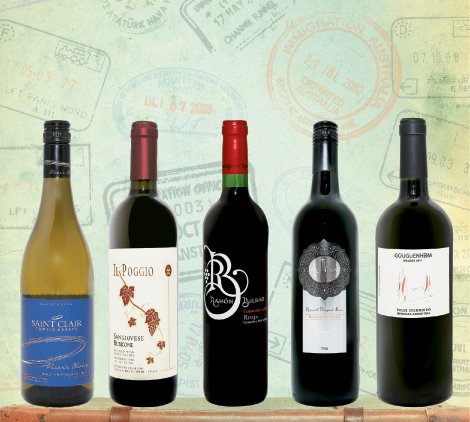 Each country boasts a signature grape. This selection takes us on a journey with five varieties indelibly associated with a particular patch on the globe: tempranillo in Spain, Italy's sangiovese, malbec from Argentina, shiraz in Australia, and New Zealand's sauvignon blanc. Pour a glass and find yourself whisked away to a distant land.
St. Clair Vicar's Choice Sauvignon Blanc 2011  » $20
Native to France, this grape has put down roots in New Zealand. The nose gives off the scents of green pepper and gooseberry. It's a great match for grilled shrimp or avocado and grapefruit salad.
Il Poggio Sangiovese Rubicone 2010  » $15
The backbone of Chianti and darling of Tuscany, Sangiovese is known for its light color, high acidity, and flavor profile of sour cherry and orange peel. This one also bears hints of blackberry and red currant. Enjoy with prosciutto on buttered Tuscan bread or as a foil for olives with herbes de Provence.
Ramon Bilbao Tempranillo Rioja 2008 » $13  
Tempranillo is the primary grape variety of Spanish rioja. Blessed with a heady aroma of leather and tobacco, this bottle has been barrel-aged for 14 months. Try it with filet mignon, manchego cheese,  or chocolate.
Gotham McLaren Vale Shiraz 2009  » $18
A well-known grape in the south of France, where it goes by syrah, shiraz was among the first varieties imported for planting in Australia. Inky, dark-flavored, and tannic, shiraz can also be used to produce dry rosés. This one pairs well with pasta.
Gouguenheim Malbec 2011 » $15
Bright, blood-scented, and laced with iron, this Argentinian variety sings of blackberries, currants, and plums. Pair it with blackberry cobbler or flank steak with sautéed shallots.