Getting Her Due
Getting Her Due:
Asheville community matriarch Hanan Shabazz honored by the Southern Foodways Alliance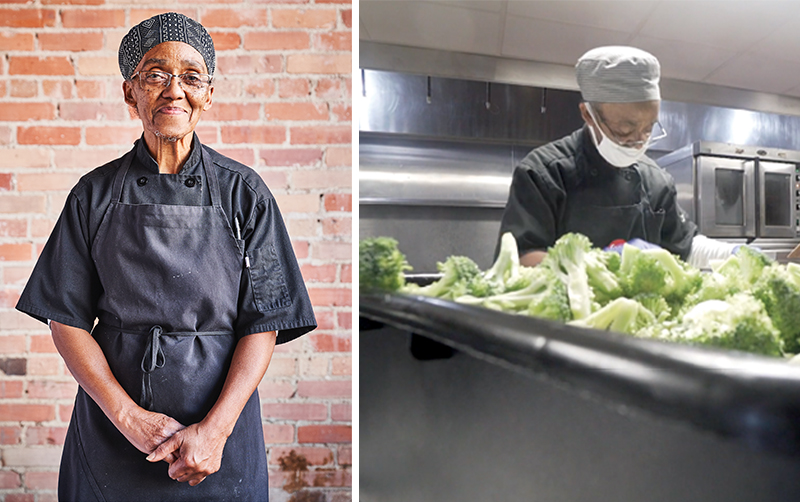 Hanan Shabazz
When Hanan Shabazz was announced as the winner of the Southern Foodways Alliance's Ruth Fertel Keeper of the Flame Award, her name might have been a new one to SFA followers throughout the south and around the country. But Shabazz has long been a local celebrity in the Asheville's Southside community. An activist and influencer for social justice and civil rights movements for her entire life, having worked and rubbed shoulders with everyone from Louis Farrakhan and Stokely Carmichael to Robert Kennedy and Hubert Humphrey. But the seeds of that activism started in her grandmother's kitchen, learning to cook and teaching others to cook for themselves.
When Shabazz eventually left Asheville for New York City, she became involved at Mosque No. 7, where Malcolm X had formerly presided as minister. "After high school, when I went to New York, I was in a totally different environment, with different people, doing different things. There were drugs everywhere, and I kept telling people, you don't need to do that; come over here and do this instead," she says. That's when her skills in the kitchen became a gateway to turn her passion for her neighbors into activism. "Each one of us must teach one of us, so I'll always find someone that is interested in learning to cook."
After returning to Asheville, Shabazz opened Shabazz Restaurant on Eagle Street in a section of town previously segregated as a Black neighborhood, known as The Block. After the restaurant closed in 1973, she continued to bake and cook around The Block, mentoring more and more young cooks, hosting neighborhood pop-ups, and learning from the matriarchs of her community.
"Honestly, even just talking about Hanan gives me goosebumps," says Ashleigh Shanti, the James Beard Award-winning chef who recently departed Benne on Eagle—a restaurant opened by legendary Appalachian chef John Fleer with a goal of preserving the history of The Block. While there, Shanti was mentored by Shabazz. "I feel like she is the quintessential woman," Shanti says. "If she's not cooking for the community, she's cooking for a family member. She is the true definition of a community leader; she has never stopped serving her community. So many people can point to something she has done for them."
For nearly a decade, Shabazz has been at the helm of Asheville's Southside Kitchen and the GO Kitchen Ready program, a cooking school for marginalized adults that teaches the skills necessary to work in commercial kitchens. There she strives to impart what she regularly refers to as "knowledge, wisdom, and understanding," passing on that flame handed to her by her forebears.
The Ruth Fertel Keeper of the Flame Award is intended to honor an unsung hero of Southern cuisine—a recognition Shabazz doesn't take lightly. "It makes me feel so good to know that somebody that doesn't even know me recognized the fact that I have been an asset to them in some kind of way," she says. "And it makes me feel so good because I'm still here. Most of the time, they do things like that for people when they're dead. I really appreciate getting my flowers while I could see them, and smell them, and touch them. It has been a pleasure to be able to do that."
Hanan from Southern Foodways on Vimeo - Directed by Joe York, Produced by the Southern Foodways Alliance