A Fulfilling Mission
A Fulfilling Mission:
An intimate dinner prepared by local chefs is the highlight of one of WNC's largest charity auctions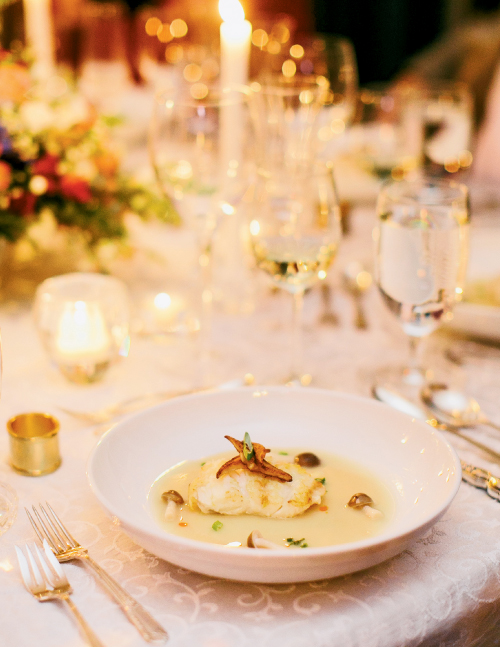 Many gatherings have ended with everyone crammed into the kitchen. But one annual dinner fête—thrown of late by Mark Collins and George White at their stylish Haw Creek home, east of Asheville—lends entirely new meaning to the notion of a kitchen party.
This party of chefs, quite rightly, is happening in the kitchen. An assembly of celebrated Asheville culinarians—Joe Scully, Michel Baudouin, Eric Scheffer, and Anthony Cerrato—has arrived hours before the dinner guests, bearing cases of prepped ingredients, sharpened knives, complex menus, mixing bowls and cooking utensils, and bottles of wine and spirits. All are to be compiled, cooked, and presented course by course, in an elegant dinner that was auctioned off to the highest bidder at the annual Raise Your Hand Auction benefitting the Western North Carolina AIDS Project.
Collins and White have bid on the event all five years that it has been an auction item. For the past four years, they've teamed up with three other couples to vie for this private dinner for eight. And they haven't been outbid yet.
"Georgie and I believe a healthy community starts from the heart and in your own home," says Collins, a board member of WNCAP and owner of a consulting company for nonprofits. "We take pride that this particular auction item historically has been one of the highest bid items." It raised $6,000 last year, and is bound to remain a big-ticket prize at this year's auction on October 11.
"To honor the commitment these chefs make not only to the WNCAP community but to Western North Carolina as a whole," White adds, "we decided we would make it our mission to buy this incredible evening whenever the opportunity availed us."
Cook, Drink & Be Merry
The participants decided early on that the dinner would again be held at Collins and White's place, thanks to their roomy kitchen. Yet tonight, it doesn't seem roomy enough.
As the chefs carve out working areas on the kitchen table, counter, and center island, White has to squeeze around the chefs to feed Charlie and Rickie, the couple's adorable dachshunds, mixing their victuals with as much care as the chefs seem to be giving their dishes.
While the chefs begin to lay out their plates, Scheffer (of the legendary Savoy, and now of Vinnie's Neighborhood Italian) pours everyone a small taste of Bodega Gratia Malbec, produced by an Argentine winery of which he is a partner. He tells the gathered group in the kitchen how to toast in Argentina—while looking into each other's eyes. The chefs make exaggerated bug-eyes at each other in amusement, and the evening is off to a comical start.
The rapport among the chefs is practiced and easy, as they've worked many events together over the years and were all early stalwarts of Asheville's food scene. Baudouin, of the French bistro Bouchon, is probably the most familiar with this collective cooking approach; he was once part of a group of chefs in Texas that created dinners such as this.
"What do you need for the first course?" Baudouin asks Scheffer, jumping right in to assist.
"First we build the plate," Scheffer answers, hands on hips.
"Well let me get my toolbox," chuckles the loquacious Frenchman, rubbing his hands together.
Scully, of Chestnut and the Corner Kitchen, meanwhile, readies two dishes. He begins preparing his appetizer of oysters with a mignonette sorbet. It is a slightly tart-sweet frozen blend of shallots, vinegar, sugar, and pepper, spooned over fresh oysters. These can be eaten one-handed in one go, without the need for cutlery and seafood sauces. "I like doing the crossover of sweet; there's a tension between the richness of the oyster," Scully notes.
His other dish is a complex oxtail consommé that's made with whole bones, infused with multiple herbs, and simmered for hours. Homemade tortellini create a counterbalance to this delicate but deeply flavorful broth.
"I chose this because you don't get to make consommé from oxtails very often," he says as he gently folds and pinches the individual pasta bites. "It is a very lengthy process, with hours of cooking. And it's meditative, making the tortellini."
Cerrato, the youngest and the newest to the group of chefs, makes his popular arancini appetizer, Sicilian stuffed fried rice balls, which he serves at both his venues: Strada Italiano and The Social Lounge. His entrée, wild boar with root vegetables—which he describes as almost a stew—will be served alongside saffron gnudi, a large, pillowy-soft gnocchi.
Scheffer begins spooning his lobster salad into smooth leaves of endive, topping them with tobiko caviar, and adding his platter to the other hors d'oeuvres laid out in the art-filled living room.  
Dinner is Served
Baudouin dons a fresh white coat, pops the cork of the Jean Luc Joillot Crémant de Bourgogne sparkling wine, and fills elegant flutes for the arriving guests. Pam Siekman, past president of the WNCAP Board of Directors and currently still on the board, and her husband, Tom, are first to arrive.
"The evening of the dinner is incredibly special," she beams, surveying the beautifully set table and the culinarians in their chef-whites. Crisp white linens, sparkling crystal, decanters, candles, heirloom family china and silverware, and a centerpiece of blossoms designed by Gudgers Flowers to match the ornamentation on the dishes all create the backdrop for this memorable meal.
After mingling with the chefs and sipping their crémant, the guests settle at the table, while White queries loudly from the kitchen, "Can we drink the wine yet?"
Scheffer responds with an emphatic "No," countering that the wine mustn't start until the first course.
"They are both control freaks," someone giggles.
Meanwhile, back in the kitchen, Cerrato massages Scheffer's shoulders as if readying him for the big game.
And so the evening of laughter, friendship, and delicacies continues late into the night, as each chef introduces his contribution for the evening, while the other chefs act as both servers and bussers.This is clearly a gathering that's as convivial for the chefs as it is for the diners. They've become friends over the years, serving the community in countless ways and, for tonight, giving time and talents for a charitable cause.
---
Support the Cause
The Raise Your Hand Auction & Gala takes place October 11 at the DoubleTree Hotel Biltmore in Asheville. Proceeds help further WNCAP's mission of providing HIV and AIDS education and prevention. $125; (828) 252-7489; www.wncap.org