Fresh Inspiration
Fresh Inspiration:
John C. Campbell Folk School's new cookbook brings seasonal recipes to the table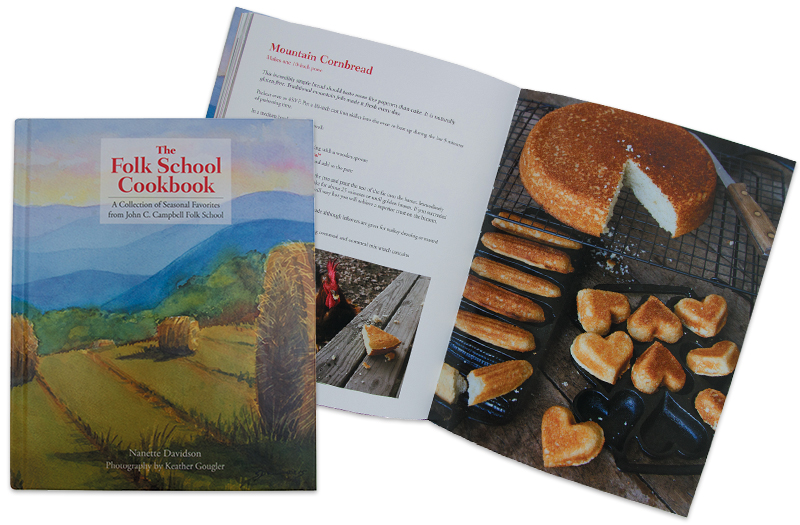 As a longtime cooking instructor at John C. Campbell Folk School in Brasstown, Nanette Davidson aims to make cooking more enjoyable for students. She's bringing that mission to the masses with The Folk School Cookbook: A Collection of Seasonal Favorites from John C. Campbell Folk School, the craft institution's first comprehensive cookbook in over 25 years. The book is organized seasonally to highlight ingredients at the peak of flavor. "I want to help people celebrate and understand that in rural communities, seasons are so important to the ways of life and what we eat," says Davidson.
The book is a collection of over 200 recipes from Davidson and those served at the Folk School's dining hall throughout the decades, as well as some from the school's first two recipe collections. "It's a regional cookbook, but it's not limited to the South or Appalachia," Davidson says. "We want recipes to reflect the diversity of our students and the region. It's a little Southern, a little Appalachian, and a little international."
In the intro, Davidson describes the beauty and bounty of the campus and its farm garden, alongside a written and visual history of the school. The recipes are organized from spring through winter, and feature big, colorful photos, plus handmade illustrations and portraits of the school's artisans. Each season includes recipes for breakfasts, salads, soups, breads, entrées, sides, and desserts, as well as specials—jams and chutneys for spring and summer, the school's most popular festival fare for fall (including pulled-pork barbecue), and holiday cookies in winter. Davidson's favorite recipes include spring's inventive meringue cradle cake, a summer gazpacho, and a richly spiced potato-cauliflower curry for fall. Whichever recipes you choose, the book presents a bounty of inspiration for your table.
Read Up
The Folk School Cookbook can be purchased from the school's Craft Shop or online at blog.folkschool.org.
RESOURCES:
Photographs by Bryce Alberghini