Feminine Fire
Feminine Fire:
Blacksmith Elizabeth Brim forges an exceptional body of artwork with an unconventional approach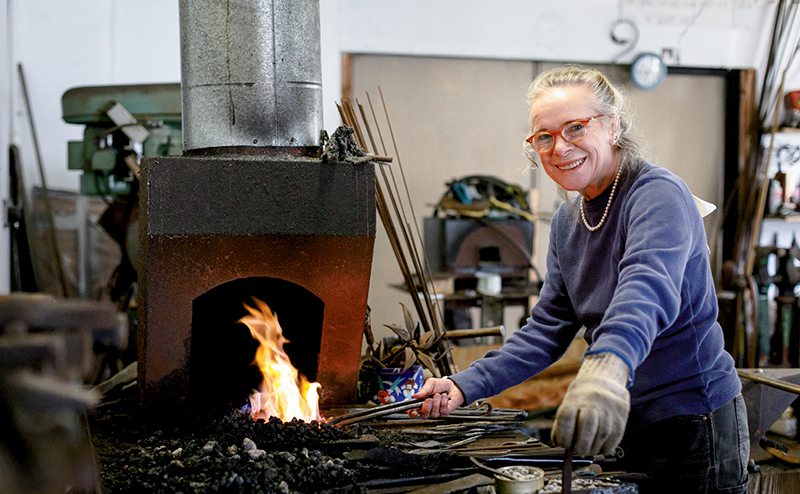 Elizabeth Brim has a look that says a lot about her. She can often be found with gloves plunged near the flames of her forge in Penland, hammer in hand, decked in Carhartts and a T-shirt with a bandana tied like a bandit, covering her face. But you'll also notice something else gleaming out from all the ash and soot: a string of shiny white pearls she is never seen without. "I grew up in a really feminine society," Brim explains. "When I told my mother that I was taking blacksmithing classes, she told me she did not approve of that, and that it was not a ladylike thing to do. So I just started wearing pearls when I worked."
Through hammering and fire, Brim creates distinctly feminine pieces that are as elegant as they are rugged—delicate, black iron flower petals hammered thin, or an apron with dangling straps. She even invented a technique to inflate metal in order to make a pillow for her hand-forged tiaras to rest upon.
After completing an MFA in printmaking in 1979 at the University of Georgia, Brim's hometown school, Columbus State University, was in need of a ceramics teacher. She was awarded the job but at the suggestion she first take a course on the subject at Penland School of Crafts. "When I came to Penland, I fell in love with the place and everything about it," she says. In addition to ceramics, she took metalworking and jewlery-making classes. Then, during a trip to the blacksmith shop to make tools for a project, she fell for the forge. After teaching at the university, Brim went on to organize the country's first blacksmithing symposium focused on expressive design and coordinate the iron studio at Penland for six years. In 2010, she garnered the Alex W. Bealer award, the highest honor given by the Artist Blacksmith Association of North America for career achievements.
When Brim first ventured into her chosen medium, most blacksmiths were staunchly traditional, preferring to make fire pokers and horseshoes rather than being wildly creative. But she turned the blacksmithing world on its head. She says she was inspired by the Brother's Grimm fairy tale about the 12 dancing princesses, who sneak out each night to dance, only to be found out due to their tattered shoes and cursed by their father. "I thought, well if I made them steel dancing shoes," Brim says with a bit of a smirk, "they could dance forever."
The late Anthony Bourdain profiled Brim in 2016 for his series Raw Craft, and his remarks couldn't be more authentic and inspirational. "Elizabeth is sort of a perfect example of somebody who's chosen to go against the grain," he said, "who's chosen to do a difficult thing, who's decided to follow a passion."
RESOURCES:
Photographs by Nick King, Robin Dreyer, Kathryn Gremley, Mary Vogel, Tom Mills, David Ramsey