Elixir of Life
Elixir of Life:
Get to know the local makers brewing up flavorful and good-for-you versions of kombucha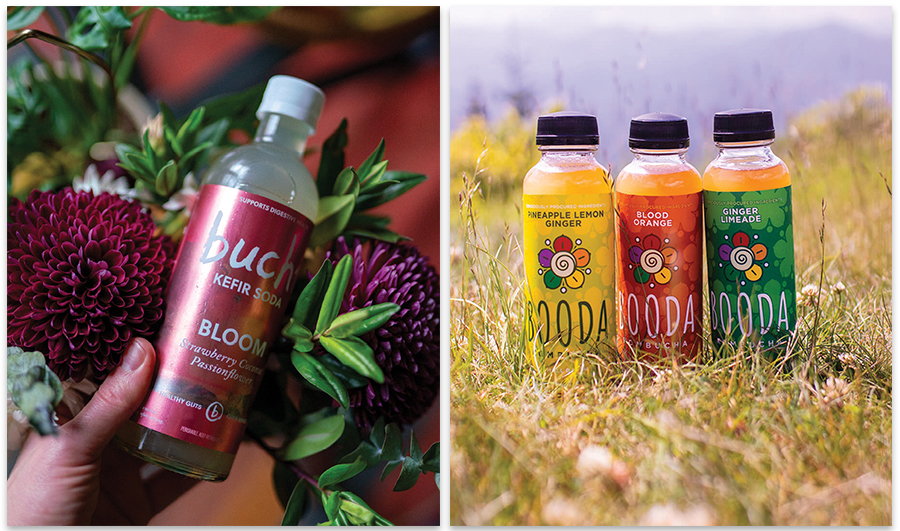 Pop Quiz: It's nicknamed nature's soda and mushroom tea; was first brewed nearly 2,000 years ago; and involves a harmonious culture of bacteria and yeast. What is it? 
Cheers! It's kombucha, a fermented, fizzy beverage made from tea, sugar, yeast, and bacteria that packs a refreshing tangy, tart punch. It's also full of good-for-your-gut probiotics that benefit the digestive system, as well as vitamin B and other essential minerals and organic acids. Its fancier cousin, jun, is brewed with green tea and honey and is often called the champagne of kombucha for its crisper, brighter flavor. Both can be made at home, but it's even easier to source the well-perfected offerings from these local brewers.
Buchi
Brewed and bottled in Marshall but sold nationwide, Buchi launched in 2008 after friends Sarah Schomber and Jeanine Buscher started making, sharing, and then selling kombucha at local farmers markets. They brew an array of flavor-infused offerings, including coconut-pineapple-turmeric and a spicy ginger-cayenne. They also produce a lighter and less vinegary-tasting kefir soda, which is also fermented but with kefir grains as opposed to kombucha's symbiotic colony of bacteria and yeast (a.k.a. a SCOBY). And because there's naturally a little bit of SCOBY in each bottle of kombucha—a necessary starter for brewing—Buchi even encourages trying it at home and offers instructions on their labels. drinkbuchi.com
Shanti Elixirs
For Shanti Volpe, it was a beekeeping workshop in 2016 that began her foray into kombucha. She launched Shanti Elixirs a year later, which specializes in jun, the lighter, sparkling rendition. "Jun culture feeds off of raw honey and green tea, making it prebiotic and probiotic," says Volpe. She also points to honey's antibacterial, antifungal, and antioxidant properties and the drink's ability to energize and boost immunity as additional health benefits. Shanti Elixirs come in a variety of flavors like elderberry-lemon and Tulsi rose and are currently sold across the Carolinas and Tennessee. You can find tempting cocktail and mocktail recipes on Shanti's website, though for Volpe herself, she enjoys her non-alcoholic jun straight up, like a stiff digestif. "We call this having a #junmoment," she muses. shantielixirs.com
Booda Kombucha
Like how most other kombucha brewers get into the business, Carole Bowers fell in love with the beverage and started making her own. "Two gallons turned into five and five turned into 20," she says, laughing. A chef and restaurateur, she owns Carmel's Kitchen & Bar and Burgerworx in Asheville, and began selling her Booda Kombucha in 2017, which she brews from a base in Arden. Her brand of the beverage, which comes in unique signature flavors such as raspberry-dragonfruit and blood orange, can be found in select natural food and CBD stores around Asheville, Charlotte, and Greenville, SC. Speaking of CBD, she has an entire line of kombuchas infused with natural cannabanoids, which, in addition to the benefits of kombucha, help reduce anxiety and inflammation with every effervescent sip. boodakombucha.com 
Sideways Farm & Brewery
Carrieann and Jon Schneider's farm in Etowah produces an abundance of flowers, raises barnyard animals and bees, and naturally brews farmhouse ales using honey. So when the couple discovered Shanti Elixirs' jun, it wasn't a stretch to give it a go themselves. They began selling their version of the elixir in 2020, though they aren't trying to compete with Shanti or anyone else. Using a variety of flavors from Asheville Tea Company and local wildflower honey, the Schneiders are brewing a rotating list of hard jun kombuchas that are high in alcohol, generally between four and seven percent. And they can also only be purchased directly through the farm and brewery, which is open to the public Friday through Sunday. sidewaysfarm.com