Eats Meet West
Eats Meet West:
Limones' artful blend of California and Latin cuisine corners a market in Asheville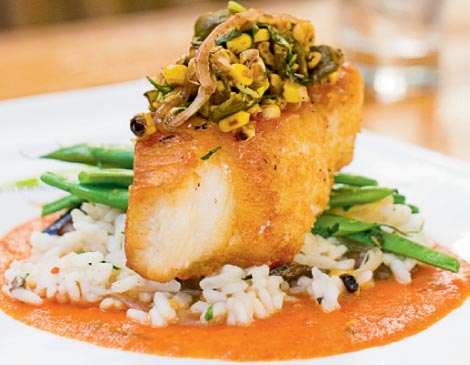 The ONLY rule of an evening at Limones is not to be in a rush. That's not to say the waitstaff isn't attentive and quick-footed; they are. But it would be a shame not to take ample time to explore the dizzying array of Latin-inflected, California-tinged creations of owner and Mexico City-born Chef Hugo Ramirez.
While sipping blood orange margaritas and a refreshing Paloma made with grapefruit soda and Milagro reposado tequila, my dining companion and I sat agog at the choices, one more exotic than the next. We couldn't pass up the ceviche, redolent with fresh lime juice, red onion, and the subtle taste of the ocean in the sockeye salmon and shrimp. It's a perfect pairing with the sweet-sour cocktails.
The goat cheese and blistered corn taquitos with chipotle caldillo blend smoky, piquant, and spicy notes. Julienned carrots, onions, and cabbage flavored a savory jus that we spooned over the last bites of this appetizer.
The warm ambience created by flickering candlelight reflected in framed mirrors that run the length of the dining room, dark wood floors, and earth-tone walls adorned with Mexican pottery is another reason to linger. For our platos fuertes, we ordered a barbecue duck confit quesadilla that was rich with body and accented by three distinct sauces. In each bite, I enjoyed cucumber pico, chickpeas, chipotle tomato sauce, guacamole, and cabbage with tender duck.
My dining partner selected the coriander sea scallops with rice noodles, zucchini, spicy teriyaki vinaigrette, and mango salsa, which carries a hint of balmy coconut milk. Too intrigued to stop, we continued with dolces—a flan of such smooth, vanilla orange-caramel distinction that it could masquerade as panna cotta.
Also for dessert, Limones elevates a Spanish carnival snack to haute cuisine with cinnamon-sugar-rolled churros (ribbed sticks of fabulous fried dough) dipped in homemade buttery dulce de leche sauce, and a side of spicy hot chocolate. And yes, we took our time savoring every crispy bite.
Limones
Asheville
13 Eagle St.
(828) 252-2327
$$$
www.limonesrestaurant.com