Doyle's Cedar Hill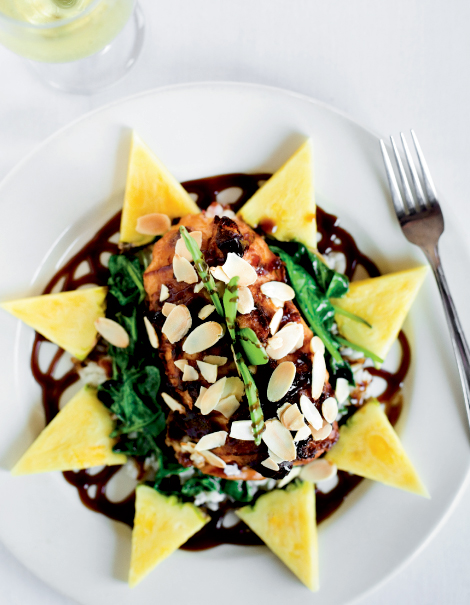 Murphy harbors an enclave of artists, folks living off the land, native mountain dwellers, and second-home owners who enjoy the slower pace afforded here. They're an eclectic and unpretentious lot that comes together at Doyle's Cedar Hill, which is as much a community hub as a restaurant, bar, and weekend music venue.
Among the crowd is chef and owner Doyle Smith, a self-described ex-hippie who migrated from Key West in the late '70s. Strike up a conversation with this local character and he might regale you with stories of his days sailing the Caribbean with Jimmy Buffet, hitchhiking through Mexico, or his childhood spent in his mama's Arkansas restaurant where Jerry Lee Lewis used to perform. After working in notable bars and restaurants in Atlanta and  Florida, he helped open Oak Barrel in Murphy, which he purchased in 2002 and renamed Doyle's Cedar Hill.
The culinary offerings are as varied as the crowd. At lunchtime, patrons enjoy salads and classic sandwiches, such as the Reuben or Monte Cristo, on the expansive deck overlooking the Valley River. Come dinnertime, guests can order from the casual pub menu, the star of which is an eight-ounce Brasstown Beef burger, or from the seasonal dinner menu. Entrées include blue cheese rib eye, roasted duck, seafood pasta, and organic quinoa stir fry, one of Smith's heart-healthy favorites.
Given his penchant for organic, locally sourced food, he and his son, Jeremiah, who manages the restaurant, keep livestock and grow vegetables at their farm and an on-site garden. At the peak of the harvest, more than 50 percent of the produce used in the kitchen comes from their land. The chicken, trout, and beef are locally raised as well.
My dinner at Doyle's fell in early spring, before any seeds had been sown. Luckily it was still oyster season, so the fresh mollusks from Apalachicola were a must, and made an excellent complement to the steamed mussels bathed in a rich, velvety Pernod garlic-cream sauce. An amazingly tender lamb stew segued into the night's high note: the Capo's chicken. This signature dish paired rice and perfectly blanched vegetables with a moist chicken breast stuffed with a creamy mushroom and caramelized onion filling. The candied walnut and Dijon glaze drizzled on top struck a balance of sweet and savory. Following a dessert of classic crème brûlée served in a ramekin crafted by local artisan Rob Withrow, our party retired to the deck and joined the other barflies celebrating a warmer season.  
---

Doyle's Cedar Hill
Murphy
925 Andrews Rd.
(828) 837-3400
www.doylescedarhill.com
L, D (Monday-Saturday), SBR; $$-$$$