Don't Scrap That!
Don't Scrap That!:
Biscuit Head's Jason Roy creates preserves from oft-neglected leftovers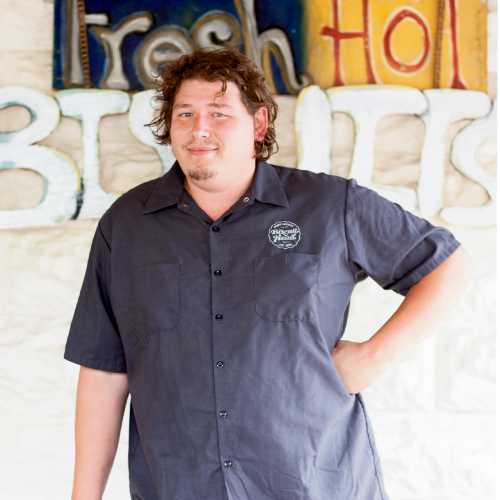 Jason Roy, chef and owner of the breakfast and brunch bonanza Biscuit Head, is a big fan of economical cooking. The throngs of diners crowding the door of his West Asheville restaurant on weekend mornings haven't changed his thrifty attitude. "It goes back to a time when people were more cognizant of waste," he says. "They thought about the way they treated their food products. They just treated it in a more holistic sense."
Although Roy is known for his fresh berry jams and spiced butters, he's equally enthusiastic about preserving scraps, the bits of produce that might normally be thrown away. You can practically turn nothing into something, he explains. Here, he shares his recipe for watermelon rind pickles to prove it.
These crunchy bites are similar to preserved cucumbers, although they offer a hint of sour flavor and plenty of fodder for conversation.
Make these pickles to suit your preference, Roy advises. Cut them into long strips for sandwiches, or use cookie cutters to create shapes that add flair to a cheese board or plated dish. "I hate recipes, because it takes away from what cooking is, which is a fun experience of science and food," he says. "Do it differently and play with it."
Click here for Chef Roy's recipe for watermelon rind pickles.
Biscuit Head
Asheville
733 Haywood Rd.
(828) 333-5145
417 Biltmore Ave.
(828) 505-3449
www.biscuitheads.com