Dig In
Dig In:
Chow Chow's return with a unique approach to food festivals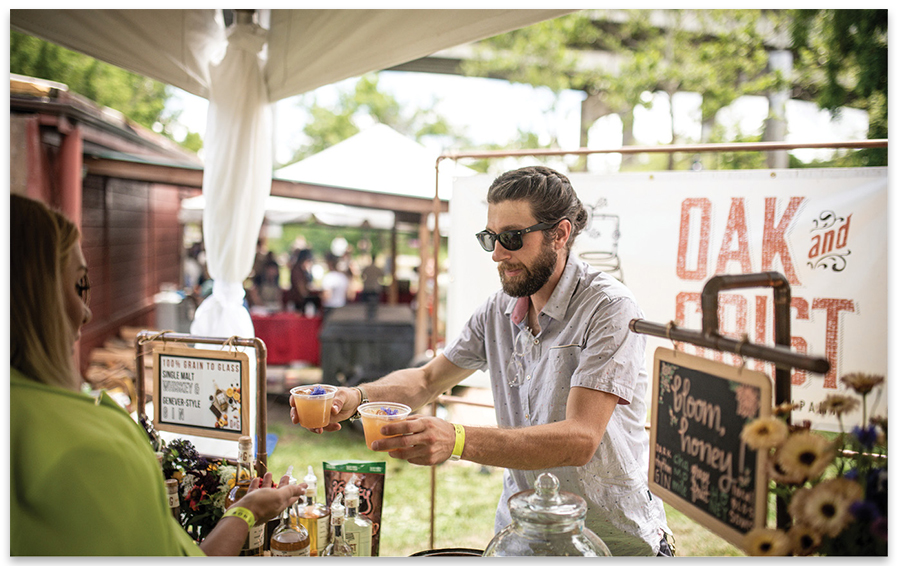 When the culinary event Chow Chow began in 2019, it was hard to classify. Chow Chow events were held all around Asheville; with speaking panels covering everything from sustainability to social justice in the restaurant industry to farm dinners, not to mention a grand tasting in the city center featuring local and guest chefs from around the world, it wasn't anything like most food festivals. Speakers like James Beard-winning author Ronni Lundy and Dr. Cynthia Greenlee, a renowned journalist, historian, and food writer, called for an end to a culinary boy's club fueled by racial stereotypes. Local chefs like Curate's Katie Button mingled for events with visiting culinary celebrities like Appalachian specialist Travis Milton and World Central Kitchen's Jose Andres, fresh off the plane from a disaster relief trip providing millions of meals to earthquake and hurricane ravaged Haitians.
The global pandemic that struck the following year caused the star-studded culinary function to shift format even further, with last year's event morphing into a string of weekend dinners. Each meal was themed with invigorating grub and gulp-related topics ranging from the importance of pollination to the culinary world, a showcase of locally-raised meat and dairy products, and even a demonstration on how to embroider your own cocktail napkins. Speakers, specialists, and makers were in attendance at each event.
With last year's schedule a fan favorite, Chow Chow is sticking with it for 2022, offering three weekends of culinary events over the course of June, August, and September. With free events and ticketed seatings starting at $25 and ranging up to $150 per person, there's something for everyone interested in the festival, which this year seems to revolve around food and story. 
"In 2020, people and businesses of our creative economy were deeply affected by the ongoing pandemic, and as a community and nation, we were (and still are) in an environment where an overdue reckoning around social and racial justice dramatically is shifting our societal views and values," says Chow Chow Executive Director Rebecca Lynch. "Within that context, Chow Chow and its Board of Directors focused on the mission and vision of Chow Chow with purpose and intention, recognizing this was (and continues to be) a time to listen and learn, to work more diligently towards our goals for equity and inclusivity while we continue to celebrate Asheville and uplift its extraordinary creative community of farmers, restaurants, chefs, producers, makers and artisans."
June features events like Diaspora, a dinner that focuses on indigenous people from around the world forced into migration; Entrepreneurs of Color offers flights and bites from some of the region's most aspiring and inspiring culinary impresarios; and the Cherokee Fry Bread Workshop offers stories and demos for making the classic Native American treat. August offers a tamale workshop and a seminar based around cooking with scraps, while Sowing Seeds of Color features farmers of color from around the region. 
The not-quite-festival wraps up in September with Dynamic Women, cocktails and flights revolving around the lingering gender disparity in the industry; Food Stories, a dinner featuring culinary storytellers; while the free Sunday Supper Series, which runs throughout the event, features free, buffet style meals, prepared by guest chefs.
Chow Down - For a complete list of events, tickets, and more information, visit exploreasheville.com/chow-chow-culinary-festival