Cyprus International Cuisine
Cyprus International Cuisine: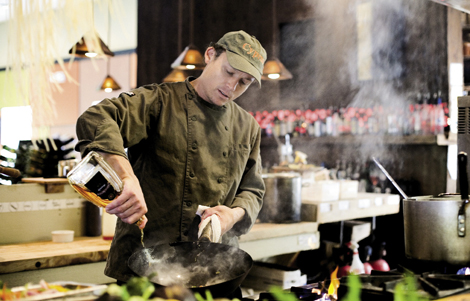 Some places—no matter how cold the wind, or how dark the night—tempt you from a cozy home and into their aromatic and atmospheric clutches.
Cyprus Restaurant in Highlands does just that with the promise of bold flavors from around the world, a dining room filled with convivial guests, and high-octane entertainment on the side, namely Chef Nicholas Figel holding court in the open kitchen.

The chef's nearly spiritual philosophy toward food allows guests to touch down in exotic locales and sample quintessential dishes of each culture. And the methods used to create his down-to-earth, authentic interpretations of international peasant food animate the kitchen daily.
Yes, there are familiar comfort food imports, such as Belgian mussels in beer, French steak frites, and Chinese dim sum, but Figel also transports diners with the less familiar, including ah mawk, fish baked in banana leaves and redolent with lemongrass and coconut milk, and Rijsttafel chicken, a Dutch dish adapted from the Indonesian rice feast nasi padang. There are Italian favorites, namely an earthy, rich osso bucco Milanese spiked with a tangy citrus gremolata, and the four-ingredient cappellini made with strands of house-made angel hair pasta.
"I just figured if I made food that I believed in, that would give me the best chance at success. And at the very least, I would be engaging in truly meaningful work," reflects Figel on opening Cyprus nine years ago, despite encouragement from friends to open a trout restaurant.
Part of a restaurateur family in Highlands, the chef-owner honed his cooking talent during brief stints in Milan and Venice rather than formal cooking school.  
Following his curiosity has served him well. For example, he learned the bamboo kneading technique for the house-made ramen noodles by researching a travel program. Tiny slits in the grass pull and tug on the dough, explains Figel, stretching it at different amounts, making the noodles "luxuriant and sultry on the surface."
"We're trying to identify some of the spiritual elements of the food," he states. It's these intangible qualities that Figel hopes translate for the patrons.
Clearly the regulars recognize the care that goes into each dish. They're the first ones to grab seats at the copper-topped bar,  which offers a prime view of the kitchen activity. It's the best way to gain insight into Figel's next thoughtful interpretation of the world on a plate. 
Cyprus International Cuisine
470 Dillard Rd., Highlands
(828) 526-4429; www.cyprushighlands.com