Culinary Arts
Culinary Arts:
The Weihses marry their creative talents during a spring painters' retreat in Cashiers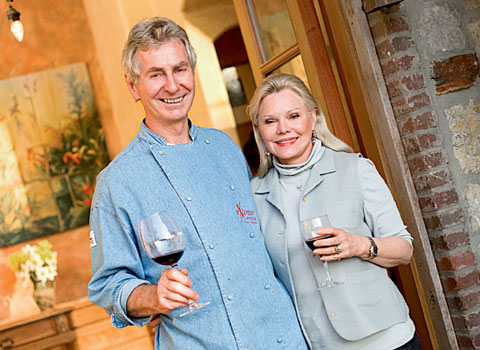 Artist Karen Weihs is a study in serenity. Dressed in a cozy cashmere sweater and jeans with her platinum hair pulled back into a low ponytail, she pads around her spacious French country-style kitchen pouring strong coffee and doling out bowls of granola and fresh blueberries to art students.
This group of mostly longtime friends and neighbors has gathered at Skylight Farm in Cashiers for a weekend that combines painting lessons with Karen and informal culinary instruction from her husband, Chris, a chef who prepares the meals that punctuate these "seminarts." Held throughout spring and summer, the events combine what each loves best: art and food.
Married for 34 years, these retired Charleston restaurateurs call themselves "life artists," merrily pursuing myriad creative endeavors. Chris counsels culinary entrepreneurs and develops real estate, and Karen, prolific in her landscapes, figurative works, and abstracts, recently opened a studio-gallery with a fellow artist in Biltmore Village in Asheville, which is where the couple lives part-time. These days, their house doubles as the staging grounds for painting and cooking workshops.
Today's schedule includes an afternoon of painting en plein air on the terrace which overlooks mountain ridges, followed by the weekend's finale dinner. The guests are already enjoying a preview of the meal as the aroma of warm apples and butter fills the kitchen. Before they awoke, Chris baked a galette, which is now cooling on a granite countertop. It's rustic with a hand-folded golden crust gently cupping the tender slices of fruit. "I can't imagine having an art class without celebrating with food," says Karen, before heading outside with a canvas in hand.
Artist in the Kitchen
While Karen helps guests set up easels, Chris finishes the prep work. With everything in place, this could be a professional kitchen—little dishes holding precisely measured ingredients are lined up beside a chopping board. He makes quick work of blanched tomatoes, dicing and dropping them into a glass bowl, then finely chopping parsley, and mincing cloves of garlic.
A 29-year veteran of the Charleston restaurant scene, Chris is a consummate foodie. He's owned seven restaurants there, including the popular Carolina's, and is known for his experimental approach in the kitchen. He is also credited for elevating the mainstream popularity of Lowcountry cooking in the '70s and '80s—one newspaper even dubbed him the "father of new Charleston cuisine."
At the farm, he grows lettuce, edible flowers, and herbs, even making Cajun spices by grinding the leaves of a resident sassafras tree. The Bavarian-born chef holds fast to the philosophy that, ultimately, being confident in the basics of cooking is what makes a meal great. "A successful meal is when people feel they've just had their first date with fabulously simple food," muses Chris as he sharpens a butcher knife, "and that they remember how food made with great care and love can really taste."
Capturing the Scene
Outside, nuanced landscapes emerge on canvases. The day has grown warmer and some students have peeled off their jackets while detailing their interpretations of barely budding trees and greening ridges in the distance. One has chosen to paint a study of one of the Weihses' dogs soaking up the sun on the lawn. Karen walks over to each easel, surveys the work, and discusses a color or shading decision with the artist.
Inside, Chris develops a palette of flavors, starting with herbs to coat the rack of lamb. Standing at tall counters built to accommodate his considerable height, he combines panko breadcrumbs, herbes de Provence, rosemary, salt, pepper, and an egg in a food processor to create a paste. Then he ducks out to the patio to fire up the Komodo Kamado grill—a dome-shaped blue-tiled refractory barbecue. As it heats up, he completes an eggplant and zucchini tian, before slicing the roasted duck he prepared in advance.
A few of the pupils' spouses have arrived, and with glasses of sparkling wine, join Chris in the kitchen to observe his wizardry with the first course of sea scallops. He dredges the plump mollusks in flour and casts them into a pan of bubbling butter. Once golden brown, they're placed on a bed of warm tomato-parsley garnish and served with flair in bleached seashells. Marsha McDonald, a friend and former server at one of the Weihses' restaurants, stops painting to gather the group for the savory snack on the terrace.
Meanwhile, the chef returns to the multistage lamb preparations, he sears the meat in a pan, before grilling it over coconut charcoal. Off the grill, it is brushed with whole-grain mustard and coated with the herbed breadcrumb paste before going into the oven to create a crust that will seal in the juices. He then chops and mixes a variety of fragrant green herbs with olive oil for an Argentinean chimichurri sauce to accompany the lamb. "Chimichurri isn't classically French, but it's so refreshing," he tells guests.
"That's just like Chris," remarks McDonald, who lives in Greenville, South Carolina. "He likes to introduce something new to a classic dish to make it fun. That attitude was significant at the restaurant. There were a lot of dining choices in Charleston and people kept coming back to us. Of course, people came to see Karen and Chris just as much as they did for the food."
Unveiling the Masterpiece
Karen invites everyone to the dining room table where she has decorated each place setting with one of her small abstract canvases. As bottles of wine from a friend's California vineyard, Sutcliffe Winery, are passed, toasts are raised to the inspirational workshop. Michelle Morton, a friend from Winston-Salem, lifts her glass to the hosts: "Karen and Chris have taught me to infuse more creativity into my life."
Between stories about the weekend, the guests share their enjoyment of the tender duck breast on greens. And the succulent lamb encased in a caramelized crust and drizzled with reduced port and chimichurri has clearly succeeded in bringing the feast its high note. After a time, diners pull away from the table, filled with gratitude for the good things that artistry in the kitchen can bring, and enlightened with the knowledge of how to create this meal on their own. "That's one of the reasons these workshops are so much fun," says McDonald. "You get to watch someone who's a complete natural at what they do, and you learn something. Chris doesn't make cooking above everyone's head."
The group strolls outdoors to see the completed paintings before enjoying the apple galette and a light lavender-lemon tart. "Karen and Chris belong to that rare group of people who are adept at living life to its fullest," explains Morton. "They seem to be most rich in those areas that offer the deepest level of satisfaction—family, friends, food, creativity, and a lifestyle full of adventure and beauty.