Clay Motion
Clay Motion:
Asheville-based East Fork Pottery scales it up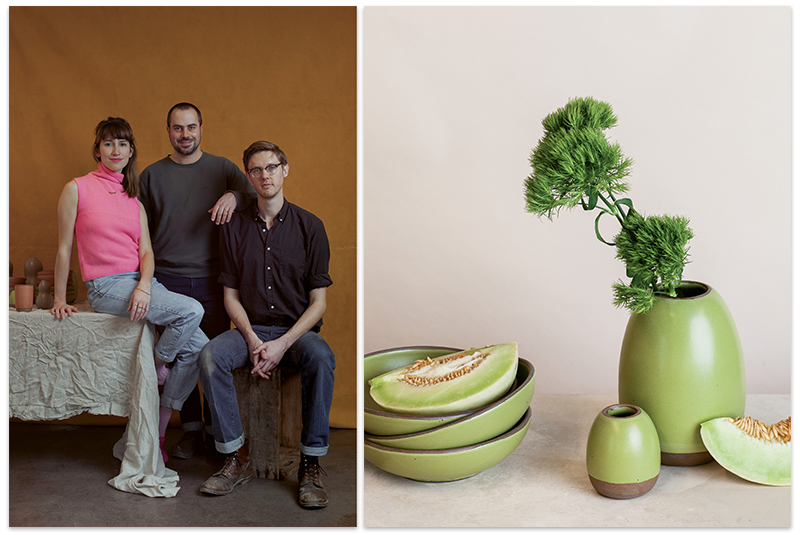 East Fork owners Connie and Alex Matisse and John Vigeland (right) are taking their brand to the masses.
Lunch can be loud at East Fork's new ceramics factory. The meals the staff makes and shares twice weekly in the industrial space near downtown Asheville roll with laughter along the long, blond-wood table, tumbling over one another and bouncing off the building's naked brick walls.
Connie Matisse, partner and creative visionary of the rapidly growing company, smiles, taking in the resounding conversations around her and the clatter of spoons scraping soup from the bottoms of East Fork's simple, hand-glazed bowls. Nearby stands another long table, where a few young workers are noshing bowls of bright green kale salad and working on their laptops, helping with the many marketing and business dealings for the company, spawned from the artistic groundwork laid by Connie's husband and CEO, Alex Matisse, and their business partner, John Vigeland. The rest of the crew, many of them visual artists in their 20s and 30s, work the machines in the back to shape, glaze, and fire the plates, mugs, and other pieces making their way to dinner tables far and wide.
There's a warm, familial vibe here this bright wintery afternoon, a sign that East Fork's new factory near Biltmore Village is proceeding just as it should—as a mesh of community, cooperation, and creativity.
ONWARD AND UPWARD
Last year was big for the company. It moved production from a kiln that it operated near Marshall for years to this 14,500-square-foot building that formerly housed a plumbing-supply manufacturer. It has gone from producing about 12,000 pottery pieces a year at the Madison County studio to an anticipated 170,000-plus this year (and some 225,000 by 2020). Though most of East Fork's wares are sold directly through the website, consumers can also shop at the company's retail stores: one in downtown Asheville and a new one in Atlanta. Later this year, the business expects to add even more staff to the 40 employees it has now, and hopes to open another store elsewhere.
East Fork's engaging and irreverent website, as well as the Facebook and Instagram pages that Connie oversees, extend a reach deep into the lives of people who are design-aware, digitally savvy, and have disposable income. The pottery's minimalist tableware and indulgent home products resonate especially with young women who like to entertain. The Matisses certainly do—that's largely how the growing company shifted from making Alex's one-off, highly ornate pots prized by collectors to creating a line of elegant stoneware made of regional materials. And it all started with a couple of guys who didn't want to follow in their families' footsteps.
ARTISTIC LEGACY
In case you're wondering, Alex Matisse is indeed related to that Matisse. As a young man, the great-grandson of the renowned French painter and sculptor Henri Matisse wanted nothing to do with art—but it turns out that it's hard to escape that kind of DNA. Alex's grandfather Pierre (Henri's son) ran a New York City art gallery that helped introduce modern art to America. His grandmother Alexina's second marriage was to artist Marcel Duchamp. Alex's father is artist and inventor Paul Matisse, and his mother is Linda Hoffman, an artist, writer, and orchardist.
Growing up in Groton, Massachusetts, Alex took a class in clay in the fifth grade and loved it. He liked the tactile medium and was thrilled he could make something that took shape quickly. "It was immediate, and it wasn't painting," he says in East Fork's whitewashed boardroom, looking relaxed with a beard as closely cropped as his hair.
Though Alex dabbled in ceramics in high school, he didn't have art in mind when he went to Guilford College in Greensboro. Nonetheless, he signed up for a clay class taught by Charlie Tefft, a respected potter whose work has attracted buyers and curators throughout the U.S. The teacher, who's tied into "the secret world of clay in North Carolina," Alex says, introduced him to Matt Jones, a Buncombe County potter. Alex apprenticed with Jones for two years before apprenticing with Mark Hewitt in Pittsboro.
Like Alex, John didn't care much for his parents' line of work. His father taught accounting, and his mother was head of finance for a teaching hospital in Dallas. John, however, loved art. The Texas native was studying painting and drawing at Carleton College in Northfield, Minnesota, when he begrudgingly took a class in clay. "It really captured my attention," he recalls. "I knew that I wanted to keep doing it."
After college, John—long and lanky, with the strong forearms of a potter and an easy way about him that belies his role as East Fork's CFO—came to North Carolina because of its centuries-old tradition of craft pottery. For three years, he apprenticed with Daniel Johnston in Seagrove. There are "hundreds of potters and one traffic light," John jokes, but it's a bona fide hotbed of ceramic artistry near Pittsboro, where Alex had apprenticed.
At the time, Alex was setting up his studio in Madison County, but he often visited Johnston's studio to refine his skills. He and John remember long suppers involving "a fair amount of whiskey" and equal parts talk centered around clay.
It was about this time that Connie, selling goat cheese at a holiday market in the old roller rink in Marshall, met Alex. She had moved down from New York City, where she'd been a paralegal, nanny, pastry maker, and copy writer (among other things), to tend goats, cows, and sheep at Three Graces Dairy in Shelton Laurel, near Marshall. "Shelton Laurel might be as far from Manhattan as you can get," Connie says with a laugh. "I was desperate to get out of the city." But the Los Angeles native didn't think the dairy job would be more than just a temporary stop along the road. "I came to do something until I figured it all out," Connie remembers. She lived in a mobile home on the dairy and "played the farmhand."
Soon after she met Alex, she moved onto the old 30-acre tobacco farm he'd bought on the east fork of Bull Creek, about as deep into Madison County as you can get. With the help of skilled friends, they built his studio and a wood-burning kiln. She planted a big garden, helped Alex mix glazes and prepare clay, and started writing East Fork's newsletters. John joined the team in 2013, and it wasn't long before things took off.
Later that year, a friend of Connie's in New York met the creative director of Calvin Klein Home who, after seeing samples, added East Fork's pots to its lineup. Suddenly, Madison County went to Madison Avenue. But the small business, where the kiln was fired only every three months, now had more potential than product.
THE TURNING POINT
That push to do more suited Alex just fine. "I always felt this nagging tug to do something bigger," he says. "Some of it is driven by some competitive fire inside. I wanted to do something that was going to be noticed by a larger community."
What gained attention was a very simple, unadorned vase that Alex made. He, Connie, and John got pretty excited about it and used it as the inspiration for a line of stoneware that turned out to be immensely popular among the young people who showed up at their kiln-opening parties.
"That was our big turning point," Connie says. "The more we simplified, the more it appealed to a whole new demographic." She picks up a small blue salad bowl. "This bowl doesn't require any explanation. Anybody from any city will say, 'This is a nice bowl. It's pretty, and it's useful.'"
Connie joined the company full-time in 2016. Helping to create appealing forms and colors, she convinced restaurants in Asheville and elsewhere to plate their dishes on East Fork pottery. Under her guidance, the business has become not just a pottery producer, she says, "but a company that brings people together and values all the work it takes to prepare meals and gather people around the table."
Which is exactly why she loves having lunch with the crew, at that long table, every Tuesday and Thursday.
During these heady days of expansion, "there is just no separating our work from our lives," she says of the Matisse life, which includes their two small children, as well as John and all the workers buzzing around the table. "Rather than try to separate them, we try to make work feel like family."
GRAB A PLATE
East Fork hosts a monthly supper series that pairs paying guests with a community leader over conversation on topics such as design, immigration, gender, and wellness. Guest chefs prepare the food, and a portion of the proceeds benefit a nonprofit organization. To learn more or shop East Fork's dinnerware and other offerings, visit eastfork.com, or stop into its Asheville store at 82 N. Lexington Avenue.