Celebrating Our Foodways
Celebrating Our Foodways:
Co-authored by two proud Appalachians, a new cookbook shares more than just recipes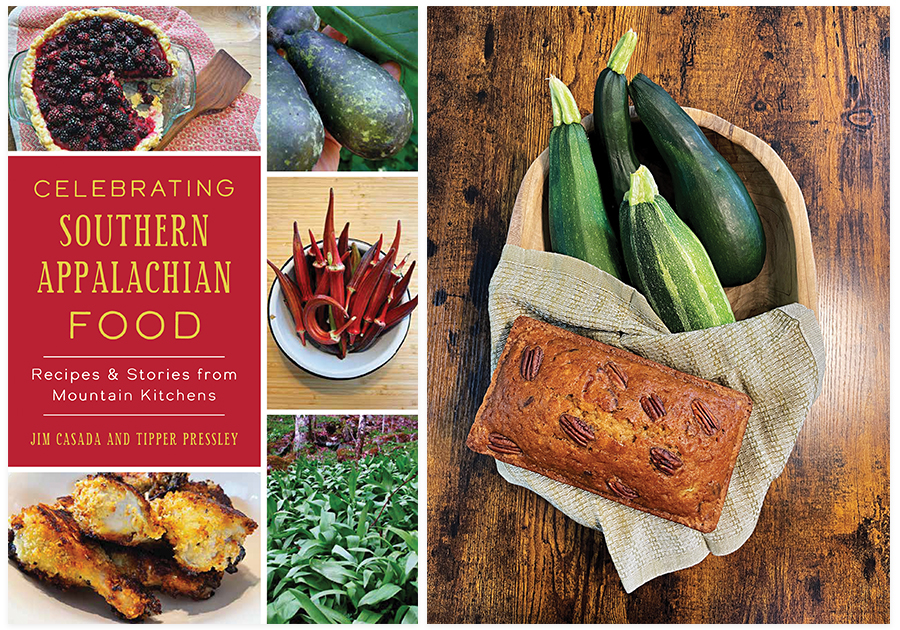 This summer, two Western North Carolina natives teamed up to publish Celebrating Southern Appalachian Food: Recipes and Stories from Mountain Kitchens, a collection of recipes, history, language, and more from the Blue Ridge. Written by Jim Casada and Tipper Pressley, both well-established storytellers of our region, the cookbook shares decades of combined cultural and historical knowledge.
Jim Casada, was born in Bryson City, and jokingly describes himself as, "a recovering university professor." He taught history at Winthrop University for twenty-five years, and after taking an early retirement, he launched his career as a full-time historian and outdoors writer. He's written several books including Fishing for Chickens: A Smokies Food Memoir and The Greatest Quail Hunting Book Ever, to name a few.
Tipper Pressley lives in Brasstown, and says she couldn't imagine living anywhere else. Pressley spent many years working in marketing at a local community college and for the John C. Campbell Folk School. In 2008, she launched her blog, The Blind Pig and The Acorn, a passion project which covers the history, culture, and language of Southern Appalachia. From her blog grew a YouTube channel, Celebrating Appalachia, which brings more homesteading content to life from Pressley's rocking chair. 
"I got to know Tipper not long after she started her blog. I realized immediately that not only was she country as cornbread, but bright as a brand new penny," Casada shares enthusiastically. Pressley says she and Casada are more like family than friends or coworkers—their shared heritage and appreciation for Appalachian culture unites them. "The book has been such a success," she says. "We could have never dreamed that it would have done as well as it has. We're both really proud of it."
Celebrating Southern Appalachian Food contains more than 200 recipes, categorized by main ingredients like fish, fall and winter vegetables, preacher bird (chicken), biscuits, and more. Each recipe comes from Pressley, Casada, or from their friends and family; most have a special significance to the authors. One of Casada's favorite recipes is the apple stack cake, as his grandmother often cooked a seven-layered cake for him upon his return to his family's home in Swain County. 
Celebrating Southern Appalachian Food is available for purchase at Citylights Bookstore in Sylva, and from Pressley's blog, blindpigandtheacorn.com.
Pumpkin pie lovers, rejoice! Check out the authors' recipe below.
Pumpkin Pie
Courtesy of Jim Casada, from Celebrating Southern Appalachian Food
(yields 1 pie)
Ingredients
1 cup stewed pumpkin
1 cup brown sugar
1 tsp. ground ginger
1 tsp. ground cinnamon
1/4 tsp. salt
2 eggs
2 cups milk
2 tbsp. melted butter
pastry
Preheat oven to  425℉. Add sugar and seasonings to the pumpkin and mix well. Then add the slightly-beaten eggs and milk. Lastly, stir in the melted butter.  
Turn into a pie plate lined with pastry. Bake in a 425℉ oven for 5 minutes. Then lower the heat to 350℉ and bake until the filling is set. The pie should be allowed to cool prior to serving.