The Cake Maven
The Cake Maven:
A local cheesecake baker builds on her passion to create a sweet enterprise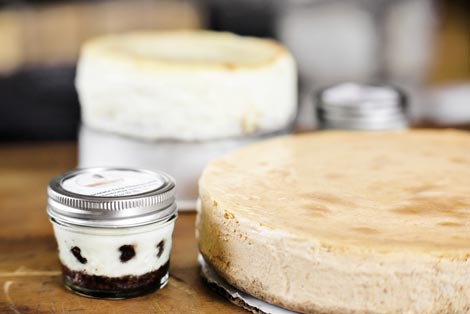 Drawing inspiration from a long line of cooking matriarchs, Rachel Vickers baked her first cheesecake at 11 years old, and it's been her signature confection since. Last year, her delicious hobby became a full-fledged endeavor when she launched Rachel's Delectables.
After completing a class through the nonprofit small-business training organization Mountain Bizworks and setting up shop at the Blue Ridge Food Ventures shared-use kitchen in Candler, she's been seeing sweet success with her newly minted business.
"I think cheesecake specialist is the appropriate title," says Vickers. "I have a fascination with cheesecakes from around the world and have already started a collection of recipes, which includes one from Alsace. The fact that a region in France could have its own version of cheesecake means that there are endless varieties waiting for me."
Indeed Vickers's passion includes blogging about her recipes and the history of the dessert in various cultures.
Her first flavor test beyond the expected vanilla, pumpkin, and chocolate varieties was a goat cheese cake made with chévre from Looking Glass Creamery in Fairview. After mellowing the sharp cheese by adding lemon and just the right balance of sugar, Vickers was firmly ensconced in recipe development.
Another recent creation is the New Orleans goat cheese cake, an adaptation of two recipes, enhanced with lime zest and Grand Marnier and blended with goat cheese, cream cheese, and sour cream.
Vickers offers flavors including pistachio, tiramisu, key lime, pineapple-coconut, caramel apple, cherries jubilee, sweet potato, and eggnog. But perhaps one of the most adorable presentations is Rachel's Cheesecake in a Jar, served in a tiny Mason glass that can be given out as single-serving party favors. Vickers saw immediate results after sending samples to A Southern Season gourmet gift basket retailer. She received 300 orders in her first month of vending.|
As business takes off, Vickers, who also works as a paralegal, is finding more ways to excel. She offers special event and party services, including weddings, and to suit a wider variety of appetites, she's developed gluten- and sugar-free recipes. Customers can purchase cakes from her online store, or find her at farmer's markets in Buncombe County.