Caffé Rel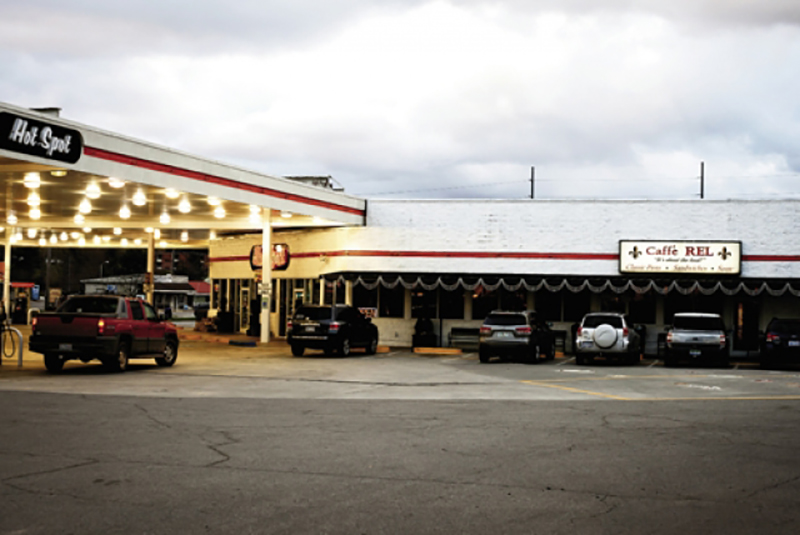 Sometimes all the high-style fusion dining, pop-up kitchens, chefs challenges, food-on-wheels, and craft everything just gets overwhelming.
Don't get me wrong: I love the fact that extraordinary creativity and a melding of heretofore uncharted flavor combinations have come to be expected in many corners of Western North Carolina. But from time to time, one desires an old classic—a familiar dish that conjures happy memories but preserves the thrill of discovery.
Caffé Rel in Franklin fits that bill. I've been hearing about this restaurant, a bistro built into the side of a gas station, for years. There is the lore of standing in line outside in the Hot Spot parking lot, because Caffé Rel does not take reservations, nor does it have a waiting area. No credit cards means packing cash or a check, or a visit to the ATM in the adjacent fluorescent-lit gas station.
But once you delve into the multi-page menu, you realize why this setup has been working just fine for chef/owner Richard E. Long. After 12 years in operation, the mystique lingers and the kitchen continues to turn out French (and some Italian) cuisine for an ardent fan base of locals and adventurous diners.
As soon as you sit down, a dish of welcome arrives: Caffé Rel's tomato bruschetta delivers thick olive oil infused with chopped herbs, garlic, and crushed tomatoes, and generous hunks of baguette for dunking. Consider this the preview to a meal filled with robust and rustic flavors, wonderful French classics that you don't typically experience in a small mountain town.
The thyme-rich blue crab bisque is tantalizing, with shallots, garlic, and leeks lending savor to a soup that doesn't skimp on butter and cream. Chef Long elevates mac and cheese with a nutty Gruyère sauce and infusions of rosemary. The lunch menu features a standout lamb burger, accompanied with homemade crisp potato chips and refreshing cucumber-mint yogurt dipping sauce.
An expert saucier, Long excels in making and teaching his protégées the finesse of good sauces, emphasizing that cutting corners won't do. Using fresh cream and butter and adding salt last will always make a better sauce. And no sugar, warns Long. "Allow the natural sweetness of your ingredients, like carrots and onions, to come through," he says.
Swiss chef Otto Indemauer was an early influence, taking Long under his wing at the Pocono Hershey Resort in Pennsylvania and later recommending him for the famed Greenbrier Culinary Apprenticeship Program in West Virginia. Long's pedigree grew in exclusive resort restaurant kitchens, and he arrived in North Carolina in 1994, recruited to open the erstwhile Library Club in Sapphire Valley.
The dishes at Caffé Rel are a melding of Long's haute cuisine background but they also hearken from memories studying in his Belgian grandmother's Harrisburg, Pennsylvania, kitchen, where she crafted hearty but exquisite meals and tall chocolate cakes. "I watched her put time and love into her cooking," Long recalls. "Nothing was hurried, and everything was delicious."
And while the restaurant's fare is high-end, it's hardly pricey. "A bistro means that it's affordable at all price ranges, but the food is good," Long says, and indeed, pricing for Caffé Rel's abundant portions is favorable to a variety of income levels. Yet diners are still treated to a la minute, or made-to-order, cooking.
One recent afternoon found Long baking an eight-inch-tall chocolate layer cake for the evening. By the time guests began arriving, the dessert had taken its place on the counter with an Italian cream cake and other equally gargantuan torts. A velvety yet fluffy ganache frosting topped an impossibly moist, deep chocolate slice. The crème brûlée, replete with burnt sugar crust that cracked perfectly, revealed creamy vanilla custard as close to exact as can be.
Chef Long sees his as a teaching kitchen. A traumatic health event stunned him last year, and at 66, he moves a bit more slowly around the kitchen. His days involve developing the menu, greeting guests, and facilitating orders, all the while grooming sous chef Tim Blekicki.
Along with chalkboards touting the day's specials, shelves of antique cameras, musical instruments, framed butterflies, old photos of Long in his resort days, and portraits of people significant in his life compose an eclectic décor that tells the beginning of the story of the person and the place. The food tells the rest.           
---
The Draw: A great find in an unusual place, serving French classics, and open for lunch and dinner four days a week
The Drawback: No reservations, nowhere to wait, no credit cards accepted
Don't Miss: The chocolate cake!           
Caffé Rel
Franklin
459 E. Main St.; (828) 369-9446
Facebook: Caffé Rel
January-April, Wednesday-Saturday, 11 a.m.-8 p.m.
May-December, Tuesday-Saturday, 11 a.m.-8:30 p.m.
L D $$$