The Bull and Beggar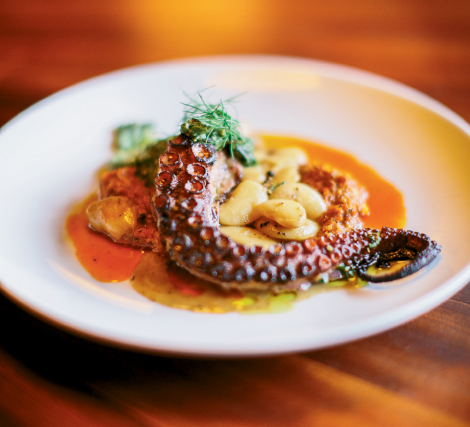 With the convergence of The Admiral's Drew Wallace and chef Matt Dawes, formerly of Table, The Bull and Beggar adds to the burgeoning dining scene in Asheville's River Arts District.
The cavernous, Zen-like space welcomes with soothing horizontal lines, soft wood tones, mirrors, and retro pendant lamps.
The bar, a cozy spot with full picture windows overlooking the railroad tracks, invites guests to pull up a stool and order a dry cider, beer, old-world wine or a selection from the cocktail list, which doesn't top $10 a drink.
"The cocktails match what's in the kitchen," says Wallace, who started in the industry as a bartender in Philadelphia and Columbia, South Carolina, before opening the wildly successful Admiral in West Asheville. "We don't go overly experimental, not too cute. We use time-tested recipes to a T, using superior products."
My friends and I seated ourselves on the mezzanine, where we could watch the comings and goings of both the bar and dining room patrons. In the main room, where large and small wooden tables back up against raw brick walls, several parties looked positively celebratory, lording over multitiered iced-seafood platters.
One can order peel-and-eat shrimp, raw oyster plates, and a $100 caviar station, but the smoked bluefish pâté is infinitely more interesting—with just a hint of smoke in the smooth bluefish, mingling with bright citrus notes and juniper essence.
For winter tastes, our table delved into a variety of small and large plates from the eclectic menu: hush puppies sprinkled in a salt-sugar mixture and dipped in maple-whipped butter, creamy cauliflower, and roasted beets flecked with black cumin. Stunningly fine mussels were exceeded only by the saffron cream bath they came in. A cone of thin frites with a spectacular garlic-mayo sauce for dipping accompanied these.
Demonstrating a clear knowledge of old-world cookery was a rich and ruddy Alsatian pan sauce served over pheasant. The tender bird almost hid a mound of creamy Savoy cabbage underneath, and duck fat-roasted potatoes allowed us to corner every bite.
"The menu is a culmination of my favorite foods," explains Dawes, who was reared cooking in Southern kitchens but is a fan of classical cuisine. "My cooking certainly leans toward French technique and not a haute version of French cuisine. It's what I think of as solid, fortifying, and easily satisfying food, mostly from country origins."
The meal ended with an Apple Brown Betty—a buttery, spiced apple crisp—and a perfectly drawn cappuccino. This late-night meal demonstrated The Bull and Beggar's quest for excellence in the details.  
The Bull and Beggar
Asheville
37 Paynes Way #007
(828) 575-9443
www.the-bull-and-beggar.com
D, SBR (Closed Monday)
$$-$$$