Appetizing Course
Appetizing Course:
Savor culinary classes at Stecoah Valley Cultural Arts Center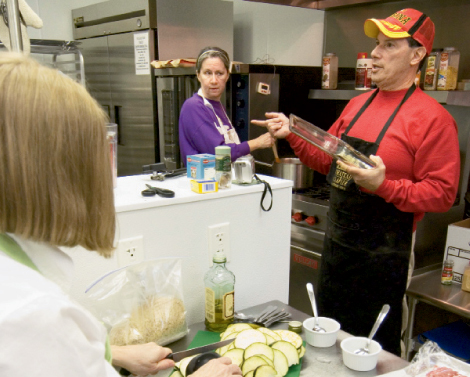 Resources for inspired recipes or lessons to hone your culinary skills abound, but a cooking class at Stecoah Valley Cultural Arts Center in Robbinsville provides a memorable experience by pairing food, friends, and instruction. The sweet and savory courses include Afternoon Tea, An Appetizing Assortment, and Chocolate Immersion, all taught by Kim Hendrickson, author of the "Tastefully Small" cookbook series.
"What I think is really special about these events is the intimacy," says Program Director Kate Parkerson. "You're right there with the instructor, and you can bring your friends or make new ones. It's a great opportunity to learn a new culinary skill."
During Afternoon Tea, participants are encouraged to dress up, bring their favorite teacup, and learn about the beverage's history while preparing scones, small desserts, and sandwiches. The appetizer course instructs attendees on five hors d'oeuvre recipes, while Chocolate Immersion includes truffle making, chocolate tempering, and molding. You'll take home plenty of toothsome creations.
The center offers classes continuously in adult crafts, textiles, and culinary arts. So while you're enjoying one of the decadent truffles you made, take a moment to ponder your next crafty endeavor.                                     
Back to Class
September 15
Afternoon Tea
2-5 p.m., $20
September 16
An Appetizing Assortment 2-5 p.m., $25
September 17
Chocolate Immersion 10 a.m.-4 p.m., $40
Stecoah Valley Cultural Arts Center
Robbinsville
121 Schoolhouse Rd.
www.stecoahvalleycenter.com
Classes are limited to 10 people.
RESOURCES:
Photograph Courtesy of Stecoah Valley Cultural Arts Center